TEHRAN, Iran (TheBlaze/AP) -- Discussions about the nuclear scientist reportedly executed by Iran for treason were found in emails on Hillary Clinton's private server, Sen. Tom Cotton (R-Ark.) revealed on Sunday.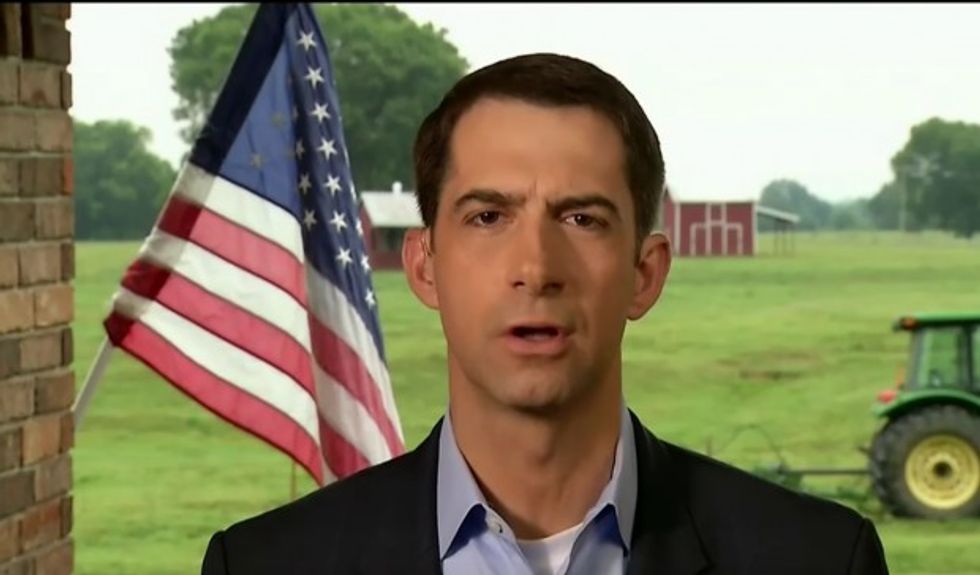 Sen. Tom Cotton (R-Ark.) speaks to CBS' "Face the Nation" on Sunday.
"I'm not going to comment on what he may or may not have done for the United States government, but in the emails that were on Hillary Clinton's private server, there were conversations among her senior advisers about this gentleman," Cotton told CBS' "Face the Nation."
One of the emails in question was sent by former State Department official Richard Morningstar in 2010 and refers to the scientist as "our friend."
"We have a diplomatic, 'psychological' issue, not a legal one. Our friend has to be given a way out," the email stated. "Our person won't be able to do anything anyway. If he has to leave so be it."
Cotton argued Clinton's decision to put "that kind of highly classified information on a private server" shows just how "reckless and careless" the former secretary of state was with sensitive information.
"I think her judgment is not suited to keep this country safe," he added.
Cotton used Clinton's latest email controversy to make the case for Republican presidential nominee Donald Trump, who he said is better suited to deal with America's national security issues.
The executed scientist, Shahram Amiri, defected to the U.S. at the height of Western efforts to thwart Iran's nuclear program. When he returned in 2010, he was welcomed with flowers by government leaders and even went on the Iranian talk-show circuit. Then he mysteriously disappeared.
He was hanged the same week that Tehran executed a group of militants, a year after Iran agreed to a landmark accord to limit uranium enrichment in exchange for the lifting of economic sanctions.
Amiri first vanished in 2009 while on a religious pilgrimage to Muslim holy sites in Saudi Arabia. A year later, he reappeared in a series of contradictory online videos filmed in the U.S. He then walked into the Iranian-interests section at the Pakistani Embassy in Washington and demanded to be sent home.
In interviews, he described being kidnapped and held against his will by Saudi and American spies. U.S. officials said he was to receive millions of dollars for his help in understanding Iran's nuclear program.
Iranian judiciary spokesman Gholamhosein Mohseni Ejehi said Amiri "had access to the country's secret and classified information" and "had been linked to our hostile and No. 1 enemy, America, the Great Satan."
---