Chicago police released bodycam footage Friday of the fatal shooting of Paul O'Neal, a black 18-year-old and suspected car thief. On Tuesday, officials reported that three Chicago gangs have launched a plan to target police officers in an act of revenge.
According to Fox News, one gang has claimed to have a sniper in place and said that it has distributed illegal automatic weapons to other gangs. Local authorities are on high alert, and officers have been asked to "limit their interactions" as well as their visibility.
FOX NEWS ALERT: Chicago gangs reportedly planning to shoot cops after controversial police shooting of Paul O'Nealhttps://t.co/SKVbE4mJD6

— FOX & Friends (@foxandfriends) August 9, 2016
O'Neal was not armed when he was shot July 28, and many have demanded that criminal charges be filed against the officers involved. Chicago Mayor Rahm Emanuel has backed Police Superintendent Eddie Johnson's decision to revoke the police powers of three officers who fired their weapons at O'Neal in violation of a department policy against shooting unarmed suspects, the Chicago Tribune reported.
Emanuel said Monday that while he supported the decision to release police dashcam and bodycam videos that captured part of the altercation he refused to speculate over the potential culpability of the officers involved.
"I don't want to make any further judgment until they are concluded with their investigation, and I support the superintendent's decision he made, on both getting the material out and the decision he's made, and then we'll all have the conclusion when the report's done on whatever judgments," Emanuel told reporters Monday.
Legal experts have warned that building a criminal case on the videos will be tricky.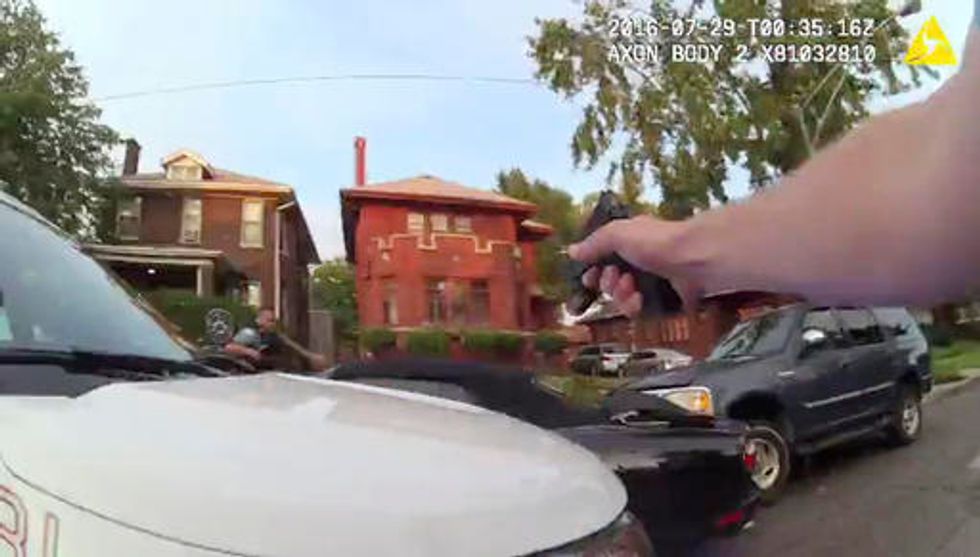 In this frame grab from a bodycam provided by the Independent Police Review Authority, Chicago police officers fire into a stolen car driven by Paul O'Neal on July 28 in Chicago. (Chicago Police Department/Independent Police Review Authority via AP)
Though the O'Neal family's attorney called the shooting "cold-blooded murder" following the release of the July 28 footage, Harold Krent, dean of the Kent College of Law at the Illinois Institute of Technology, says that's just not clear.
"Based on the video itself, it's going to be very difficult to pin any murder charges against those officers for a number of reasons," Krent told WLS-TV.
Krent told the local station that if criminal charges are filed, they will most likely target the first set of officers for unlawful use of force when they opened fire on the fleeing stolen car driven by O'Neal.
"There is no reason that we can tell why the initial officers fired at the fleeing car," Krent said. "There was no kind of imminent threat to them or anyone else."