Former HP CEO and onetime presidential candidate Carly Fiorina is reportedly vying to take over the Republican National Committee should Reince Priebus decide not to seek re-election as chairman.
Multiple GOP party officials and RNC committee members disclosed that they received emails from Fiorina and her staff inquiring how she could be of use to the party or help with any campaigns, sources have confirmed to TheBlaze. While she did not explicitly mention taking over Priebus' job, multiple party insiders speculate that this is her way of gearing up to make a play for that role.
Fiorina relaunched her Carly for America PAC after she suspended her presidential campaign in order to "help conservative outsiders win in November." In an email to supporters in March, Fiorina detailed that it wasn't only Democrats her PAC would target, but fellow Republicans as well. 
"It's about defeating the Washington establishment of both parties and electing real conservative leaders from outside the political class who will engage citizens around the nation and lead the charge to take our country back," Fiorina said.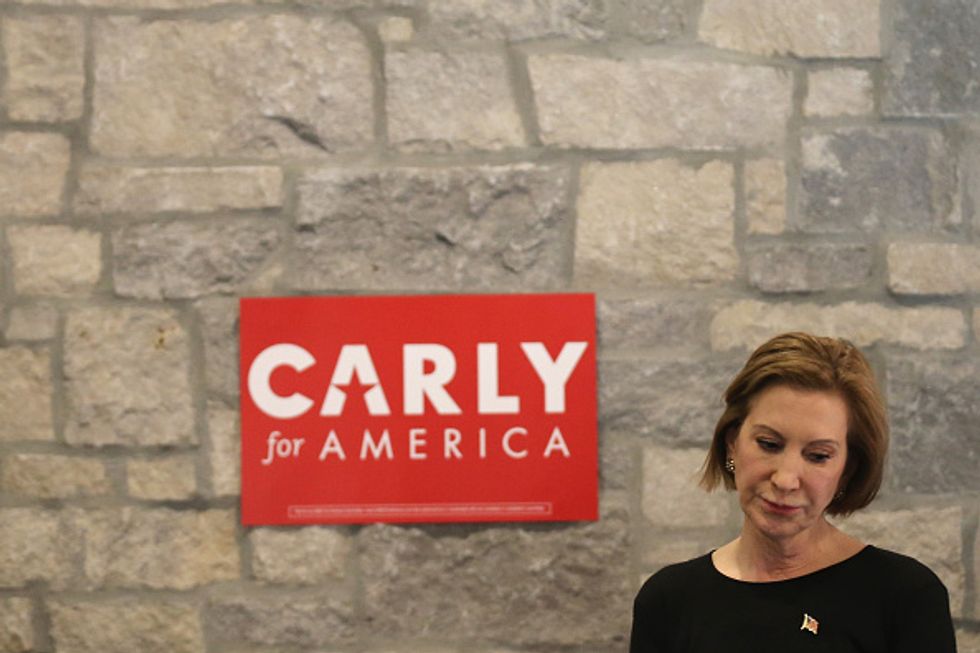 Former GOP presidential candidate Carly Fiorina addresses voters. (Getty Images/Christopher Furlong)
Politico reported that Fiorina will be traveling around the country in August — including to Virginia where she will hold an event with Ed Gillespie who is running for governor in 2017, to Colorado where she is expected to campaign with Rep. Mike Coffman and to Louisiana and Michigan.
Fiorina's spokeswoman Sarah Isgur Flores declined to comment for this story.
A Republican insider with knowledge of Fiorina's work with the state parties told TheBlaze that Fiorina would provide leadership to the RNC as well as "shake things up."
"The way the RNC handled this past presidential primary was an absolute disaster," the insider said. "A Carly chairmanship would provide a fresh voice and dedication to our conservative principles that will unite us rather than divide us. She would give all future candidates and rising GOP stars a fair shake."
However, not every state party member is as thrilled with the idea of a potential Chairwoman Fiorina. Multiple sources said that Fiorina is unlikely to gain traction following her short stint as former GOP contender Texas Sen. Ted Cruz's running mate. One state party source who asked not to be named told TheBlaze that the emails seemed to be "truly groveling" on Fiorina's part. That state did not respond to Fiorina's inquiry, the source said.
"It's no secret that [Cruz is] running again in 2020 and even if he didn't pick her as his running mate again and pull her away from the party, then we would have a chair who is already in the bank for one particular candidate," a source said.
Another source added that "there's much speculation she is a Trojan horse with Cruz inside to take over the RNC."
"It's slightly premature," a state party chair told TheBlaze. "She has an axe to grind with Reince Priebus over her inability to take off in the presidential primary."
Multiple sources pontificated that Matt Pinnell would be the best successor to Priebus. Pinnell is the RNC's state party director and has already worked and established relationships with the state parties, a source said.
"You have to remember who your electorate is here. Your electorate is the 168 RNC members, and they already trust Pinnell, not Fiorina," one state party insider said.
Virginia Republican National Committeeman Morton Blackwell contended that, should Republican presidential nominee Donald Trump win in November, the new RNC chair would simply be whoever the new president designates.
"When there is no Republican in the White House, there are always several candidates for an open RNC chairmanship, each one backed by consultants who hope to make their fortunes by backing a winner," Blackwell told TheBlaze.
The web domains CarlyForChair.com and CarlyForRNC.com were registered on July 14, AOL reported.  
—
Follow Kaitlyn Schallhorn (@K_Schallhorn) on Twitter