It's a showdown between arch rivals in Michigan this week — and it's not even football season.
Democratic presidential nominee Hillary Clinton came out swinging in an economic policy speech in Warren, Michigan, Thursday, less than 30 minutes from where Republican nominee Donald Trump held his own economy-focused rally earlier this week. Clinton painted Trump as devoid of solutions, bad for small business and in bed with wealthier Americans while forgoing the middle class.
"Donald Trump wants to give trillions in tax cuts to people like himself," Clinton said, later adding that Trump's policies are "just a more extreme version of the failed theory of trickle-down economics" with the bonus addition of "outlandish Trumpian ideas."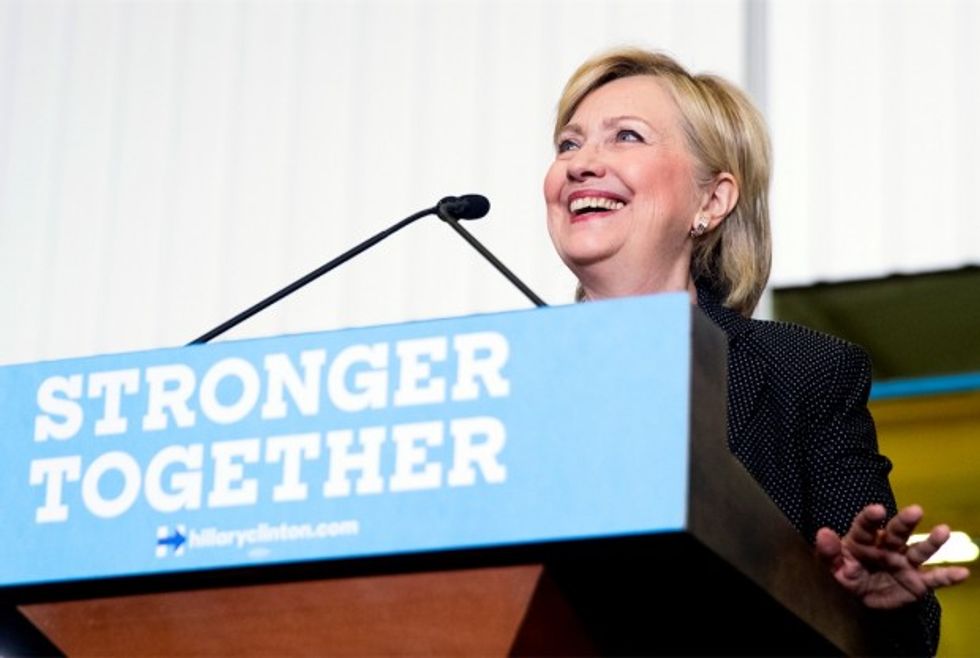 Democratic presidential candidate Hillary Clinton delivered a speech on the economy in Warren, Michigan, Thursday. (AP Photo/Andrew Harnik)
"There is a myth out there that he will stick it to the rich and powerful because somehow he's really on the side of the little guy," she said. "Not when he pledges to rip up basic rules that hold corporations accountable and when he wants to scrap regulations that prevent companies from polluting."
"He has not offered any solutions for any real economic challenges we face," Clinton said.
She also took advantage of Trump's trouble garnering support from many in the conservative base: "Even conservative experts say Trump's agenda will pull our economy into a recession."
"There was a time when Democrats and Republicans actually worked together. I know that's true — I did it as first lady, senator and secretary of state," Clinton said. "We're going to get everyone at the table, not just Republicans and Democrats but businesses and labor unions and experts and most importantly, Americans like all of you."
In Detroit on Monday, Trump promised to cut taxes and crack down on over-regulation and contrasted the hardships Detroit has recently faced with the success Michigan's Motor City once saw.
"When we were governed by an 'America first' policy, Detroit was booming. Engineers, builders, laborers, shippers and countless others went to work each day, provided for their families and lived out the American dream," Trump said to the Detroit Economic Club. "But for many living in this city, that dream has long ago vanished."
"Our roads and bridges fell into despair while we found the money to resettle millions of refugees at the taxpayers' expense," he added.
Responding to Trump's rhetoric in Michigan, Clinton said it seemed as though "he was in a different place."
"When he talked about Detroit, he talked only about failure and crime," she said. "He is missing so much about what makes Michigan great. And the same is true when he talks about our country. He describes our country as an embarrassment."
As for her plan, Clinton promised to ensure every home was equipped with broadband internet access by 2020 and make college more affordable. She highlighted her own upbringing, proclaiming that she was "proud" to be "the daughter of a small business owner and granddaughter of a factory worker."
"The bottom line is this: I'm running for president to build an economy that works for everyone, not just those at the top," she said, "and based on what we know about the Trump campaign, he wants American to work for him and his wealthy friends."
—
Follow Kaitlyn Schallhorn (@K_Schallhorn) on Twitter