Donald Trump's campaign has launched a petition calling for a probe into the Clinton Foundation after the Justice Department reportedly shot down an FBI request for an investigation into the charitable organization.
According to reports, The Justice Department vetoed the request for an integrity investigation after it concluded there was not sufficient evidence to support it.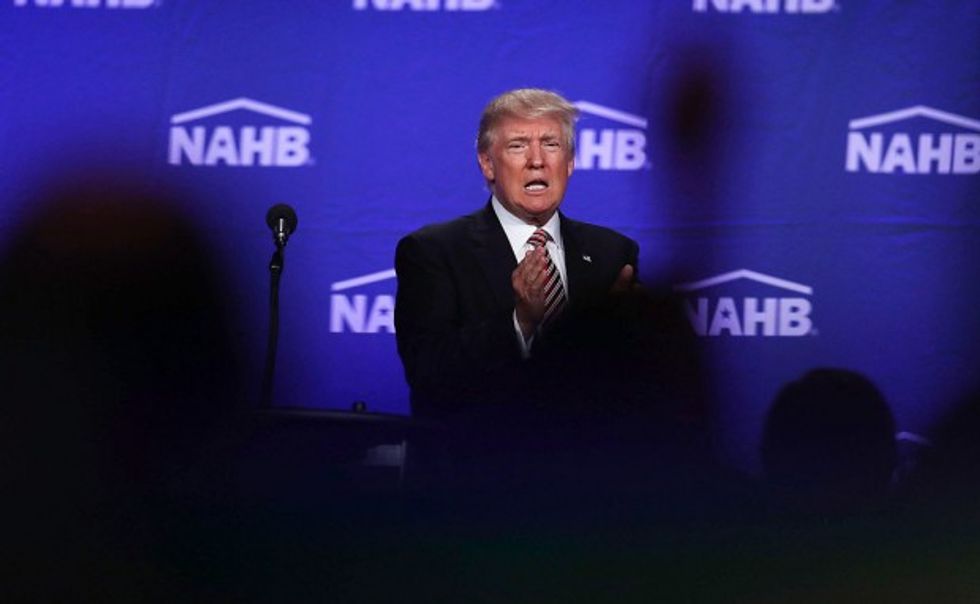 Republican presidential nominee Donald Trump speaks during an address to the National Association of Home Builders at the Fontainebleau Miami Beach hotel on August 11, 2016 in Miami Beach, Florida. Trump continued to campaign for his run for president of the United States. (Photo by Joe Raedle/Getty Images)
"The DOJ's decision to deny the FBI's request is an obstruction of justice and a flagrant dereliction of duty from our elected officials," the Republican presidential nominee's petition reads. "The Clinton Foundation has time and time again exposed itself as a culture of corruption, pay-to-play deals, and downright fraud."
"We demand that the DOJ open an investigation into the corrupt dealings of the Clinton Foundation," it adds.
The new line of attack comes on the heels of a new batch of Hillary Clinton's emails being released by conservative watchdog group Judicial Watch. Trump has gone after his Democratic presidential rival for "pay-for-play" politicking, a line the billionaire businessman first employed during a rally Wednesday night in Sunrise, Florida.
The new documents shed light on what appears to be a tangled relationship between the Clinton Foundation and the State Department during Clinton's tenure as secretary of state. The Clinton campaign, though, has denied any sort of conflict of interest.
"The right-wing organization [Judicial Watch] behind this lawsuit has been attacking the Clintons since the 1990s and no matter how this group tries to mischaracterize these documents," Clinton spokesman Josh Schwerin told CNN in an emailed statement, "the fact remains that Hillary Clinton never took action as secretary of state because of donations to the Clinton Foundation."
But Trump, who said Wednesday that Clinton and President Barack Obama are the "founders" of the Islamic State, has stayed the course, continuing to hit his Democratic opponent on the issue.
"A couple of very bad [emails] came out and it's called pay-for-play and some of these were really, really bad — and illegal," Trump said during a rally in Abington, Virginia.
Jason Miller, a senior communications advisor for the Trump campaign, suggested both Clinton and Obama "colluded" to keep FBI Director James Comey from recommending criminal charges against Clinton for her use of a private email server while at the State Department. He said Clinton has experienced "political favoritism" when it comes to investigations into her record.
Miller said the Justice Department's decision to sideline an investigation into the Clinton Foundation "shows a troubling pattern of Obama and Clinton politicizing any government institution for their own personal political interests."
–
Follow the author of this story on Twitter: