It has been just more than a month since five officers were fatally shot during a sniper attack in downtown Dallas — and now another major Texas city is doing all it can to ensure nothing like that ever happens there.
On Friday, a group of black pastors, the chief of police and the district attorney in San Antonio will take part in a radio broadcast panel to discuss racial issues within the city, especially when it comes to law enforcement relations with black and hispanic citizens.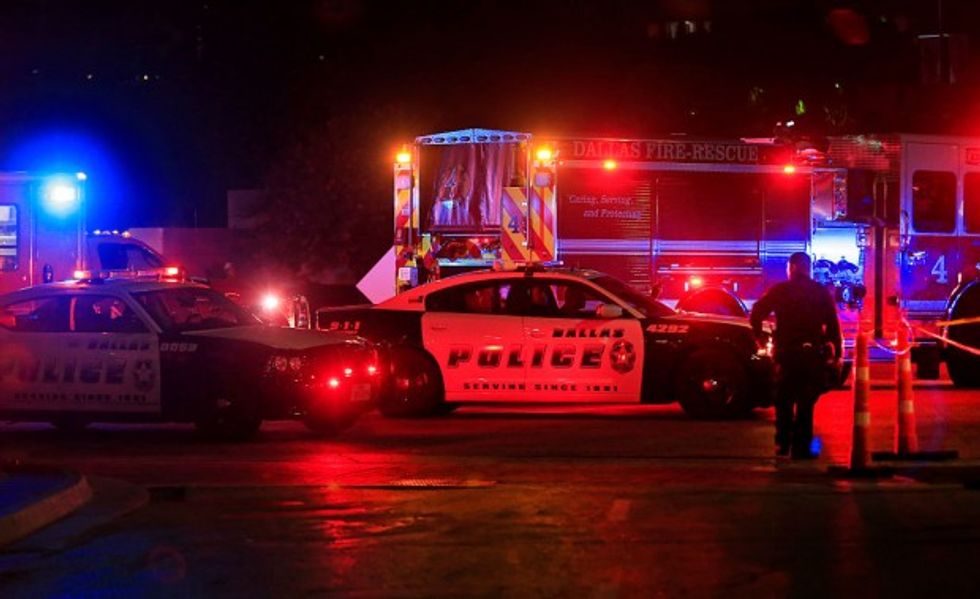 Dallas police work near the scene where five DPD officers were shot and killed July 7. (Ron Jenkins/Getty Images)
Pastor Charles Flowers spoke with TheBlaze ahead of the event. He said the pastors and city leaders started launched an emergency response panel following the wave of police-involved shootings in Baton Rouge, Dallas and Indiana. The idea, Flowers said, was to figure out how to "tragedy proof" San Antonio.
"Two initiatives came out of it. One was a rapid response team for pastors that the chief of police agrees to call in the event of an officer-involved shooting that has racial overtones," Flowers said. "That group is being assembled and trained so that ... if something happens ... the police chief calls these rapid response team pastors together first on the scene, to be able to give us up to date information on what the police know, what has happened in the incident to give us an opportunity to get the information back to our congregations before it's packaged by the media and the message sold like they want it to be sold."
The second initiative to come out of the effort, according to Flowers, was the "Street Academy," in which police officers and black and hispanic males, ages 12-29, meet one-on-one to "start dismantling the wall of suspicion, distrust and anger between them." Another goal of the Street Academy is to promote "personal responsibility" among both the officers and minority citizens in order to change the culture.
"And if we can do that, then we can, perhaps even San Antonio, provide a model for other major cities can use," Flowers added.
Friday's panel will be broadcast on San Antonio's KTSA (107.1 FM or 550 AM). You can also listen online.
—
Follow the author of this story on Twitter and Facebook: