LOUISVILLE, Ky. (AP) — Senate Majority Leader Mitch McConnell said Thursday that GOP prospects for keeping control of the Senate after the November elections are "very dicey," sounding an alarm amid mounting Republican concerns about presidential nominee Donald Trump,
Speaking to a Louisville-area civic group in his home state, McConnell said Senate Republicans were going to be "on defense" in this year's election, regardless of who led the ticket as the party's presidential candidate.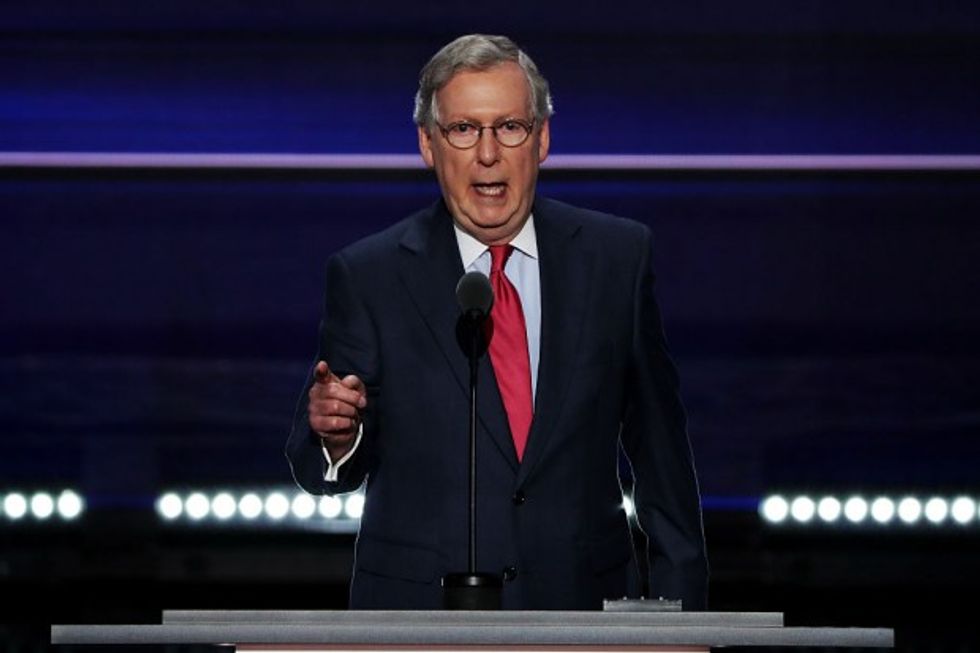 Photo by Alex Wong/Getty Images
Twenty-four GOP-held seats are on the ballot this year, compared with 10 for Democrats, he noted. McConnell was promoted to majority leader two years ago when a Republican surge wrested Senate control from Democrats.
McConnell did not mention Trump as being a drag on Republican down-ballot races, but he chided Trump's campaign tactics. The Kentucky senator said he hopes Trump "settles down and follows the script."
When asked by a reporter about Trump's comments labeling President Barack Obama as the "founder" of the Islamic State group, McConnell replied: "I'm hoping that we can make this election about Hillary Clinton. I think if we do, we can win."
With the election less than three months away, McConnell said Republicans are in "a dogfight," and listed GOP-held seats in New Hampshire, Illinois, Pennsylvania, Ohio, Wisconsin, Florida and Indiana as "very competitive."
"I may or may not be calling the shots next year," McConnell said.
Democrats need to pick up five seats to take back control of the Senate, or four if they also keep control of the White House, since the vice president casts tie-breaking votes in the Senate.
McConnell warned that if Republicans lose their grip on the Senate after the November election, their ability "to impact judicial appointments will be considerably diminished."
McConnell tried to deflect questions about Trump, but 72-year-old Trump supporter Cathie Tucker wasn't having it, saying he needed to be more forceful in his support of the nominee.
"We don't hear your voice enough," she said.
McConnell said a vote for Trump over Clinton "is easy for me." The senator added that when Trump "says something I have to speak up on, I will. But that doesn't mean I don't support him."
Yet McConnell said it's "stating the obvious" that neither Trump nor Clinton is "widely appealing to the American people."
—