A U.S. Olympic skeet shooter is speaking out against gun control.
Four years ago at the London Olympics, Kim Rhode was surprised when she was first asked about her views on the controversial issue. She's prepared for the question now.
"We should have the right to keep and bear arms, to protect ourselves and our family," Rhode, a five-time Olympic medalist, told Time.
"The Second Amendment was put in there not just so we can go shoot skeet or go shoot trap. It was put in so we could defend our First Amendment, the freedom of speech, and also to defend ourselves against our own government," Rhode added.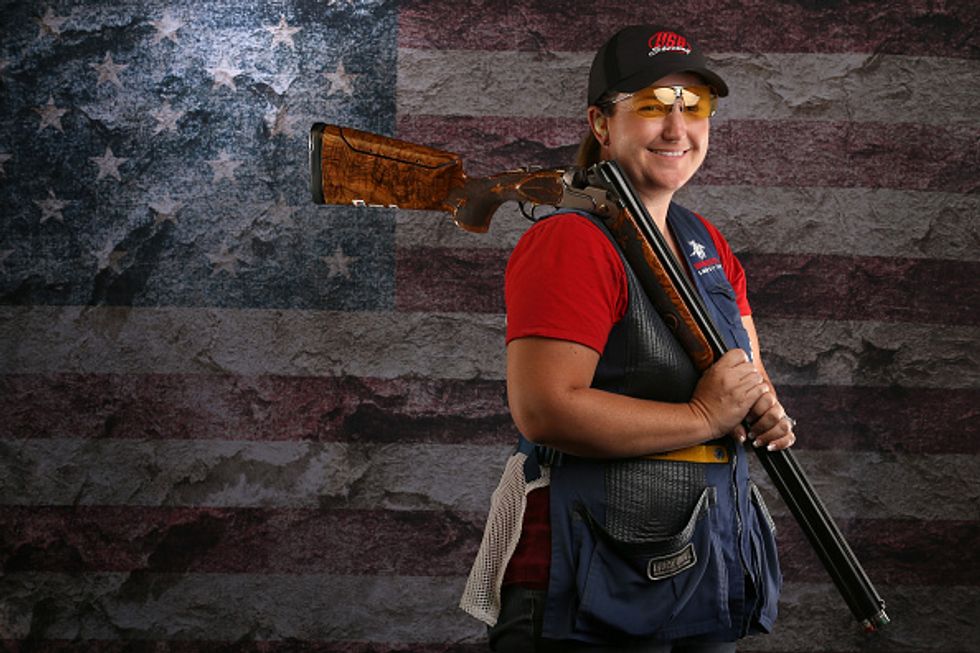 U.S. Olympic shooter Kim Rhode (Sean M. Haffey/Getty Images)
Rhode said that, as a skeet shooter, strict gun laws affect her ability to practice her sport in a way that many people might not realize.
"I shoot 500 to 1,000 rounds a day, so having to do a background check every time I purchase ammo, or every time I want to bring ammo in or out of a competition or a match, those are very challenging for me," Rhode explained.
The Olympian said there are guns that have been passed down in her family for generations and that having to register them as "assault weapons," as some lawmakers have proposed, could affect her ability to pass the firearms on to her son.
"It definitely does affect me and give me a reason to speak out more," Rhode said, adding that she wants to take her son out to begin shooting when he gets older.
"I started when I was like 7 or 8 years old, and it was something that was a big deal in my family, to gain that right of passage," she said.
As for recent mass shootings in the U.S., Rhode specifically cited the one that took place in San Bernardino in December.
Rhode, who lives near Los Angeles and whose parents own property near San Bernardino, said new gun laws passed in California in the wake of that attack do more harm than good.
"My heart breaks for those people," Rhode said, adding that such attacks "make me want to carry even more."
Rhode further acknowledged her views as unpopular among athletes at the Olympics, adding that major corporate sponsors are difficult to obtain in sports like skeet shooting. Rhode is currently sponsored by gun manufacturers Beretta and Winchester.
—
Follow the author of this story on Twitter and Facebook: