At least eight people have died due to historic flooding in Louisiana, the New Orleans' Times-Picayune reported Tuesday.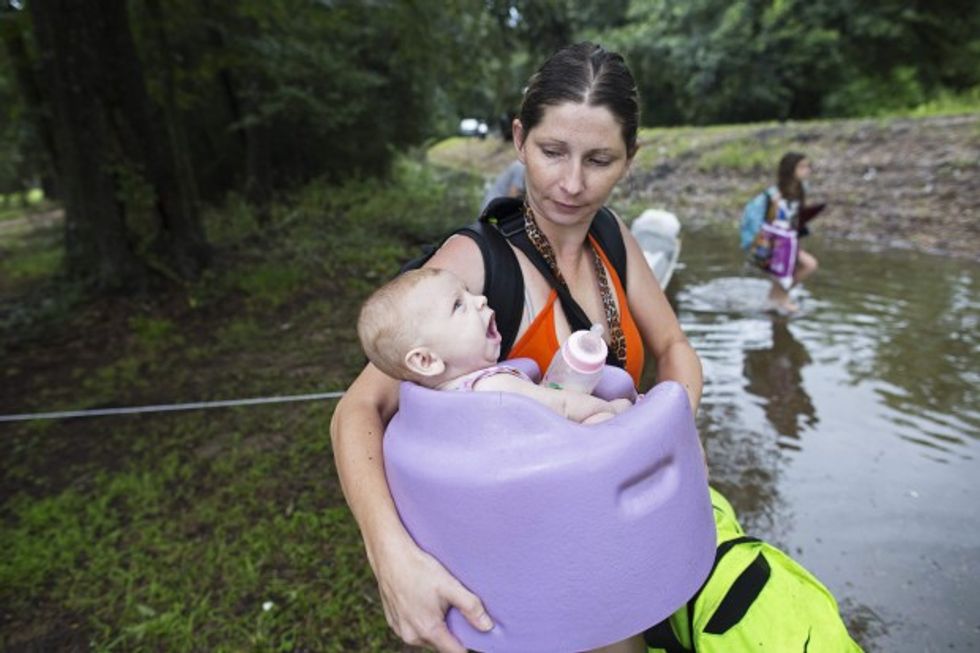 Danielle Blount carries her 3-month-old baby Ember to a truck from the Louisiana Army National Guard as they evacuate the area near Walker, Louisiana, after heavy rains inundated the region Sunday. (AP Photo/Max Becherer)
According to the Times-Picayune, portions of the state have been declared federal disaster areas and at least 11,000 residents are in shelters. The impacted areas received as much as two feet of rain in 48 hours.
"This event is ongoing, it is not over," Gov. John Bel Edwards (D) said in a statement Monday. "Even if the sun has come out in your area, we do not know when the floodwaters will recede, and they will continue to rise in some areas."
Edwards urged residents to be aware of their surroundings and not to "let our guards down."
"I ask for your prayers and support in this trying time, and I assure you that we are doing everything we can for our citizens," he added.
Louisiana State Police told the Times-Picayune that law enforcement and the National Guard have rescued 30,000 people from impacted areas.
According to the Baton Rouge Advocate, almost a third of all the homes in Ascension Parish have been flooded
"I cannot stress to our residents enough the magnitude of this situation," Meredith Conger, parish homeland security planning and intelligence officer, said in the statement Monday. "This type of historic flooding has never been seen before and we are not out of danger yet."
The Associated Press has aerial footage of the flooding:
Louisiana's WAFB-TV also has information on how you can help the victims:
—
Follow the author of this story on Twitter and Facebook: