"At the right time, I will be so presidential that you'll call me and you'll say, 'Donald, you have to stop that, it's too much,'" Donald Trump told Fox News commentator Sean Hannity in April.
Now, some are wondering when that transition will happen. But according to the Republican presidential nominee, there will be no pivot toward a more refined campaign. In an interview with a local Wisconsin reporter, Trump indicated he's not interested in moderating his tone.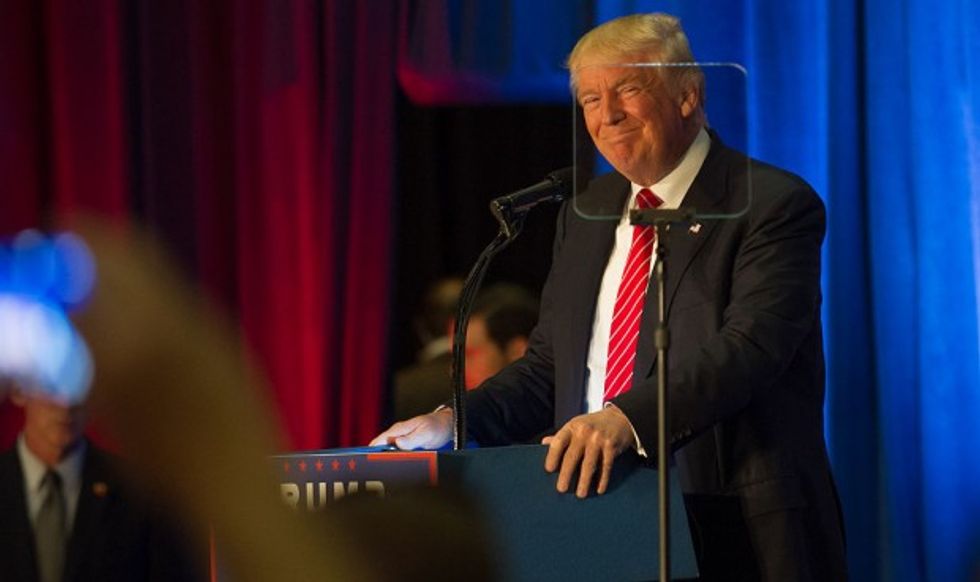 Photo by Jeff Swensen/Getty Images
"Well, possibly I do, but you know, I am who I am," he told News 8's Brittany Schmidt, who asked the candidate if he needs to change his style before November, citing recent polls that show him down to Democratic rival Hillary Clinton.
"Everyone talks about, 'Oh, you've got to pivot,'" he continued. "I don't want to pivot. I don't want to change."
Trump equated pivoting his style to a more presidential tone to "not being honest with people, adding, "I am who I am." It is important to note, however, that Trump has started using a teleprompter and delivering more disciplined messaging in recent weeks.
The GOP nominee reminded the reporter that many polls during the Republican presidential primary indicated he would not succeed in his effort to secure his party's nomination.
"I've gotten here in a landslide, so we'll see what happens," he said. "[D]on't forget, when I lost Wisconsin, it was over for Trump. Except for one problem: I then went on a very good run."
Trump, who lost the Wisconsin primary to Texas Sen. Ted Cruz (R) last April, promised to perform better in the state in November, telling Schmidt, "I understand what I'm up against."
"It's been a long time since anybody won Wisconsin," he said. "I believe that was [former President] Ronald Reagan. That's a long time, in terms of a Republican."
Clinton currently leads Trump by 15 points, according to the latest Marquette Law School poll out of Wisconsin. The latest general election poll from NBC News shows Clinton with a six-point lead nationally.
See Trump's comments below:
—
Follow the author of this story on Twitter: