A Public Policy Polling survey showing Democratic nominee Hillary Clinton within two points of the Republicans' Donald Trump in South Carolina has shaken up the political landscape of the Palmetto State. And though the South Carolina GOP may be taking the poll with a grain of salt, they're certainly not taking the election for granted.
The PPP poll in the traditionally red state is part of a disturbing trend for Trump supporters — the businessman's numbers have been slipping across the country in recent weeks, even in places considered Republican strongholds.
Still, the state party is bullish on Trump's chances statewide. For one thing, the survey was commissioned by South Carolina's Democratic Party — which largely discredits it in the eyes of many state Republicans.
"No serious political operative believes that Hillary Clinton will actually win South Carolina," South Carolina GOP Chairman Matt Moore said.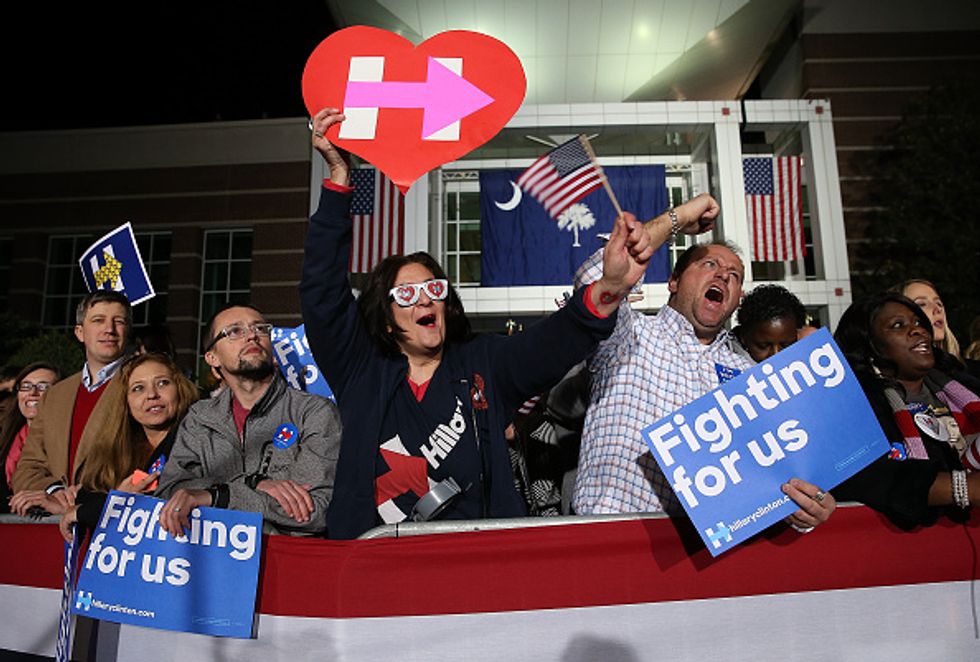 Supporters of Democratic presidential candidate Hillary Clinton cheer as she is introduced during a "Get Out the Vote" rally Feb. 26 in Columbia, South Carolina. (Getty ImagesWin McNamee)
But beyond the PPP survey, Trump's lead in the state has also been narrow in other polls. A Morning Consult poll from November showed Trump with only a three-point lead over Clinton. A different PPP survey from the same month, which was not commissioned by the state's Democratic Party, showed Trump with a five-point lead.
Despite the trend, David Woodard, a Clemson University political science professor, blasted the new poll as "bogus" and "unsolicited."
"It would be hard to find a redder state: Every constitutional office, both houses of legislature, governor, two senators and six of seven congressional seats — all Republican," Woodard said. "South Carolina hasn't voted Democratic since 1976."
"Early polls are soft, and this one is wrong," he added.
Republican operatives admit that they aren't completely ignoring the poll — especially since it could have ramifications for down-ballot races.
"We are not taking anything for granted," Moore said. "Our focus is on boosting turnout up and down the ticket."
A Republican strategist who works with several South Carolinian lawmakers told TheBlaze that many state-level clients are worried about their own futures.
"The possibility of Clinton winning South Carolina is one that — while many Republicans won't readily admit to the press — is still felt," said the strategist, who spoke on the condition of anonymity in order keep clients' names anonymous.
Statistician Nate Silver's FiveThirtyEight website predicts that Trump will beat Clinton in South Carolina by nearly 14 percentage points, but notes that the lead has dwindled drastically.
Still, Ed McMullen, a public policy expert who heads Trump's South Carolina operations, dismissed the latest poll as a fundraising tool and argued that the media is blowing it out of proportion.
"If we were to release a Republican Party-paid poll showing Trump up by 50 points, I hope it would get the same coverage as this one in the media," McMullen told TheBlaze.
"Here's the reality: South Carolina is very strongly Republican, and independents who like Trump are coming out," he said, adding a prediction that the state's turnout for Trump in November will be "record-breaking."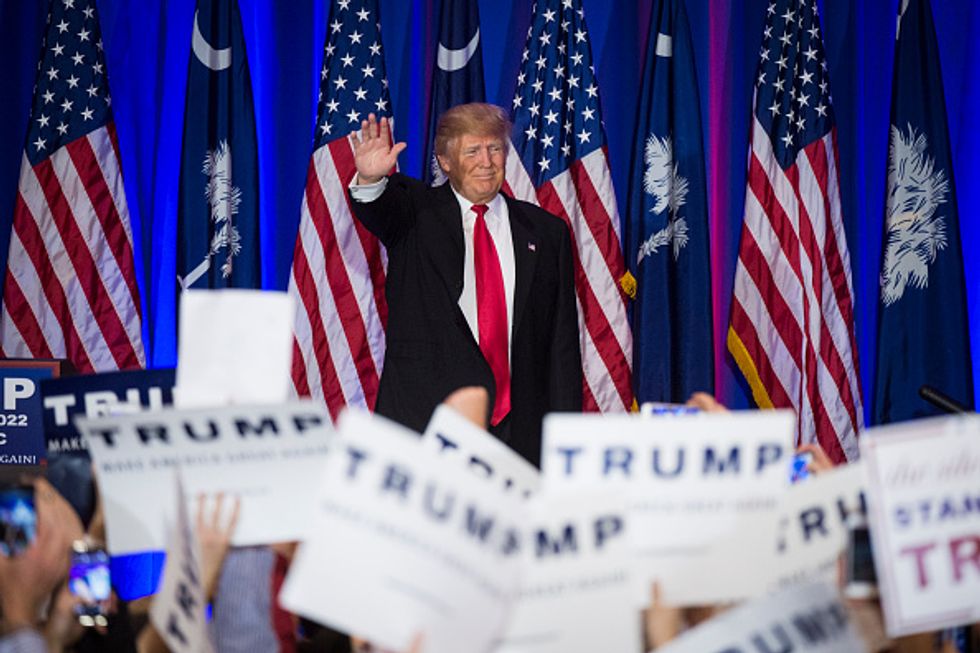 Republican presidential candidate Donald Trump walks out to speak during a rally in Spartanburg, South Carolina, after winning the state's Republican primary. (Getty Images/Jabin Botsford)
"Record-breaking" is where McMullen and South Carolina Democrats can agree — though Democratic strategists hope the record that will be broken will be Republicans' winning streak in the Palmetto State.
For state Democratic Party Chairman Jaime Harrison, the idea that maybe his state isn't quite as Republican as it used to be is an argument he's been making for some time.
"I've been trying to make that case now for I don't remember how long," Harrison told TheBlaze. "Most people outside of South Carolina look at the state and say, 'Oh, it's solid Republican.' But in actuality, if there are any states that are on the bubble that could [become a battleground state] with a little time and investment and infrastructure, it's South Carolina."
Harrison added that during South Carolina's "First in the South" primary in February, he told every journalist who would listen that South Carolina has Democratic "talent" and could become a competitive state.
"I talked about the need for a Democratic Southern strategy; I talked about the need for national Democrats to invest in the state ... to help us build a capacity to compete," he said. "People heard me say it over and over and over again. Finally, people are starting to pay attention a little bit."
According to Harrison, an infusion of national funding would make all the difference in November.
"I really do think that we have great potential here in South Carolina. If the polls maintain where they are, I hope and expect through my conversations with the Clinton campaign to see even more resources come to South Carolina," Harrison continued. "For me and my Democrats here, we just have to continue doing what we do here in terms of getting the message out and talking to voters so that when the next set of polls come out, we can maintain that we are in this game, that we are within the margin of error, that we are gaining traction, and it will demonstrate to the [Clinton] campaign that South Carolina is a place that we may need to think about putting even more resources in."
South Carolina's movement toward becoming a battleground state is likely a combination of Trump being the Republican nominee and Clinton's investment in the state so far, Democrats agreed.
"Secretary Clinton has been so good and her campaign has been so good in terms of understanding and appreciating and valuing a 50-state strategy and investing in states that traditionally have not been battleground states," Harrison said. "[But] Donald Trump is probably the best asset for the Democratic Party. He is driving moderate Republicans out of the party in droves. They don't want to be attached to somebody who has said racist stuff, bigoted stuff, he's been misogynistic."
Former state Rep. Bakari Sellers (D), a Clinton supporter, commended the former secretary of state for being "actually organized" on the ground in South Carolina.
"I'll admit that is a big difference between [Clinton] and Barack Obama," Sellers told TheBlaze. "After the [2008] primary, Barack Obama didn't come back until his second term. Hillary Clinton is here. She never left — so that's a huge step."
But Sellers, also a CNN commentator, said that the one feeling that remains consistent among Republicans and Democrats in the state is uncertainty.
"Anything can happen in this election, that's for sure," he said.
—
Follow Kaitlyn Schallhorn (@K_Schallhorn) on Twitter