During a late-night appearance on CNN's "Tonight" with Don Lemon, Glenn Beck, a self-identified libertarian, not only predicted a November loss for Donald Trump, but insisted the businessman-turned-politician will soon turn once again — this time, to media magnate.
"I would love to enlist anybody on the left, anybody on the right, anybody who is tired of the lies from both parties that just feel that we can find common ground and common decency among us, to listen to what I'm gonna say," Beck prefaced his remarks.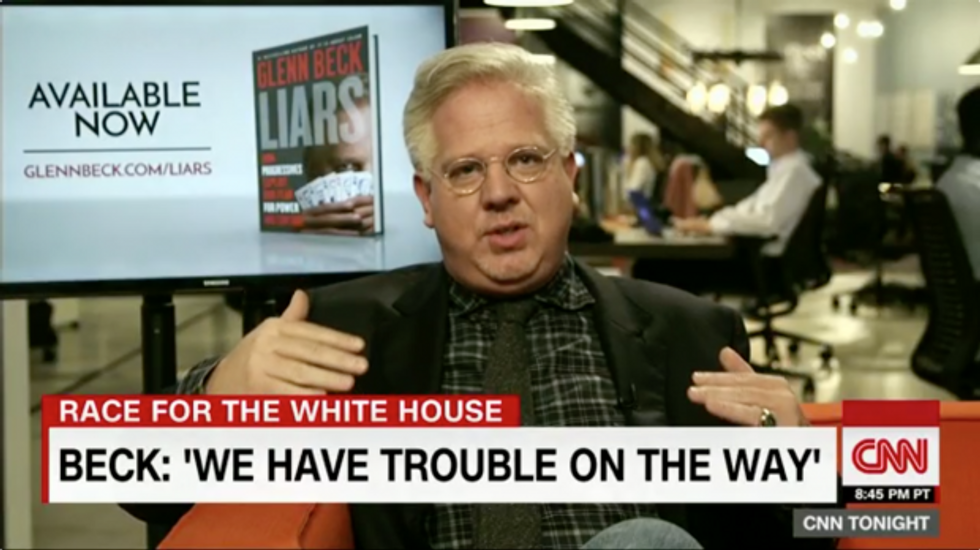 CNN/Twitter
At that, the well-known radio personality told Lemon he believes Trump not only will lose in the general election, but even ventured to say the New York real estate tycoon "wants to" be defeated, but is determined to go out "swinging." After the dust settles in the fall, Beck believes Trump will launch his own media outlet.
And who will be at the helm alongside Trump? According to Beck, none other than Steve Bannon, the Brietbart News executive who just vacated his media job to become the CEO of the Republican presidential nominee's campaign, along with longtime Trump confidant Roger Stone.
TheBlaze founder said he does not believe ousted Fox News chairman and CEO Roger Ailes, who has reportedly been advising Trump, will be on board with the potential new network because of a non-compete agreement with his former employer.
"What's gonna happen is Donald Trump is going to make this look like a stolen election, he will divide us even more," Beck said. "He, with his alternate right, alt-right, kind of view point. It will grow, it will metastasize. There will be maybe 10 to 15 percent of the population that will just become virulent and he will create possibly a third party."
He went on to predict Trump "will start a movement," which he told Lemon will be "all for his fame and money." While bold, Beck's comments are not shocking, as he has been vehemently opposed to Trump since the start of his campaign for the Republican nomination last summer. Beck supported Texas Sen. Ted Cruz (R) for president.
Beck is not the first person to predict a news network might be in Trump's future. In fact, Vanity Fair ran an exclusive story in June pondering the same possibility, asking, "Is Donald Trump's endgame the launch of Trump News?"
At the time, of course, Trump spokeswoman Hope Hicks told the magazine there is "absolutely no truth" to the whispers circulating about the rumored media venture. Regardless, it is undeniable Trump has successfully tapped into a sect of people who feel abandoned by the traditional news circuit.
If Trump ends up succeeding to the presidency, Beck said he believes the U.S. will have a White House administration akin to a "South American dictatorship" should the country face major war, civil unrest or economic instability while under his leadership.
"He's so unconnected to reality and disconnected to clear thinking on global issues, that I think you could see us going into a horrible, horrible situation," Beck asserted.
Later in the interview, the "Liars" author said neither Trump nor Hillary Clinton will "be a picnic" as president. Beck told the CNN host the U.S. has "trouble on the way."
"We need strong constitutionalists on both sides of the aisle," he told Lemon. "People who say the Bill of Rights, those are good things, and vote for those people at the bottom of the ticket to hold whoever wins — to hold their feet to the fire."
"We better start talking to each other and uniting with each other — the common sense people on both sides of the aisle," he added, "or we're toast."
Watch a portion of Beck's comments below:
.@glennbeck predicts Donald Trump will lose the presidential election and will start his own TV network. https://t.co/Fzs5GY9HEk

— CNN Tonight (@CNNTonight) August 19, 2016
—
Follow the author of this story on Twitter: