A federal judge rejected a request for Hillary Clinton to submit to a sworn deposition in a suit related to her use of a private email server during her tenure as secretary of state.
According to U.S. District Court Judge Emmet Sullivan, the request, submitted by conservative watchdog group Judicial Watch, did not produce enough to warrant an in-person deposition to establish whether Clinton set up the private server to avoid complying with the Freedom of Information Act, Politico reported Friday.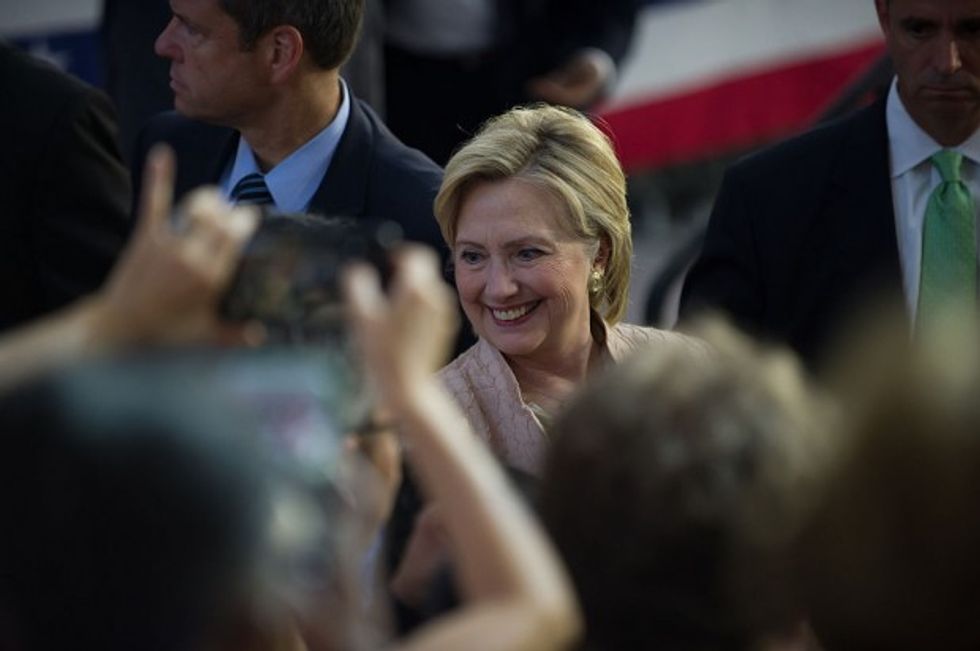 Democratic candidate for President Hillary Clinton greets supporters at a Hillary for America rally at John Marshall High School on August 17, 2016 in Cleveland, Ohio. (Photo by Jeff Swensen/Getty Images)
The Democratic presidential nominee will instead be ordered to respond in writing to questions about the matter.
The judge's ruling greatly diminishes the chance that Clinton will be forced to briefly abandon her campaign for the presidency in order to testify under oath about her use of a private email server while at the State Department — a move that could prove to be politically damaging to the Democrat's standing in the election.
Judicial Watch President Tom Fitton responded to the decision in a statement Friday evening, saying he was "pleased" by Sullivan's ruling.
"We are pleased that this federal court ordered Hillary Clinton to provide written answers under oath to some key questions about her email scandal," he said. "We will move quickly to get these answers. The decision is a reminder that Hillary Clinton is not above the law."
It is possible one of the other judges presiding over similar cases could order the candidate to testify in person.
While 68 percent of voters don't believe Clinton is honest and trustworthy, according to a CNN poll last month, the Democratic presidential nominee still enjoys a lead over Republican rival Donald Trump when it comes to the November general election.
The latest Real Clear Politics average shows Clinton with a 6-point lead over Trump.
—
Follow the author of this story on Twitter: