While discussing the Obama administration's $400 million payment to Iran, Fox News contributor Charles Krauthammer told "America's Newsroom" anchor Martha MacCallum that the "real scandal" is the nuclear deal with Iran.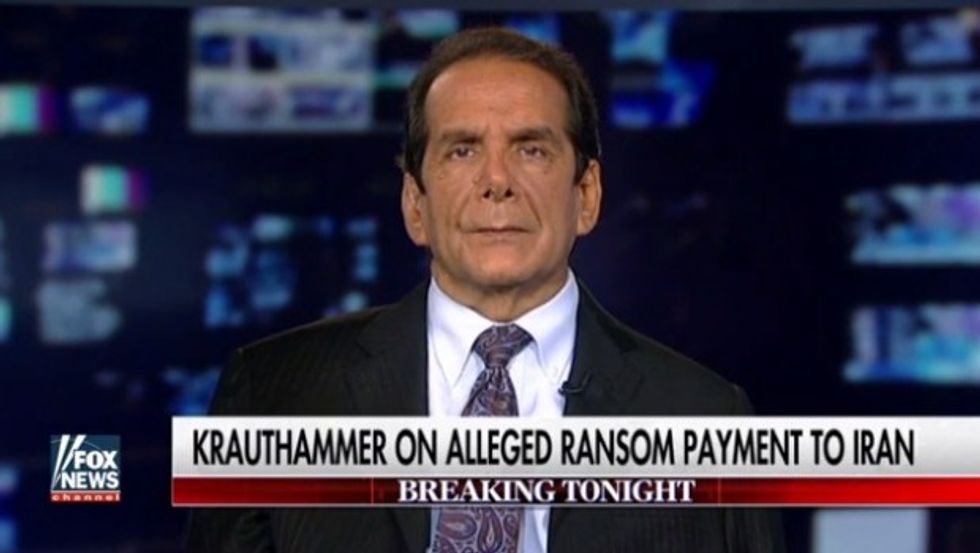 Image source: Fox News
TheBlaze previously reported that the U.S. State Department acknowledged Thursday that the cash payment to Iran earlier this year was contingent upon the release of American prisoners.
"It's embarrassing for the administration and even for the president to have to deny it," Krauthammer said of the allegations the payment was ransom. "Of course it was an exchange."
"Look, we exchanged five jihadists in return for one of our soldiers, the Bergdahl deal," Krauthammer added. "We're exchanging good money, other countries have done it. We have done it. We will do it in the future. They simply didn't want to admit it."
"But to me, the real scandal is the Iran deal itself," he continued. "The deal that's behind this, the one that was attached to it, where we've had all kinds of instances of denials and lies and pretense in selling the deal to the American people. That will be with us for a very long time."
Krauthammer said that the administration "caved in" on many elements of the deal and that any talks with Iran should have hinged upon the release of the prisoners in the first place.
—
Follow the author of this story on Twitter and Facebook: