A concealed carry permit holder in Evansville, Indiana, was forced to make a difficult split-second decision when he came under fire after a meeting with his ex-girlfriend and her new boyfriend turned violent.
Instead of returning fire, the ex-boyfriend grabbed his phone and dialed 911. He had a good reason, too.
Guns.com outlines exactly what happened:
Kiyel Langley and his girlfriend, Amber Martin, were set to meet Martin's ex-boyfriend Thursday morning around 10:30. Martin and her ex, who did not wish to be identified, have a child together and agreed to meet in the parking lot of a shopping center, local media reported.

But when the meeting occurred, an argument ensued which quickly led to a physical confrontation. Trying to remove himself from the situation, the ex-boyfriend called his father to come get him. When the man's father arrived, Langley and Martin – who had the child in the car with them – pulled up behind the father in an attempt to continue the fight.

The argument restarted and Langley pulled out a revolver and opened fire on the ex-boyfriend. The ex, who was also carrying a gun, chose not to fire back at Langley for one simple reason – his child was in the car driven by Langley and Martin.
"I did not fire for that reason," the alleged victim said.
Evansville Police apprehended Langley and charged him with attempted murder. Martin was charged with assisting a criminal.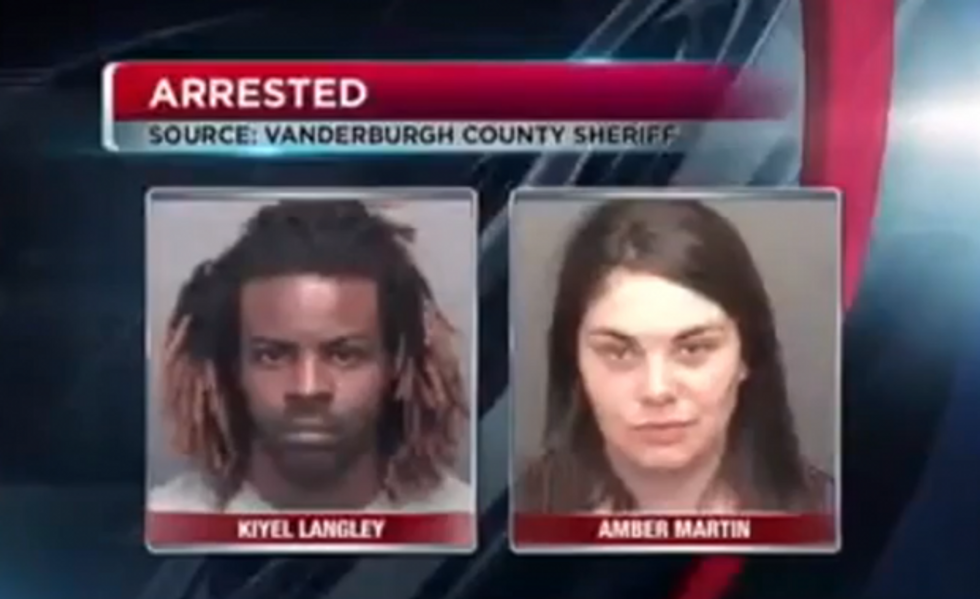 Screengrab via TristateHomepage.com
Evansville Police Captain Andy Chandler praised the ex-boyfriend, who asked to remain anonymous out of fear for retaliation, for showing restraint and making the right call under stressful circumstances.
Chandler said the victim chose not to fire once again even when the suspect took off running "because he felt like he was no longer in danger because the suspect was running from the scene." He described his actions as "good" and "common sense."
---