Homework assignments for young grade schoolers seems all-too-common these days — much to the chagrin of many parents who'd prefer their children attend to other activities at the end of a long day.
And now one North Texas teacher is completely on board with that philosophy.
During "Meet the Teacher Night" at Godley Elementary School, KTRK-TV reported that second-grade teacher Brandy Young passed out a "New Homework Policy" memo to every parent — and it must have read like a cool breeze in the blazing August sun given that the piece of paper has since gone viral.
In short, no homework this year for her class.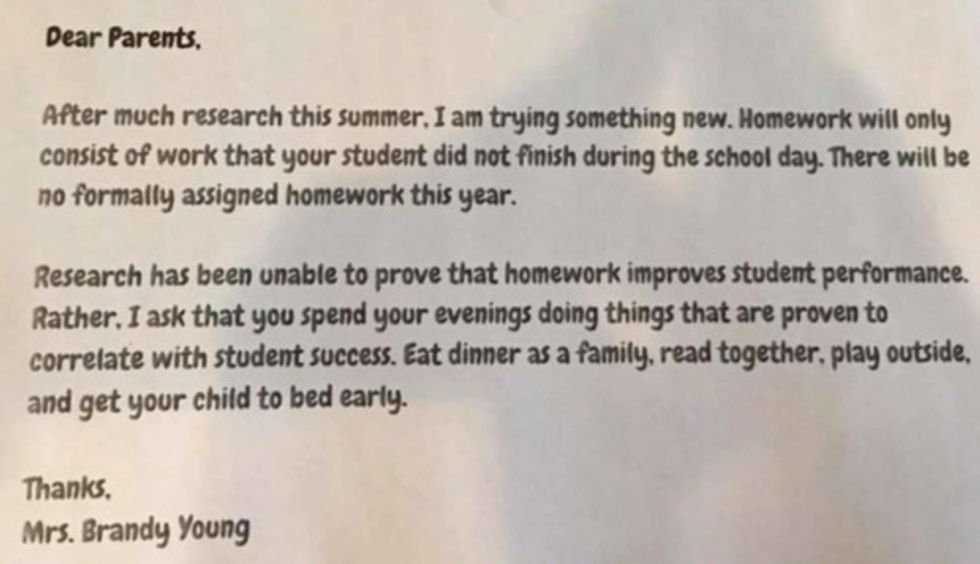 Image source: KTRK-TV
Young's note reads as follows:
After much research this summer, I am trying something new. Homework will only consist of work that your student did not finish during the school day. There will be no formally assigned homework this year.

Research has been unable to prove that homework improves students performance. Rather, I ask that you spend your evenings doing things that are proven to correlate with student success. Eat dinner as a family, read together, play outside, and get your child to bed early.
Samantha Gallagher's 7-year-old daughter Brooke is in Young's class, and Mom wrote on Facebook, "Brooke is loving her new teacher already!"
Since Gallagher's post about Young's no-homework policy went live a week ago, it's been shared nearly 70,000 times and has been viewed by users as far away as Japan, Israel, Australia, Africa, Polynesia, Scotland and Ireland.
"I like this teacher," one commenter wrote. "She has her head on right. I can understand why your post has so many shares."