Democratic presidential nominee Hillary Clinton disputed allegations that she is in poor health during an interview Monday on ABC's "Jimmy Kimmel Live."
"Here, take my pulse while I'm talking to you," Clinton told host Jimmy Kimmel. "Make sure I'm alive."
"Oh my God, there's nothing there!" Kimmel joked.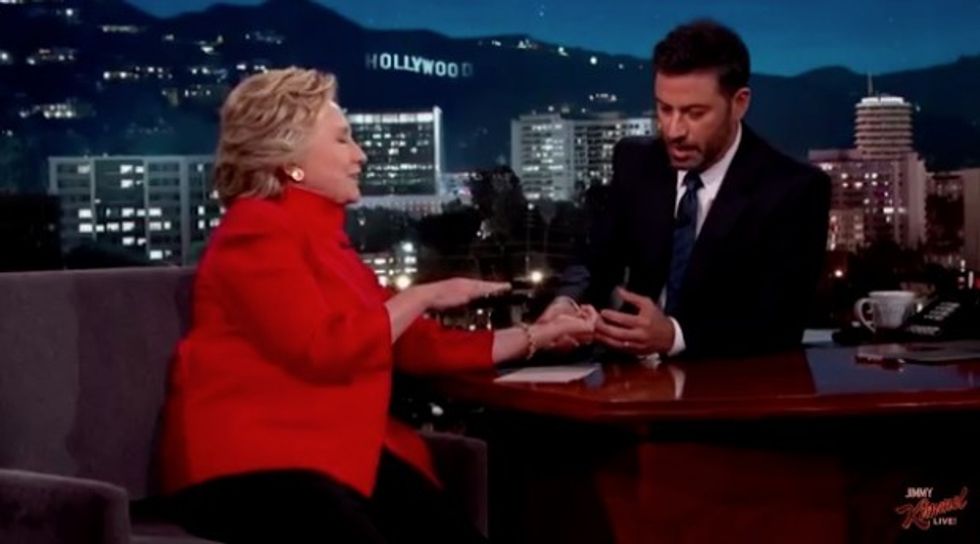 Democratic presidential nominee Hillary Clinton speaks with ABC's Jimmy Kimmel (Image source: YouTube)
In recent days, some of Clinton's critics, such as former New York City Mayor Rudy Giuliani, have questioned whether her health is good enough to serve as commander in chief.
"Back in October, the National Enquirer said I would be dead in six months," Clinton continued. "So with every breath I take, I feel like it's a repudiation — a new lease on life."
Clinton said she doesn't know why her health has been called into question.
"I think on the one hand it's part of the wacky strategy — just say all these crazy things and maybe you can get some people to believe you," she said. "On the other hand it just absolutely makes no sense. I don't go around questioning Donald Trump's health."
Kimmel asked Clinton to prove her good health by opening an "untampered" pickle jar, which she did.
"This is such a serious time in our country," Clinton began.
"Not really," Kimmel interjected.
Kimmel went on to ask Clinton if she'd rather be running against someone "boring" like former Massachusetts Gov. Mitt Romney.
"I would prefer to be running against somebody I thought was qualified to be president and temperamentally fit," Clinton said. "Yes, I would, absolutely."
Clinton also said she isn't concerned about the contents of nearly 15,000 additional emails that will be released by the State Department.
"Jimmy, my emails are so boring," she said. "And I'm embarrassed about that. They're so boring. So we've already released, I don't know, 30,000-plus, so what's a few more."
—
Follow the author of this story on Twitter and Facebook: