An anti-gun group at the University of Texas at Austin used sex toys to stage a bizarre protest of Texas' new campus carry law on Wednesday.
According to the Texas Tribune, a group called "Cocks Not Glocks" organized a "campus dildo carry" to protest the so-called "campus carry" law. Protesters used "more than 4,500 donated dildos" to object to the presence of handguns on their campus.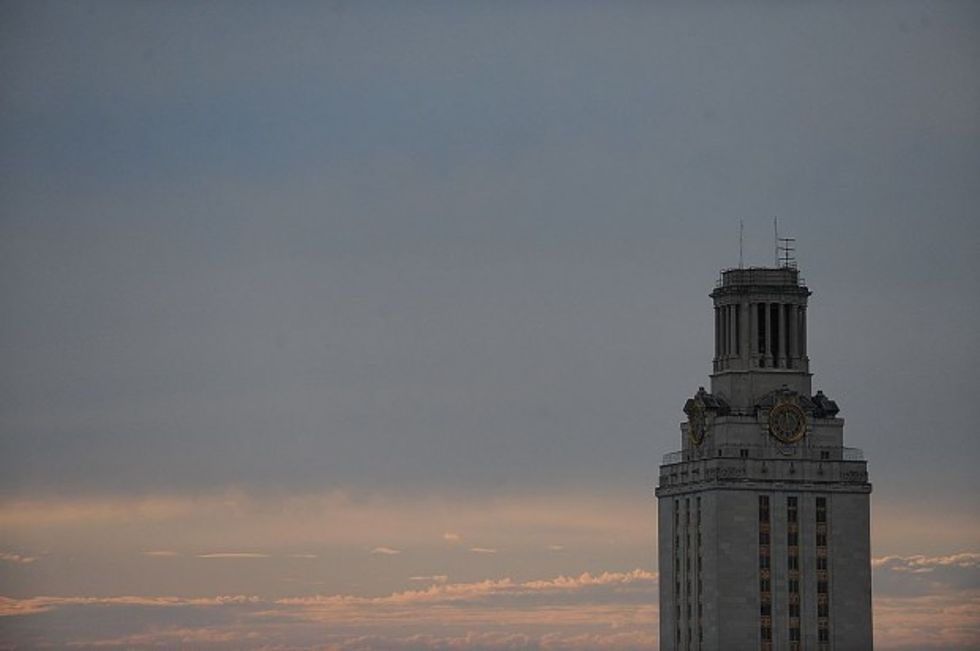 The University of Texas Tower on the University of Texas campus in Austin. (Ronald Martinez/Getty Images)
"We want these dildos on backpacks as long as there are concealed handguns in backpacks," Ana López, a UT sophomore and one of the Cocks Not Glocks organizers, told the Texas Tribune.
Organizers urged protesters to openly carry the sex toys around campus to protest the concealed weapons that licensed owners may now carry in most parts of the campus.
UT alumna Jessica Jin, who organized the group last year, told the Texas Tribune that "as long as you have a dick on your backpack, people will be thinking about the guns inside of other people backpacks."
CJ Grisham, founder and president of Open Carry Texas, a Second Amendment rights group, told the Texas Tribune that the organization plans to counter-protest Cocks Not Glocks' efforts, adding that the group did not attend the distribution of the anti-gun group's materials because "there's only so many dildos [one] can look at."
"Our goal is to support our student members and to show that UT is not unanimously against campus carry," Grisham said. "A lot of people support the right to self-defense on a college campus."
According to KXAN-TV, Open Carry Texas will carry clocks as a counter-protest, in an effort to tell the anti-gun group not to "waste their time protesting" and "to get to class on time."
J.B. Bird, a spokesperson for the university, told the Texas Tribune that "UT Austin students are free to express themselves peacefully on all issues."
"The planned protests around campus carry appear to be examples of protected political speech," Bird added. "We ask that the conversations around this issue remain civil. We encourage students of all opinions to be a part of this and other discussions of public policy."
In a July statement, Bob Harkins, UT's associate vice president of campus safety and security and the chairman of its Campus Carry Implementation Task Force, said, "UT Austin leadership has been working closely with students, faculty and staff members from across campus to implement the law as smoothly as possible."
"[R]egardless of your opinion about the legislation, you are required to follow the laws laid out by the State of Texas, and the policies of The University of Texas at Austin," he continued. "We also ask that everyone show respect toward other members of the university community who have different views."
—
Follow the author of this story on Twitter and Facebook: