They've become know as the "Cajun Navy" — volunteers with boats who ventured into flood-ravaged areas in Louisiana in recent days and rescued hundreds of residents.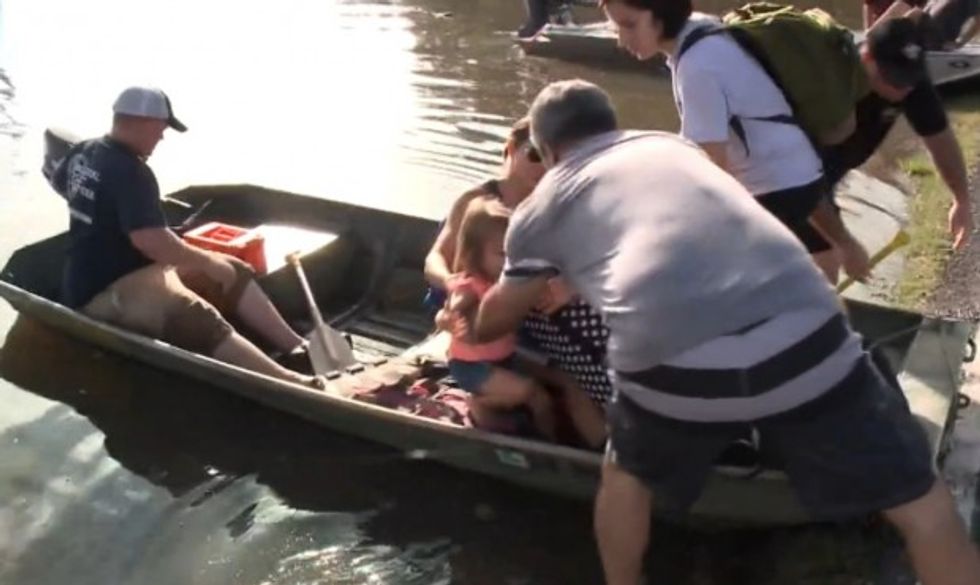 Image source: WWL-TV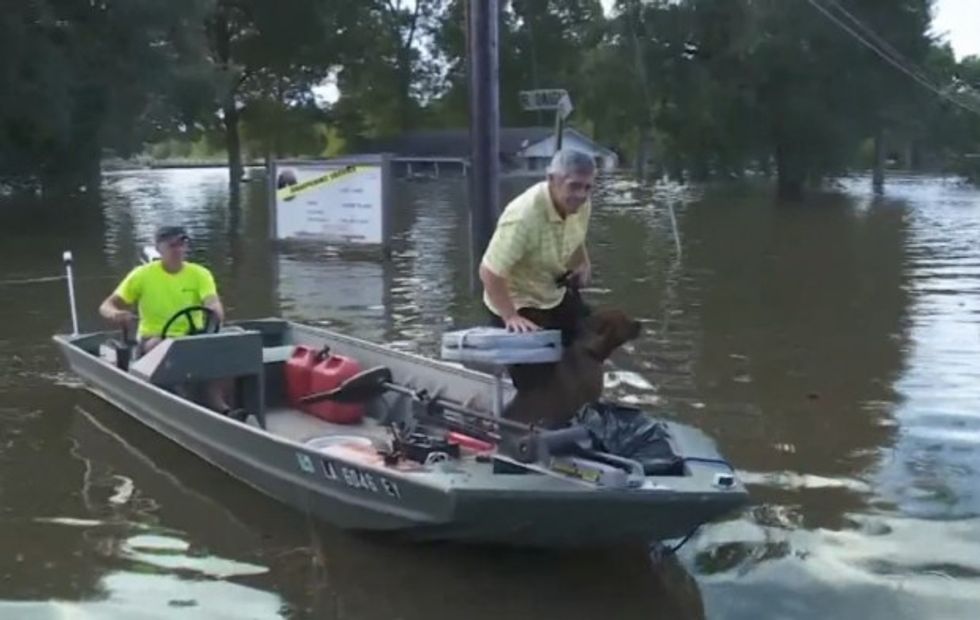 Image source: WWL-TV
Dustin Clouatre of St. Amant was among the rescuers. He recalled simply getting into his boat and, with others, picking up residents from entire neighborhoods.
"For the most part, these people are not going to wait for assistance," Clouatre told WWL-TV. "They're doers."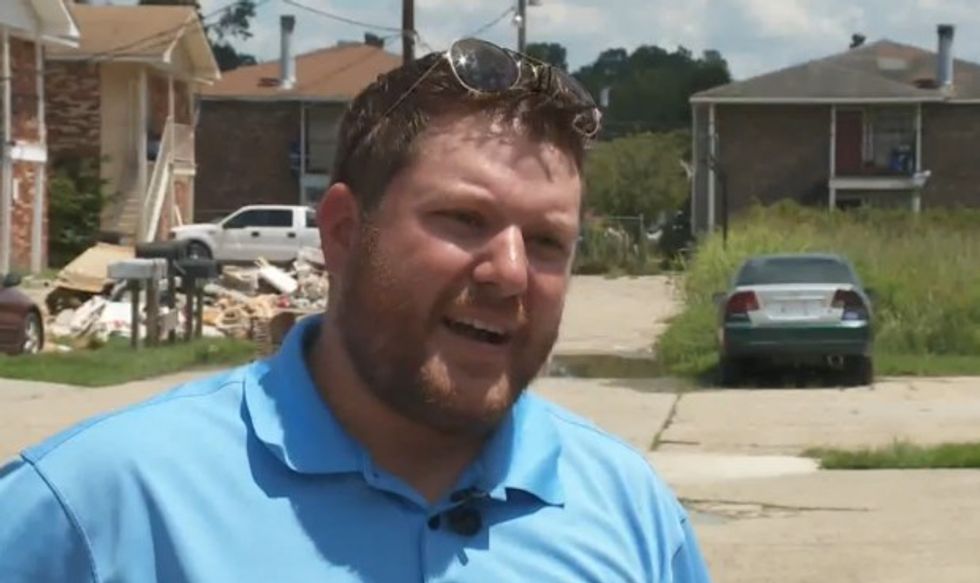 Dustin Clouatre (Image source: WWL-TV)
Republican state Sen. Jonathan "J.P." Perry of the Vermilion-Lafayette area is taking action as well — but not the kind that necessarily sits well with Clouatre.
Perry is working on legislation that may mean the likes of the "Cajun Navy" are required to undergo training, acquire certificates and pay a permit fee before they do their good deeds.
"At the end of the day, there are going to be two things that are going to be the hurdle when you approach it from the state's standpoint," Perry told KPEL-FM in Lafayette. "Liability is going to be number one for them. They don't want the liability of someone going out to rescue someone and then not being able to find them, and secondly, there's a cost."
Clouatre isn't in favor of regulations.
"How can you regulate people helping people?" he asked WWL. "That doesn't make sense to me."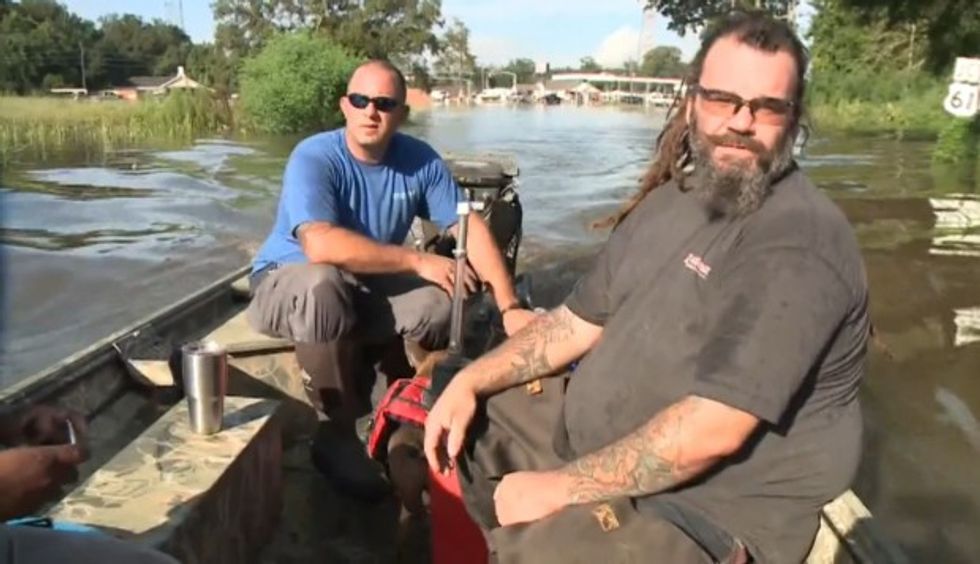 Image source: WWL-TV
But Perry said in a video he posted to Facebook on Tuesday he doesn't want to make it harder for these volunteers — it's just the opposite, he asserted.
"The intent of what I want to do is to completely un-regulate it to where our volunteers are not stopped from going out," Perry said in the video, adding that he's been taking heat from those who don't understand what he's trying to do. "What's happening is, it's all getting twisted around like I'm trying to put a fee on it, I'm trying to tax it, I'm trying to require a permit."
Actually, Perry explained, if such requirements aren't enacted, then current law takes over. And that law mandates that citizens who cross law enforcement barricades and perimeters — like many of the "Cajun Navy" members did while carrying out rescues — must be stopped, not to mention the punishment they face for the infractions.
Perry added that there doesn't necessarily have to be a fee associated with regulations and that it could end being something as simple as volunteers signing a waiver, which would free them up.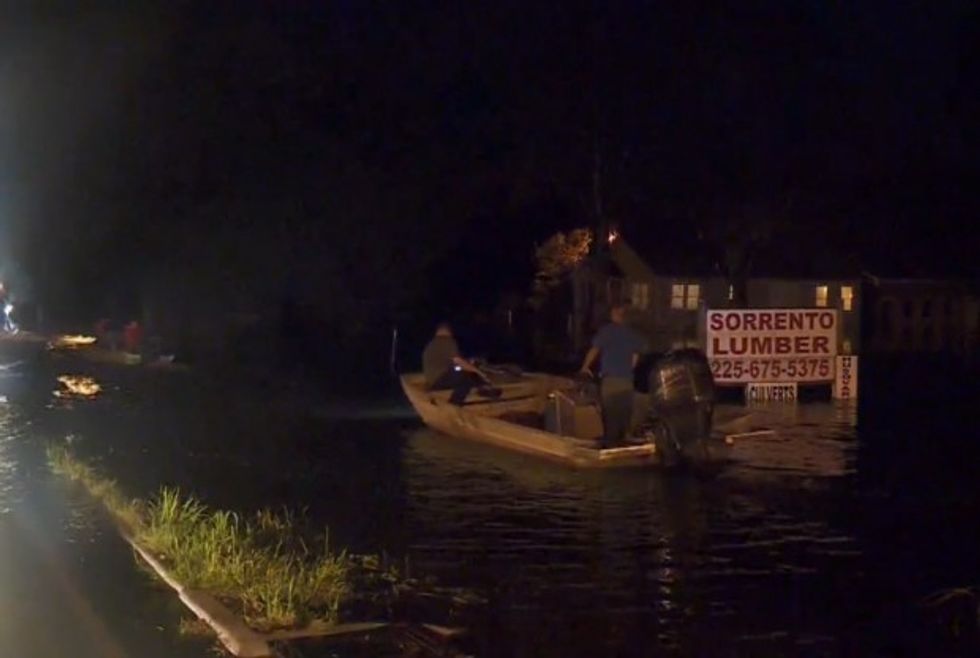 Image source: WWL-TV
Clouatre noted that he and his comrades likely know flooded areas much better than officially recognized rescuers coming in from the outside. In fact, Clouatre told WWL, the Cajun Navy members often went to lengths that official rescuers wouldn't have been allowed to.
(H/T: Young Conservatives)