An earth-like planet has been discovered orbiting the closest star to our solar system, according to CNN.
The planet, Proxima b, "is the closest exoplanet to us in the universe."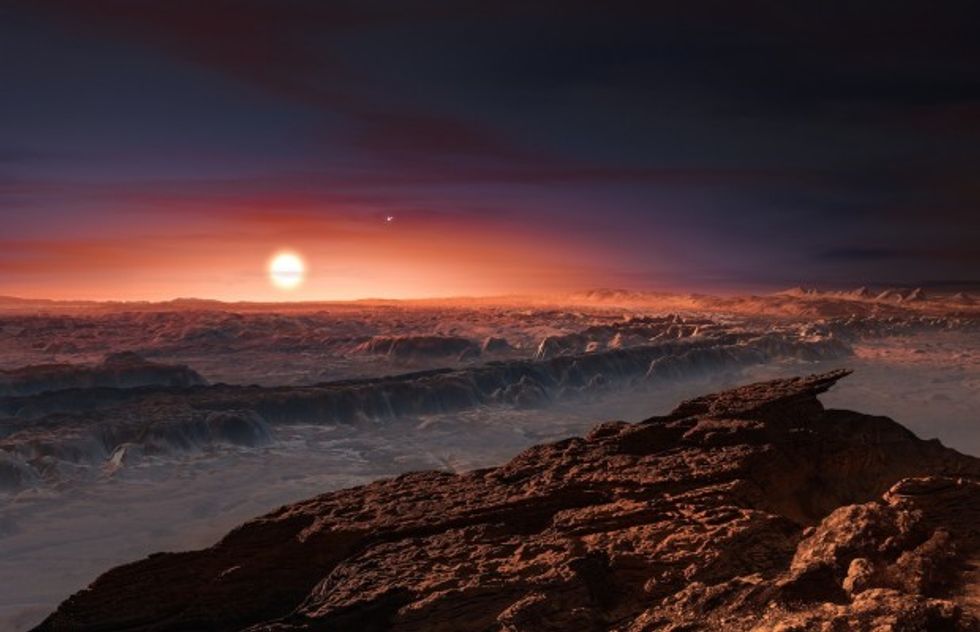 This artist rendering shows a view of the surface of the planet Proxima b orbiting the red dwarf star Proxima Centauri. Proxima b is a little more massive than the Earth and orbits in the habitable zone around Proxima Centauri, where the temperature is suitable for liquid water to exist on its surface. (European Southern Observatory via AP)
According to a study published Wednesday in Nature, Proxima b has a temperature range that could permit the presence of liquid water on its surface.
"It's not only the closest terrestrial planet found, it's probably the closest planet outside our solar system that will ever be found because there is no star closer to the solar system than this one, and any planet around that star is the closest to our solar system," lead study author Guillem Anglada-Escudé told CNN.
Proxima b is 4.2 light-years away from our solar system.
"The good news is that it is so close," study author Ansgar Reiners told CNN. "It is not only nice for having it in our neighborhood, but it's a dream come true for astronomers if we think about follow-up observation."
According to USA Today, scientists are not yet sure if Proxima b has an atmosphere.
—
Follow the author of this story on Twitter and Facebook: