A self-described Donald Trump supporter called into Glenn Beck's radio program on Wednesday and issued a threatening message to the Republican nominee.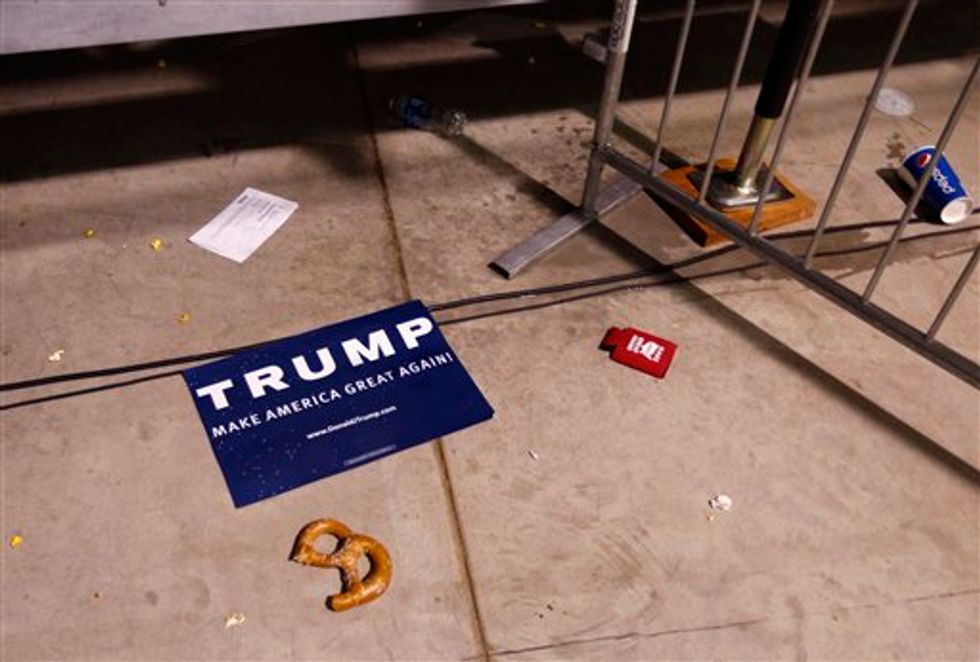 A pretzel and campaign sign lie on the ground as Republican presidential candidate Donald Trump speaks at a rally in Dimondale, Mich.. Friday, Aug. 19, 2016. (AP Photo/Gerald Herbert)
The radio call turned "spooky" after "Nate" from Virginia was asked to explain how he can trust Trump to keep his promises when he's already changing some of his policy positions.
"As long as he does the basic things, the foundational things, which is build a wall, he's not going to have people like me coming after him," Nate responded.
"So if he doesn't build a wall like China, then he's in trouble?" Beck said.
"Oh, he's in so much trouble," the caller quickly shot back. "You don't even understand the backlash of us, the ones who are so frustrated and angry and tired of all the political stuff. We're going to come after him personally. You know what I mean? We're going to get him." When pressed on what he meant by "get him," Nate clarified that he was speaking about the "peaceful" process of impeachment. However, Beck was stunned by the comments he heard when he tried to confirm the caller wasn't talking about violence against Trump.
"There's not violence when you say coming after him personally?" Beck said.
"Well, I mean, hey, you yourself said he's condoned violence in the past, hasn't he?" the caller replied.
The caller went on to issue a chilling warning to Trump about keeping his campaign promises:
"I'm just saying, he's appealing to people who are very frustrated and angry. Their frustration and anger can only be subsided if he makes his promises true," Nate said. "And he has a lot on his shoulders. Maybe he himself doesn't even know how much. But if he doesn't come through for us, he's going to have bigger problems, bigger problems than what you know."
Beck described the call as "one of the spookiest" phone calls he's ever received.
---