Hillary Clinton's legal team took such painstaking efforts to delete the former secretary of state's emails that "even God can't read them," according to Rep. Trey Gowdy (R-S.C.), chairman of the House Select Committee on Benghazi.
Gowdy argued the use of BleachBit, a software whose website says it can "prevent recovery" of files, further bolsters accusations that Clinton, the Democratic nominee for president, had something to hide in deleting all the personal files from her time at the State Department.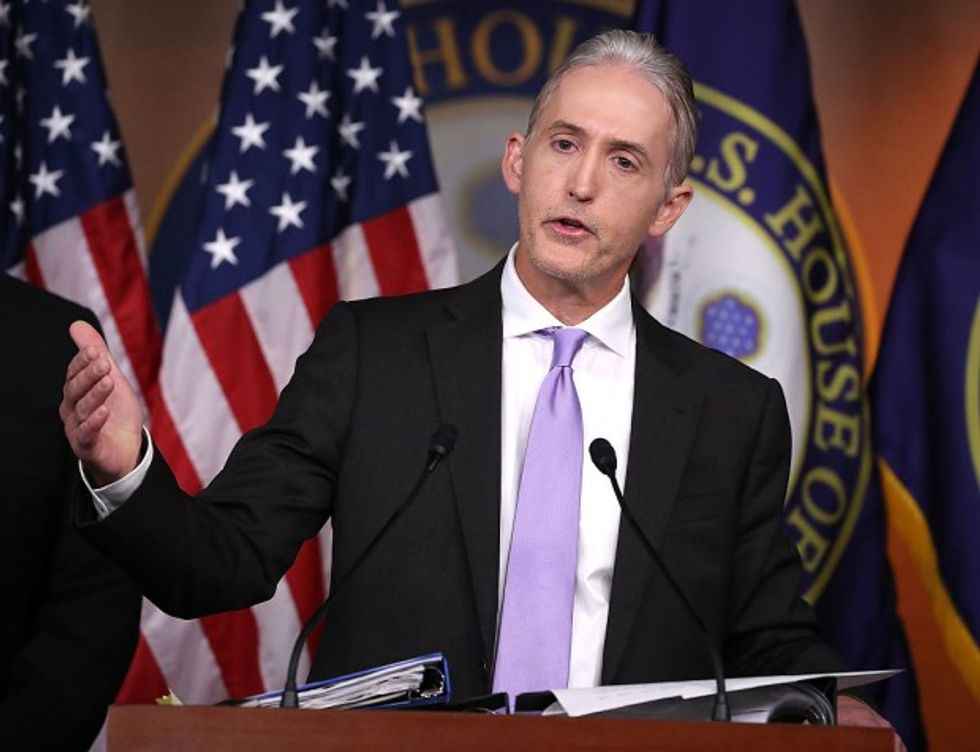 Mark Wilson/Getty Images
According to Clinton, the emails she deleted were all of a personal nature, most of which pertained to yoga and her daughter's wedding. Gowdy, though, isn't so sure and wants to know if the presidential hopeful considered emails about the Clinton Foundation personal.
"She and her lawyers had those emails deleted. And they didn't just push the delete button; they had them deleted where even God can't read them," the lawmaker said during an appearance on Fox News' "America's Newsroom" Thursday. "They were using something called BleachBit. You don't use BleachBit for yoga emails or bridemaids emails. When you're using BleachBit, it is something you really do not want the world to see."
Gowdy argued that Clinton's previous statements — and her untrue assertion that she never sent or received any classified information — should assist voters in determining the truthfulness of her claim that Clinton Foundation donors never received special treatment.
Clinton, for her part, told CNN's Anderson Cooper Wednesday night, "There is a lot of smoke and there's no fire."
"It's arson. It's pyromania. It's not smoke. Even listening to her talk about the Clinton Foundation, I couldn't help but go back and remember the press conference she gave on her emails where every single thing she said proved to be false," Gowdy said of the comment. "That's the interesting thing about credibility and believability: You can't just keep it in one compartment."
"When you are a habitual, serial liar in this facet of life, it tends to make people not believe you in other facets of life," he continued. "So when she's talking about the Clinton Foundation, I go back and remember her saying there's no classified information, I only used one device, I did it for convenience. All of which were proven to be false."
The South Carolina Republican's remarks come the same week the FBI recovered nearly 15,000 "previously undisclosed" emails found during the investigation into Clinton. State Department lawyers said they anticipate releasing the first batch of those emails in mid October.
Brian Fallon, Clinton's press secretary, said in a statement at the time he is "not sure" what is in the new emails, but the campaign supports the release as long as the content is "work-related."
—
Follow the author of this story on Twitter: