Republican presidential candidate Donald Trump polled the audience at a town hall event with Fox News' Sean Hannity on the mass deportation of immigrants in the country illegally.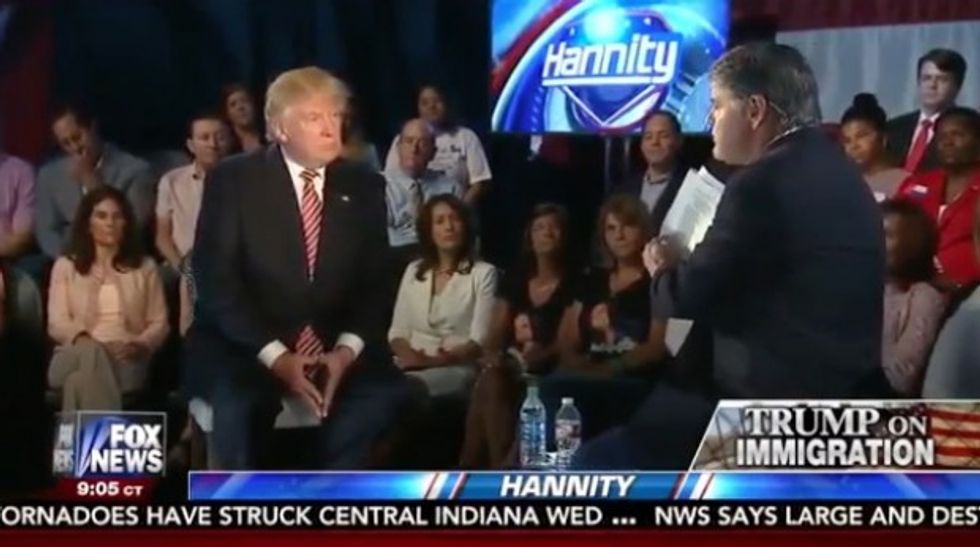 Image source: YouTube
While discussing the issue of illegal immigration during the discussion that aired Wednesday night, Trump began to ask the audience what should be done about otherwise law-abiding immigrants without legal status.
"I'll ask the audience. You have somebody who's terrific, who's been here—" Trump said.
"Twenty years," Hannity interjected.
"Right, long time," Trump continued. "Long court proceeding, long everything, OK? In other words, to get them out. Can we go through a process, or do you think they have to get out? Tell me. I mean, I don't know. You tell me."
"Well, let me, let's do a poll," Hannity said. "How many think they should go through a process that maybe gives 'em a chance? Clap. We gotta hear you."
"How many people — how many think they go?" Hannity then asked.
Trump remarked on the crowd size, characterizing it as equivalent to a poll. Trump then began to quiz the audience on their opinions on immigration, asking who among them believes illegal immigrants should or should not be "thrown out."
TheBlaze previously reported that Trump has said he is open to "softening" his position on the issue.
Watch below:
—
Follow the author of this story on Twitter and Facebook: