Reagan Barklage, the Midwest regional coordinator of Students for Life of America, wrote in an op-ed for Glamour published Friday that one of her professors screamed in her face when she started a pro-life group on her campus as a sophomore.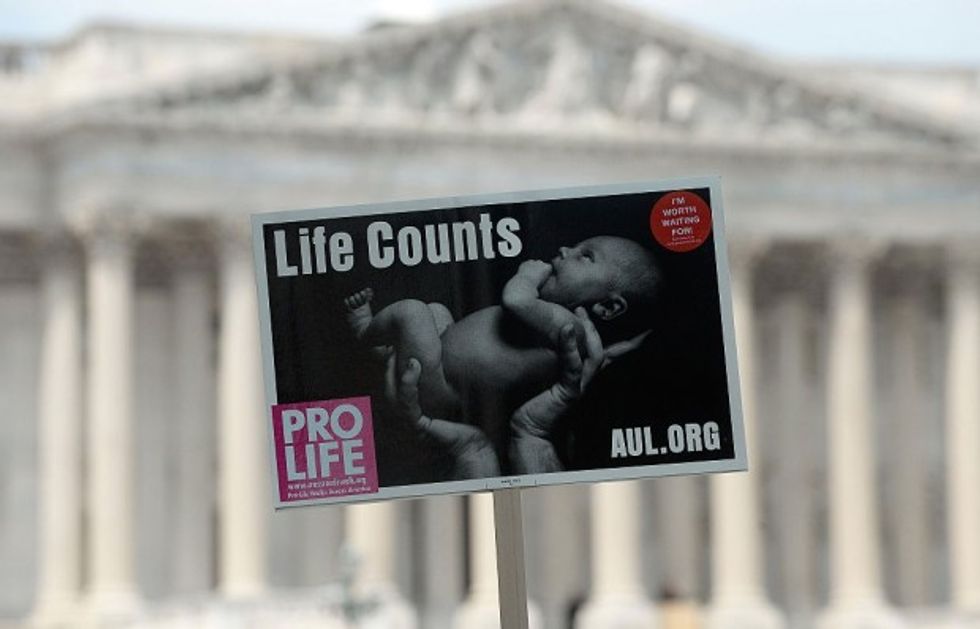 A pro-life sign is held aloft during a rally opposing federal funding for Planned Parenthood in front of the U.S. Capitol. (Olivier Douliery/Getty Images)
"You're a disgrace to the woman race!" the professor at the University of Missouri purportedly yelled at Barklage.
Barklage wrote that she replied, "I'm doing this for women. I'm doing this for the women on campus."
"She had already judged me as one of those pro-lifers — you know, the stereotypical protesters you always see in the media yelling at women as they enter an abortion facility," Barklage wrote. "But that's not me. And that's not what I see when I work with our 1,030 groups across the country — students ages 12 to 24, of all ethnicities, sexual orientations, religions, and even political views. And it's not what I believe most of us in the pro-life movement are all about."
According to Barklage, she decided to start a pro-life group on her campus to support pregnant and parenting students because she "saw a lot of sexual health posters and free condoms, but no help for women with unplanned pregnancies who didn't want to have an abortion [and] no mention of alternatives."
"I soon found out that there were a multitude of resources for those women in mid-Missouri, but unfortunately many didn't know about them," she wrote. "That's when I knew I had to do something."
In her piece, Barklage wrote that now she does her job in order "to show women, especially those who feel pressured and broken, that they are strong, and that they do have a choice—a real choice, because there is support," adding:
This year, for example, the students I mentored created special kits full of resources for women facing an unplanned pregnancy, handed out free pregnancy tests, hosted baby showers and diaper drives, babysat during finals, and gave out scholarships for student moms. We also have a Pregnant on Campus Initiative, which teaches students how to lobby their schools for pregnant and parenting-friendly options (think diaper decks, easily accessible lactation rooms, teaching pregnant students about their education rights), and that has been a huge success.
Read Barklage's full piece here.
—
Follow the author of this story on Twitter and Facebook: