In one country music legend's opinion, both presidential candidates this go 'round are "nuts."
Dolly Parton, speaking Friday to CNN's Brooke Baldwin, who asked her about the election between Donald Trump and Hillary Clinton, said, "It's the greatest show on television right now."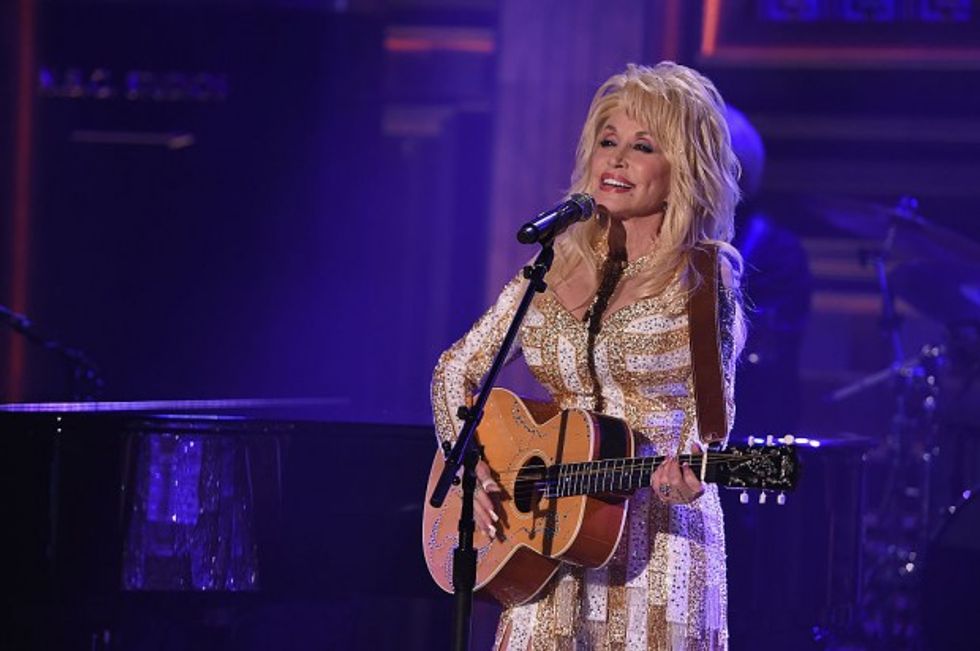 Theo Wargo/Getty Images for NBC
"It's just crazy," the "Jolene" singer continued. "Right now, I'm just not sure. It's just the biggest reality show out there. So I don't know where we're gonna land, but I think they're both nuts."
Parton, 70, equated watching the election unfold to seeing the O.J. Simpson trial, telling the CNN host, "You just believe whoever's up next. Whoever testified last is who you believe."
As Baldwin noted, during her 2008 run for the White House, Clinton used Parton's hit song "9 to 5," which the country artist said was meant to raise awareness about pay inequity. This time around, Parton said it's most important to her that both candidates stop talking about each other so much.
"Let's talk about what we really need — taking care of us," she said. "I think people just want to have a feeling of security. It's just like political terrorism right now, they got us all scared to death about everything."
She also discussed Trump's signature slogan, "Make America great again," telling Baldwin, "I think America's always been great. We'll always be great, no matter who's in and who ain't, but of course, we've got room for improvement."
Parton said she hopes the next president "will do good by us," adding that citizens need to "pray hard" for whoever wins in November and "help them all we can."
Regardless of where she stands politically, though, the darling of country music said the fact that a woman is finally a nominee of a major political party in the U.S. is a sign the country has "come a long way, but we're still talking about it."
"We're doing good. We got a woman that could go in the White House, so we've certainly come a long way in that respect," she added.
Next month, Parton will begin a 60-date North American tour to promote her newly released album, "Pure and Simple."
Watch Baldwin's interview with Parton below:
.@DollyParton tells @BrookeBCNN both Clinton and Trump "are nuts" https://t.co/NOpvI8nsnJ

— Tré Goins-Phillips (@tregp) August 26, 2016
–
Follow the author of this story on Twitter: