Hillary Clinton has been going after Donald Trump this week for his often brash language and his campaign's hiring of Steve Bannon, a former executive at Breitbart News, a very conservative outlet many associate with the alt-right movement.
The Democratic presidential nominee has even claimed there's been a "Trump effect" in certain schools were reports of bullying has increased. The fact-checking publication PolitiFact determined Clinton's assertion to be "mostly true."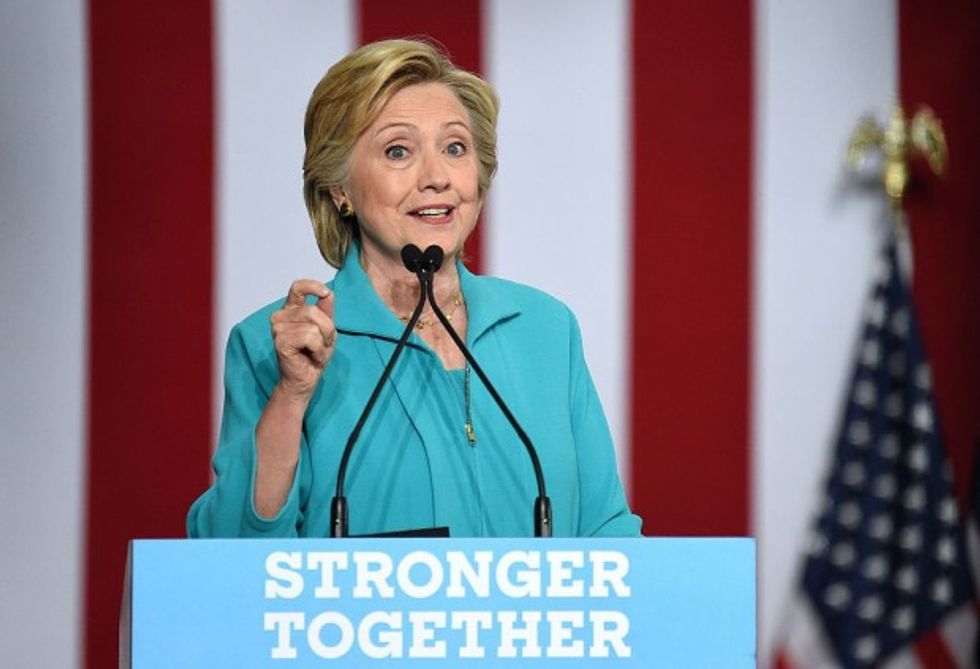 JOSH EDELSON/AFP/Getty Images
"Parents and teachers are already worrying about what they call the 'Trump Effect,'" Clinton said earlier this week. "They report that bullying and harassment are on the rise in our schools, especially targeting students of color, Muslims and immigrants."
The PolitiFact decision essentially hinges on a report from the Southern Poverty Law Center, a left-leaning civil rights and anti-discrimination group, titled, "The Trump Effect: The impact of the presidential campaign on our nation's schools."
According to the non-scientific report, which was conducted online and surveyed 2,000 K-12 teachers, "Teachers have noted an increase in bullying, harassment and intimidation of students whose races, religions or nationalities have been the verbal targets of candidates on the campaign trail."
Based upon this information, PolitiFact suggests, Clinton's comments are accurate.
However, the website admitted there are no scientific studies to corroborate Clinton's claims:
We looked for a scientific study that speaks to this same question but couldn't find one, mostly because there tends to be a lag in this kind of data, meaning data on bullying trends in 2016 won't get published until 2017 or later. The process of setting up and getting approval to conduct a scientific study is lengthy and cumbersome, and would not be approved before the election, said Sheri Bauman, a professor at the University of Arizona who researches bullying
This latest line of attack from Clinton is not a new angle. Earlier this summer, the presidential hopeful knocked Trump for his language with an ad showing children listening to some of the Republican presidential nominee's boldest assertions.
Clinton also asserted this week Trump is the nominee of racists, attempting to tie the billionaire businessman to the Ku Klux Klan with a new web video claiming "a lot of Klan members like Donald Trump."
(H/T: Mediaite)
—
Follow the author of this story on Twitter: