Republican presidential candidate Donald Trump said in a statement released by his campaign Monday that Huma Abedin "is making a very wise decision" to separate from her husband, former New York Democratic Rep. Anthony Weiner, in the wake of his latest sexting scandal.
"I know Anthony Weiner well, and she will be far better off without him," Trump said.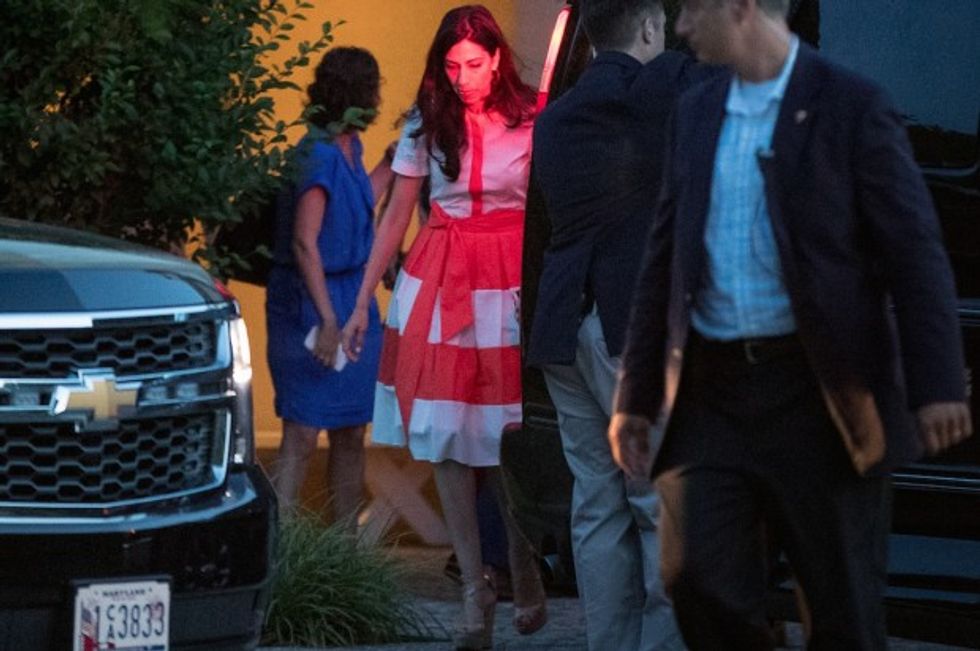 Huma Abedin, senior aide to Democratic presidential candidate Hillary Clinton, departs a fundraiser at a private home in Southampton, New York, Sunday.(AP Photo/Andrew Harnik)
TheBlaze previously reported that Abedin, a top aide to Democratic presidential candidate Hillary Clinton, announced Monday that she will separate from Weiner following a report that he purportedly shared a lewd image of himself while lounging in bed beside the couple's young son.
Trump also said that the scandal calls into question Clinton's judgment and speculated that the incident may have implications for national security.
"I only worry for the country in that Hillary Clinton was careless and negligent in allowing Weiner to have such close proximity to highly classified information," Trump said. "Who knows what he learned and who he told? It's just another example of Hillary Clinton's bad judgment. It is possible that our country and its security have been greatly compromised by this."
Trump wasn't the only 2016 contender to weigh in on the latest Weiner scandal. Green Party candidate Dr. Jill Stein took to Twitter to say she hopes the moment will be a springboard for "meaningful political discourse."
Anthony Weiner has deleted his Twitter account. Shall we mark the occasion with meaningful political discourse on important issues? #NoDAPL

— Dr. Jill Stein (@DrJillStein) August 29, 2016
Weiner once infamously shared vulgar images of himself online under the pseudonym "Carlos Danger." His previous sexting scandals led to his resignation from Congress and a failed mayoral bid in New York City.
—
Follow the author of this story on Twitter and Facebook: