As Republican presidential nominee Donald Trump prepares to deliver a "major" immigration policy speech Wednesday, at least one conservative immigration leader is waiting for a change from the bombastic candidate.
In an interview with TheBlaze, Daniel Garza, executive director of the LIBRE Initiative, said he wants to see "specific policy details" in Trump's upcoming immigration speech but speculated that the nominee would "dance a fine line" between being firm on border security and appealing to the 11 million undocumented immigrants already in the country.
"I think it's important that Donald Trump shift from his previously stated immigration proposal that he announced and move toward the middle," Garza said. "If we're ever going to address effectively the broken immigration laws that we have and the effects of the broken immigration laws, then we have to move toward a place of consensus."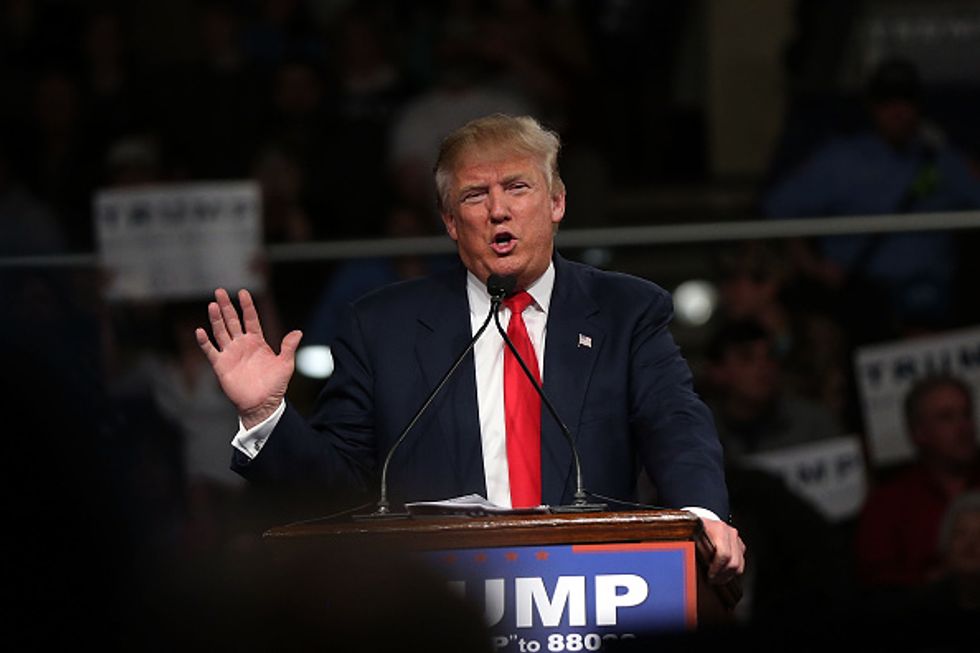 Republican presidential candidate Donald Trump speaks in Sumter, South Carolina. (Getty Images/Spencer Platt)
"Look, the Democratic Party does not get to define what immigration reform is, and neither can the Republicans," he continued.
Garza, who heads the conservative Hispanic nonprofit, asserted that the "back and forth" from Trump and his campaign on immigration has done nothing but "increase the confusion" among voters on where the candidate really stands on the issue. 
"The Latino community is looking for a leader who is able to persuade the other side and move from their fixed position toward consensus," he said. "Frankly up until now, Trump has done a terrible job of messaging that because I don't think that's where he's at."
"They've confused the electorate more than offered up clarity," Garza said.
Aside from Trump, Garza argued that Democratic presidential nominee Hillary Clinton is "promising what she cannot deliver" as she has advocated to "impose" immigration laws — something the president does not have the authority to do, he said.
"You have a candidate who wants to deport millions of undocumented immigrants, spoke with disdain and contempt about the undocumented community, refused to provide drivers licenses to them and called to deport Central American children who are fleeing drug dealers and sex traders and gang violence just last year and voted to enhance the border wall — I'm talking about Hillary Clinton here," he said. "So she softened her position and moved away from the stated positions that she's said in the past."
"So we're hoping to see Donald Trump also move from that harsh position that he took with immigration," Garza continued, adding that he is "running out of time" to do so.
Earlier this election cycle when there were still several candidates vying for the GOP nod, Garza argued that Hispanic voters had a choice to make — to either support a candidate who would "forsake" a majority of important issues or align with a candidate who might only be good on the one issue of immigration.
"That is a valid question every Latino has to ask themselves — every Latino voter," Garza said in March. "So for someone that is very harsh on immigration, for individuals who have expressed themselves as much, am I willing to then forsake spending, social issues, national security, all of these other issues because of that one issue, and that's a very legitimate question."
Garza said that question still holds true as Hispanic voters — as well as the rest of the country – watches Trump's speech in Arizona Wednesday.
Trump's running mate, Indiana Gov. Mike Pence, is expected to join him as he makes his "major speech" in downtown Phoenix.
—
Follow Kaitlyn Schallhorn (@K_Schallhorn) on Twitter