San Fransisco 49ers quarterback Colin Kaepernick has been the subject of intense scrutiny since he refused to stand for the national anthem at a preseason game last week, and now one of his former teammates is joining in the criticism.
Alex Boone, who played guard with Kaepernick from 2011 to 2015, told ESPN that he wasn't "surprised" by the move but was surely "upset and disappointed" by it.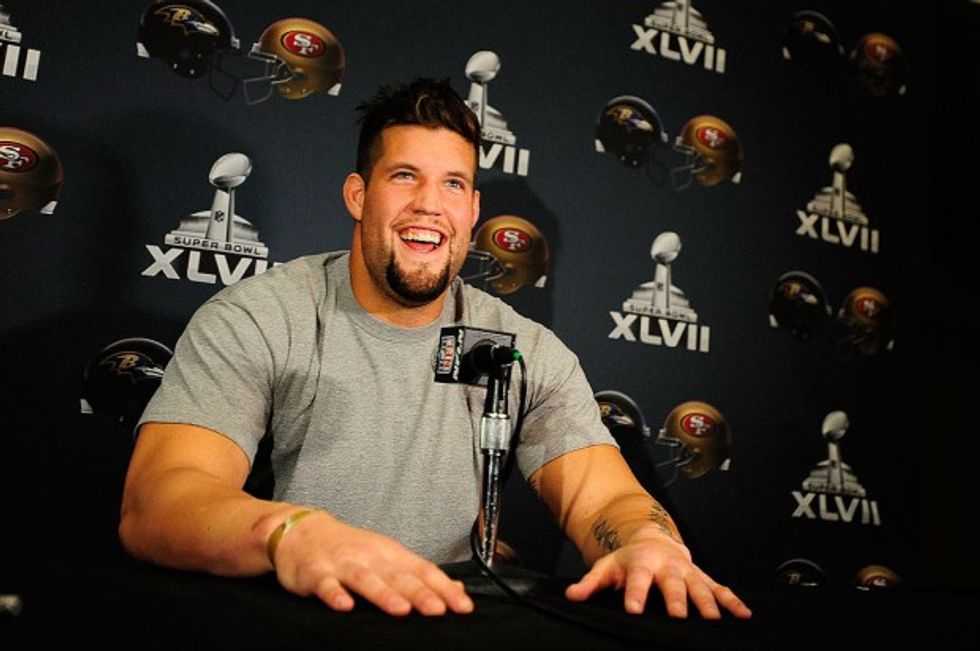 Minnesota Viking guard Alex Boone (Stacy Revere/Getty Images)
"I mean, like I had said earlier, that flag gives you the right to do whatever you want and I understand that — Anquan said that, and I agree with that," Boone, who now plays for the Minnesota Vikings, remarked. "But at the same time, you have to show some respect, especially in this position that we're in, where we're playing a game for a living — it's almost disrespectful."
"You see all these pictures of these veterans that have no legs and they're standing up in their wheelchair," he continued.
Further commenting on the issue to USA Today, Boone, who was reportedly wearing an "American Sniper" T-shirt at the time, explained that Kaepernick's controversial decision is particularly difficult for him because his brother, a Marine, "lost a lot of friends" in combat.
While Boone said he understands his ex-teammate's decision and his freedom to do so, he doesn't necessarily believe it was right.
"You should have some [expletive] respect for people who served, especially people that lost their life to protect our freedom," Boone said. "We're out here playing a game, making millions of dollars. People are losing their life, and you don't have the common courtesy to do that. That just drove me nuts."
He went on to say that, if he and Kaepernick were teammates right now, the two likely "would have had a problem."
The 49ers player doubled down on his decision over the weekend, saying he will continue to sit during the "Star-Spangled Banner" because he refuses to "show pride in a flag for a country that oppresses black people and people of color."
"To me, this is bigger than football and it would be selfish on my part to look the other way," Kaepernick argued. "There are bodies in the street and people getting paid leave and getting away with murder."
—
Follow the author of this story on Twitter: