Former Minnesota Republican Rep. Michele Bachmann says "God raised up" Donald Trump to be the GOP nominee for president.
Bachmann, who initially supported Texas Sen. Ted Cruz for president but now advises Trump on foreign policy, told the Christian Broadcasting Network that the people with whom Trump surrounds himself only prove her point, specifically naming Dr. Ben Carson, former Arkansas Gov. Mike Huckabee, the Rev. Franklin Graham and Jerry Falwell, Jr.
"He's got fabulous people speaking into his ear. That's a good day," Bachmann said.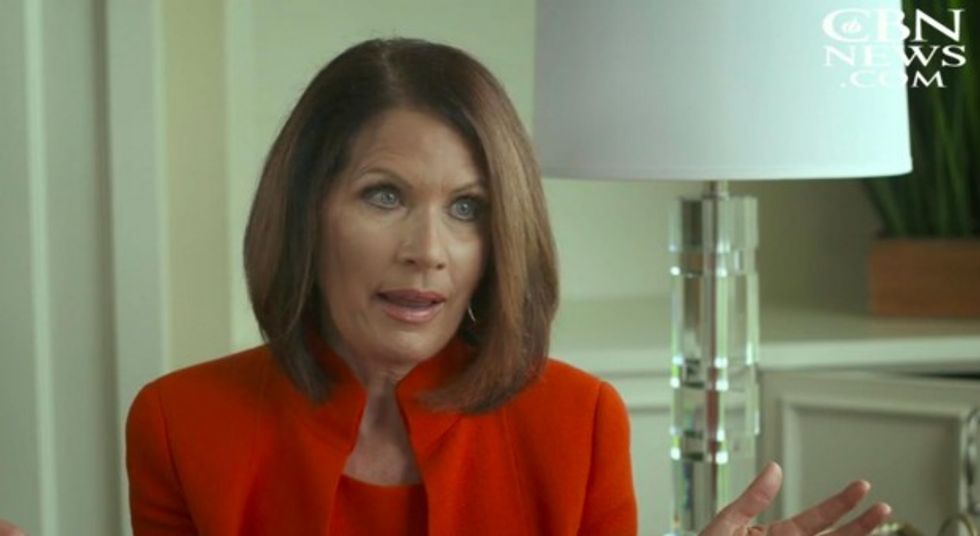 Former Minnesota GOP Rep. Michele Bachmann (Image source: CBN)
She went on to the quote the biblical book of Daniel, which says that God "removes kings and sets up kings."
"Maybe I'm wrong, I don't know, but I do know that the Bible is true and that Daniel teaches the most high God, which is one of God's names, is the one who lifts up who he will and takes down who he will," Bachmann said, adding that Trump is the "only individual" of the 17 Republican primary candidates who can beat Hillary Clinton.
Bachmann also took a swipe at Clinton, saying that she doesn't know of anyone advising Clinton who is of orthodox Christian or Jewish faith.
"At the end of the day God raised up, I believe, Donald Trump who was going to be the nominee in this election. I don't think God sits things out. He's a sovereign God. Donald Trump became our nominee," Bachmann said.
(H/T: Talking Points Memo)
—
Follow the author of this story on Twitter and Facebook: