The hosts of "CBS This Morning" grilled Democratic vice presidential nominee Sen. Tim Kaine (Va.) Thursday following his claim that his running mate, Hillary Clinton, "talks to the press all the time."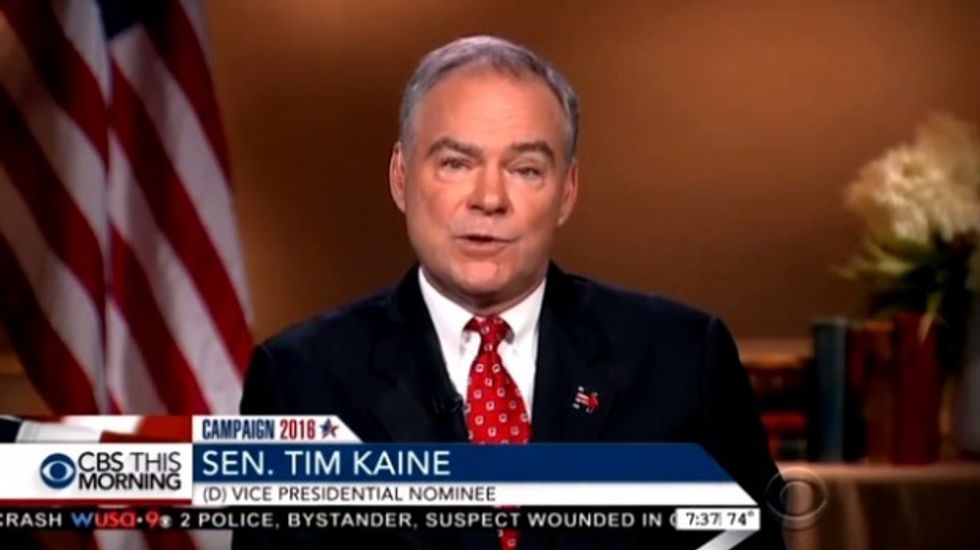 Democratic vice presidential candidate Sen. Tim Kaine of Virginia (Image source: CBS News)
Guest co-host Demarco Morgan asked Kaine, "Senator, this was Donald Trump's first meeting with a head of state as the nominee, and he immediately opened up the floor to reporters for questions. When will we see Hillary open up the floor and take questions from reporters at any event?"
"Well, you see Hillary take questions from reporters every day," Kaine replied. "She does — she talks to the press everywhere she goes. She did a press conference when she was—"
"Really?" co-host Norah O'Donnell interjected.
"At a recent — she did a press conference when she was at the recent meeting of the African-American and Hispanic newspaper publishers," Kaine continued.
"But that was the first time in a long time, Senator," Morgan replied.
"She talks to the press all the time," Kaine said.
"She doesn't do it that often," Morgan said.
"Well, look, I don't see what the massive difference is between a press conference and talking to the press everywhere you go," Kaine insisted. "She talks to the press a lot, and I've been with her when she's talked to the press."
O'Donnell noted that it has been 272 days since Clinton has held a formal press conference, and unlike every other modern candidate, she does not allow journalists to travel with her on her campaign's plane.
Journalists on Twitter were incredulous that Kaine claimed Clinton is accessible to the press.
Fact check: Delusional https://t.co/QLobdI4HBq

— David Martosko (@dmartosko) September 1, 2016
That's not true - no matter how you count her availabilities. cc: @NickMerrill https://t.co/gCmw0h0BUf

— Dan Merica (@danmericaCNN) September 1, 2016
And NABJ/NAHJ was not formal news conference with press corps -- only took 4 qs that were not from panel moderators. https://t.co/A2uFI9laxx

— Alex Mallin (@alex_mallin) September 1, 2016
I bet the reporters who follow Clinton "everywhere she goes" would beg to differ with Tim Kaine's assertion here https://t.co/DHR5ywcpz8

— Philip Rucker (@PhilipRucker) September 1, 2016
I've done probably two dozen Clinton events. Never seen her talk to press. Not sure what Tim Kaine is talking about. https://t.co/wWfcE86ZqA

— Byron Tau (@ByronTau) September 1, 2016
Watch below:
(H/T: Newsbusters)
—
Follow the author of this story on Twitter and Facebook: