Pope Francis proposed adding the care of creation to the seven traditional sets of both the corporal and spiritual works of mercy during remarks for the World Day of Prayer for the Care of Creation on Thursday.
Francis has made his concern for the environment a key aspect of his papacy, such as the publication of his encyclical, Laudato Si'.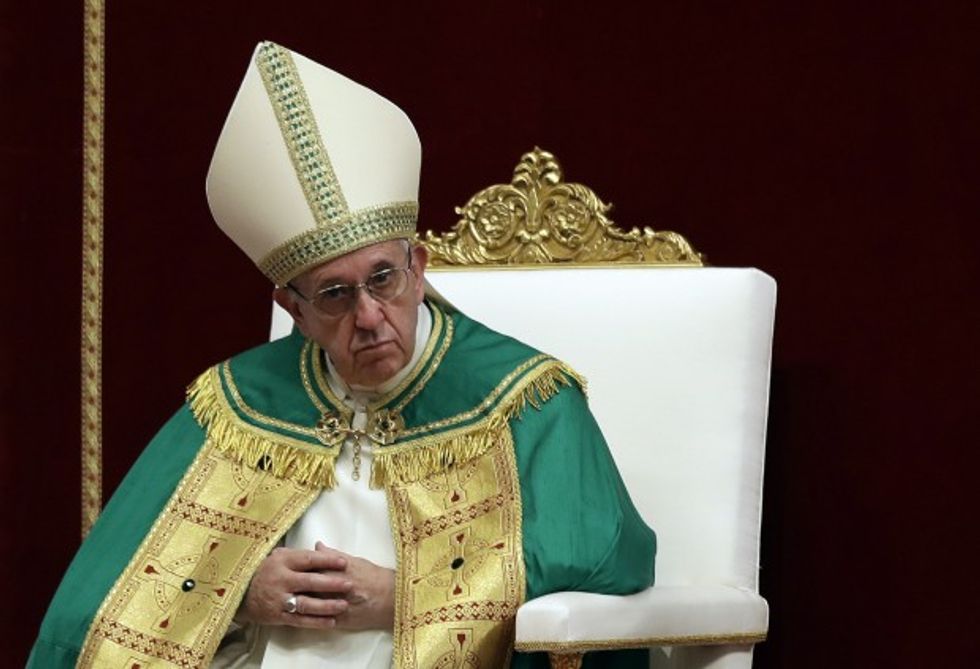 Pope Francis attends a vesper prayer in St. Peter's Basilica at the Vatican on Thursday. This year, the day of prayer for the planet falls during Francis' Holy Year of Mercy, a yearlong focus on the church's merciful side. (AP Photo/Alessandra Tarantino)
"When we mistreat nature, we also mistreat human beings," Francis said. "At the same time, each creature has its own intrinsic value that must be respected."
Francis cited the example of Pope St. John Paul II, who asked Catholics to "make amends for past and present religious intolerance, as well as for injustice towards Jews, women, indigenous peoples, immigrants, the poor and the unborn:"
In this Extraordinary Jubilee of Mercy, I invite everyone to do likewise. As individuals, we have grown comfortable with certain lifestyles shaped by a distorted culture of prosperity and a disordered desire to consume more than what is really necessary, and we are participants in a system that has imposed the mentality of profit at any price, with no concern for social exclusion or the destruction of nature. Let us repent of the harm we are doing to our common home.
Francis noted, "The Christian life involves the practice of the traditional seven corporal and seven spiritual works of mercy."
"We usually think of the works of mercy individually and in relation to a specific initiative: hospitals for the sick, soup kitchens for the hungry, shelters for the homeless, schools for those to be educated, the confessional and spiritual direction for those needing counsel and forgiveness," he said. "But if we look at the works of mercy as a whole, we see that the object of mercy is human life itself and everything it embraces."
"Obviously 'human life itself and everything it embraces' includes care for our common home," Francis continued. "So let me propose a complement to the two traditional sets of seven: may the works of mercy also include care for our common home."
Francis called for "simple daily gestures which break with the logic of violence, exploitation and selfishness" and said climate change, "due in part to human activity," is "leading to ever more severe droughts, floods, fires and extreme weather events."
"Climate change is also contributing to the heart-rending refugee crisis," he added. "The world's poor, though least responsible for climate change, are most vulnerable and already suffering its impact."
He encouraged the faithful to seek God's mercy "for those sins against creation that we have not hitherto acknowledged and confessed."
"Let us likewise commit ourselves to taking concrete steps towards ecological conversion, which requires a clear recognition of our responsibility to ourselves, our neighbours, creation and the Creator," he said.
—
Follow the author of this story on Twitter and Facebook: