If Hillary Clinton wins the presidency in November, the American way of life — at least politically speaking — is over. That is, according to former Republican presidential candidate and Minnesota Rep. Michele Bachmann.
"I don't want to be melodramatic, but I do want to be truthful. I believe without a shadow of a doubt this is the last election," she told David Brody, an anchor at the Christian Broadcasting Network. "This is it. This is the last election."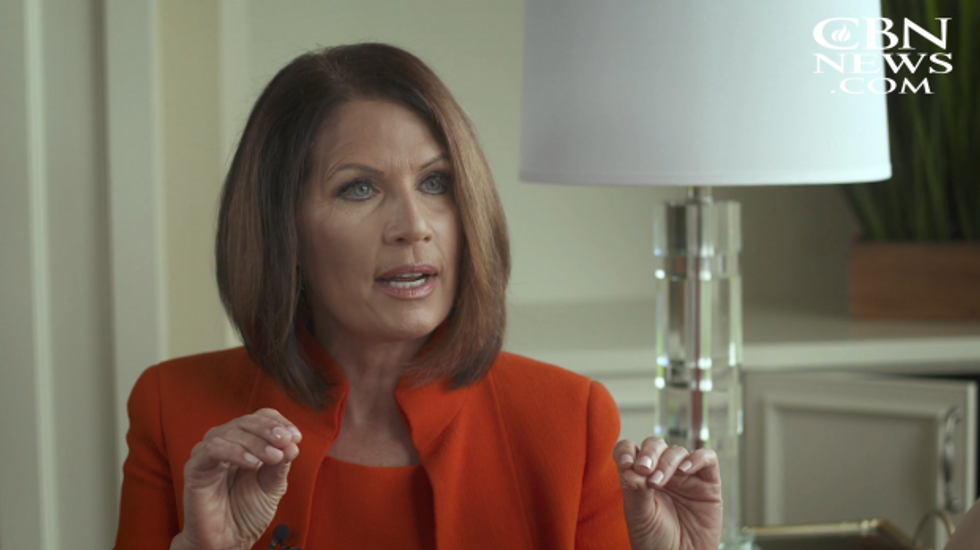 Former Minnesota Rep. Michele Bachmann (Image source: CBN)
Bachmann didn't go so far as to suggest Clinton would outlaw elections. Rather, the ex-congresswoman said the Democratic presidential nominee "will ensure it won't happen because she's going to change the demographics of the United States so that no Republican will ever win again."
"It's a math problem of demographics and a changing United States," Bachmann told the CBN host. "If you look at the numbers of people who vote and who lives in the country and who Barack Obama and Hillary Clinton want to bring into the country, this is the last election when we even have a chance to vote for somebody who will stand up for Godly moral principles. This is it."
The lawmaker went on to rebuke so-called "Never-Trumpers" for dividing the Republican Party over concerns about Donald Trump's temperament.
"I say, 'Get over it.' All the 'Never-Trumpers,' all the establishment Republicans that are out there saying, 'We'll just take our chances and four years from now we'll have a better candidate, then we can take the White House.' It's not going to happen," she charged.
Bachmann offered a spiritual reason for why Christians should throw their support behind the GOP presidential nominee, suggesting the choice facing Americans this fall is one of "life" and "death":
God says to every nation for all of time, "I set before you life and death, what are you going to choose?" If you look at the book of Genesis, you don't even have to get beyond chapter 3 to see God gives us life. The first thing he gives mankind is life. What does man choose? Death. We choose rebellion and death. You go from Genesis all through the Bible to the book of Revelation; man stupidly makes the same decision over and over again by rejecting life and choosing death. What I'm telling you is that's what we're looking at now in this country.
Earlier in the week, Brody shared a portion of his interview with Bachmann in which the conservative politician suggested Trump was "raised up" by God to be the Republican standard-bearer.
Watch a portion of Bachmann's remarks below:
—
Follow the author of this story below: