The New York Times says it has obtained a leaked script containing questions a Detroit pastor intends to ask Donald Trump at his first appearance before a mostly black audience since launching his bid for president.
Great Faith Ministries International in Detroit will host an event with Trump on Saturday, where pastor Bishop Wayne Jackson will ask the Republican presidential candidate several questions related to his relationship with black voters and the perception among some that he and other Republicans are racist.
The script reportedly contains not only a list of 12 questions that Jackson plans to ask but also prepared answers to each of those questions. The answers were, according to the Times, crafted by Trump's own campaign staffers, the Republican National Committee and GOP strategists.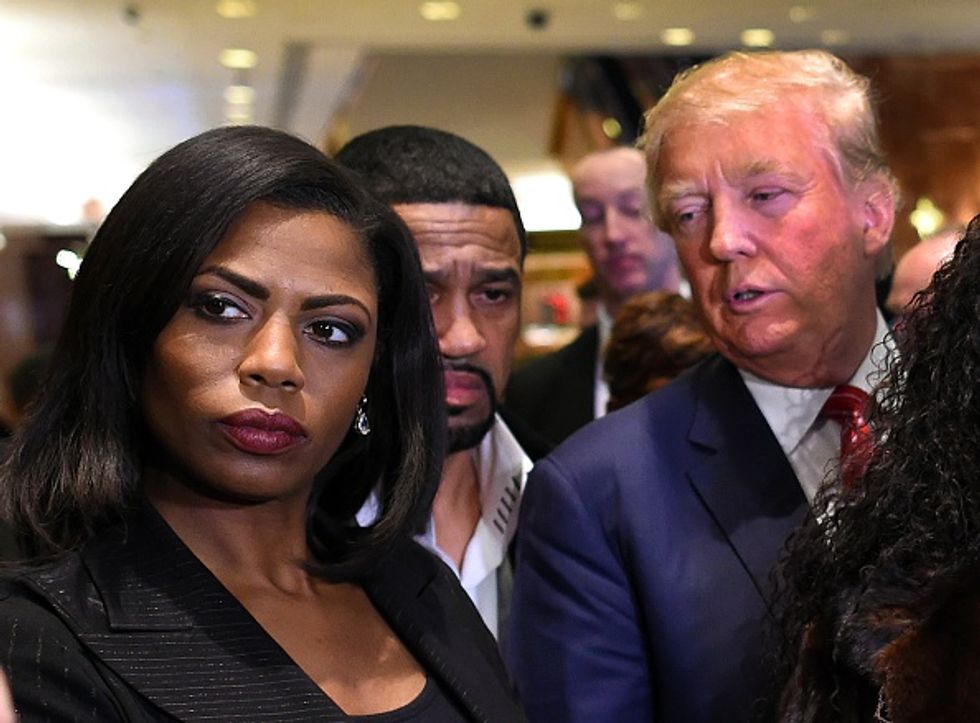 Omarosa Manigault, left, who was a contestant on the first season of Donald Trump's "The Apprentice" and is now an ordained minister, appears alongside the GOP nominee during a Nov. 30 press conference following Trump's meeting with black religious leaders in New York. (Timothy A. Clary/AFP/Getty Images)
The first question Jackson could ask Trump, according to the Times, has to do with whether the candidate is a Christian and whether he believes the Bible is the "inspired word of God."
"As I went through my life, things got busy with business, but my family kept me grounded to the truth and the word of God. I treasure my relationship with my family, and through them, I have a strong faith enriched by an ever-wonderful God," reads the prepared response.
Jackson, when asked about the arrangement, said he had no problem handing over the questions to the campaign.
"We want this to be as peaceful as possible. That's what I promised would happen. I promised that," he said. "You are coming into a place to be interviewed, and we don't want anybody to be hurt or anybody to be misused, so that's it."
Trump will also deliver a brief speech before the congregation, a slight deviation from the campaign's original plan, which did not include a formal address.
Following the speech, Trump will be joined by Detroit native and onetime GOP rival Dr. Ben Carson. Together, they will visit neighborhoods in the blight-stricken Motor City.
"If you know anything about Mr. Trump, it's that he will want the opportunity to take his vision and message of opportunity directly to the people on Saturday," Trump spokesman Jason Miller said.
The interview is scheduled to air next week on the Impact Network, the Christian cable channel that Jackson helps run.
(H/T: The Hill)
—
Follow the author of this story on Twitter and Facebook: