The heated competition among some high school seniors to nab the coveted Valedictorian title may become a thing of the past at one Indiana school district.
The Greater Clark School district of Jeffersonville is mulling a proposal to nix the Valedictorian title in favor of a system that honors the top 10% of seniors.
"When students are competing for the Val and the Sal, they're trying to find ways to maneuver through the system to try and get the best grades they can possibly get, as opposed to taking the course work that's truly in their own best interests," Superintendent Andrew Melin told WHAS-TV.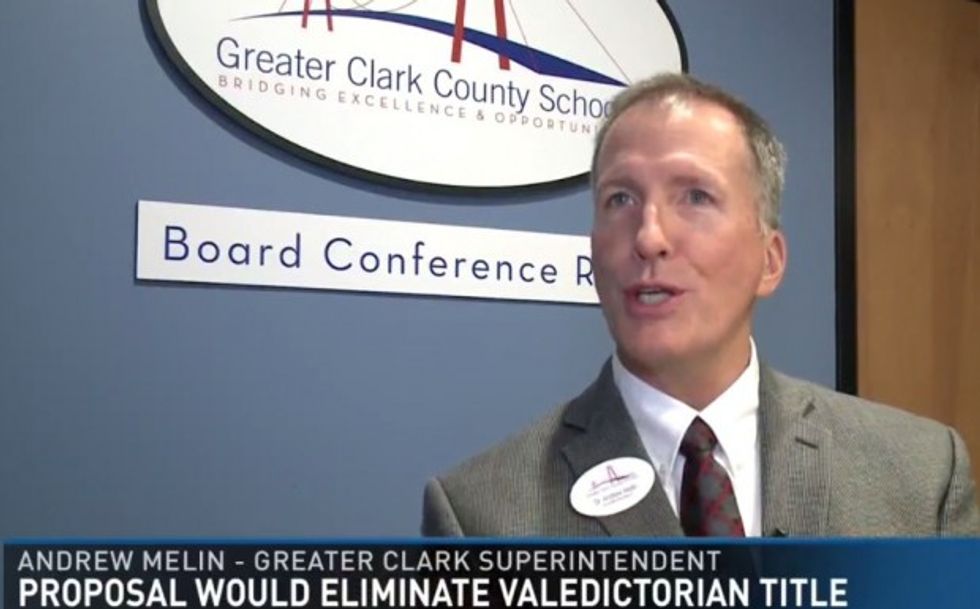 Image source: WHAS-TV
Melin told the station there's growing sentiment nationwide to head in more inclusive direction when it comes to graduation ceremony honors.
"We've got all of these great students that work very hard and become very distinguished in their academic career and we want to be able to recognize more of those students at the end of a given year," Melin told WHAS.
Not everyone agrees.
"I don't think there's anything wrong with the best being rewarded, and the rest of them coming up and trying harder to get there," Glenda Faith told the station.
Clinton Riggle said being the Valedictorian was a prime goal in high school.
"The valedictorian system was a way for all of the high school students in my age gap to strive for something better," Riggle told WHAS. "They really set the bar and headed for something higher than just your GPA."
For Melin, he doesn't see the proposed new system as giving students handouts they don't deserve.
"There's nothing being given to any of these kids," Melin told the station. "These are kids that have legitimately over a four year period earned all of their grades. Nothing is being given to them."
The school board will discuss the issue next week. If approved, current freshman would be the first class without a Valedictorian.
(H/T: Todd Starnes)