HANGZHOU, China (AP) -- President Barack Obama said Monday the U.S. and Russia have not given up on negotiations that could stem the bloodshed in Syria, but acknowledged leaders are challenged by "gaps of trust" between the rival powers.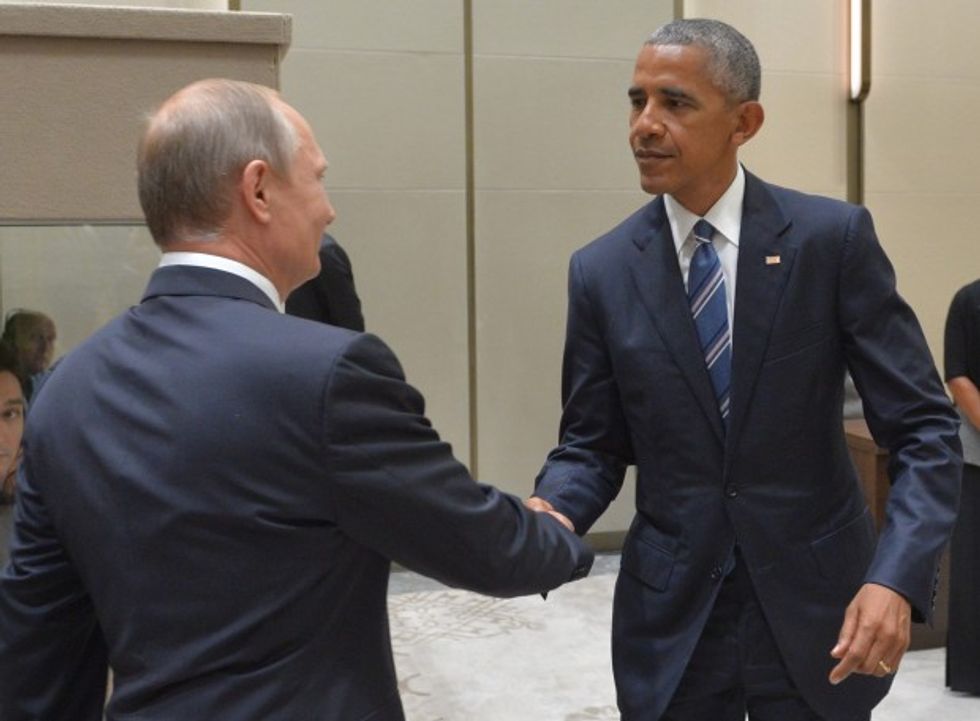 Russian President Vladimir Putin, left, shakes hands with U.S. President Barack Obama in Hangzhou in eastern China's Zhejiang province, Monday, Sept. 5, 2016. (Alexei Druzhinin, Sputnik, Kremlin Pool Photo via AP)
Significant sticking points remain in the negotiations over a creation of an unlikely U.S.-Russian military partnership focusing firepower on "common enemies" in Syria, Obama said. He acknowledged that a flurry of diplomacy at an economic summit and a 90-minute meeting with his Russian counterpart, Vladimir Putin, earlier Monday did not yield a breakthrough.
"Given the gaps of trust that exist, that's a tough negotiation," Obama told a press conference closing the Group of 20 summit. "We haven't yet closed the gaps."
Obama didn't detail the trouble spots, although he suggested the U.S. has concerns about Russia holding up its end of the bargain and enforcing the terms. Any deal would depend on Moscow using its influence with Syrian President Bashar Assad to persuade the Syrian leader to ground planes and stop the assault on opposition forces. Obama said the aim was to reach "meaningful, serious, verifiable cessations of hostilities in Syria."
Secretary of State John Kerry and Russian foreign minister Sergey Lavrov have for weeks been trying to broker a deal that would curb the violence between the Russian-ally Assad's government forces and moderate rebels backed by the U.S.
The deal depends on the two sides agreeing to closer militarily coordination against extremist groups operating in Syria, something the Russians have long sought and the U.S. resisted.
Obama has expressed skepticism that Russia would hold to its agreement. The State Department has said it wants nationwide cease-fire between Assad's military and the rebels, rather than another time-limited agreement like ones that failed before.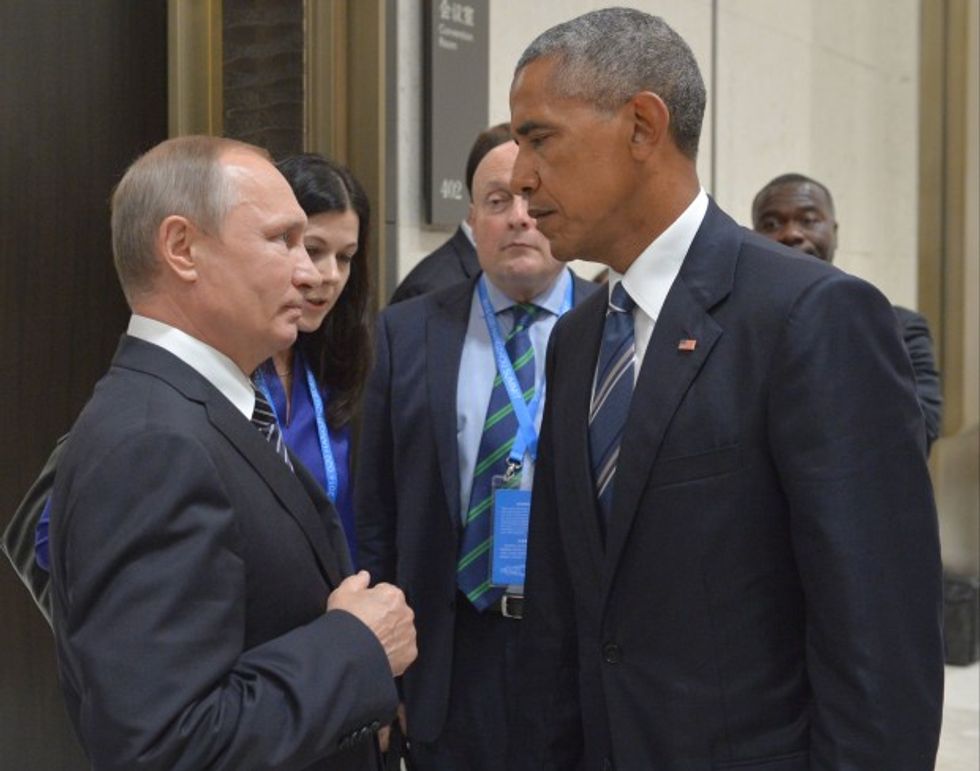 Russian President Vladimir Putin, left, speaks with U.S. President Barack Obama in Hangzhou in eastern China's Zhejiang province, Monday, Sept. 5, 2016. (Alexei Druzhinin/ Sputnik, Kremlin Pool Photo via AP)
Obama's meeting with Putin came as the Russia leader is playing a prominent role in the presidential campaign at home. U.S. officials blame Russian intelligence for a hack on the Democratic National Committee that resulted in a leak of emails damaging to its presidential nominee, Hillary Clinton. Putin has denied his government was involved, but cheered the release of the information.
The president said expressed concerns about cybersecurity issues with Putin, but would not detail the discussions.
Obama and Putin also discussed the conflict in Ukraine, where Russian-backed separatists have been fighting the government, and the implementation of the agreement to stop the violence. Obama met earlier with French President Francois Hollande and German Chancellor Angela Merkel on the same issue.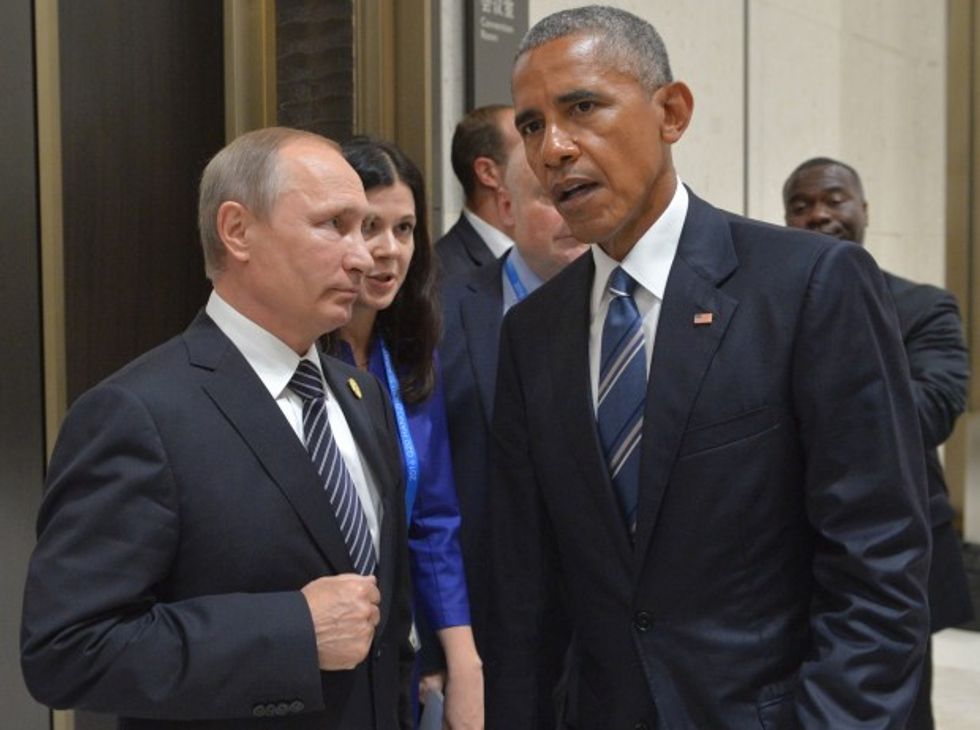 Russian President Vladimir Putin, left, listens to U.S. President Barack Obama in Hangzhou in eastern China's Zhejiang province, Monday, Sept. 5, 2016. (Alexei Druzhinin/ Sputnik, Kremlin Pool Photo via AP)
The difficult diplomacy on Syria set the tone for an uneven few days for Obama on his last tour through Asia as president.
Obama's visit started on a high note, with the U.S and China consummating their unlikely partnership on climate change by announcing they were both entering the global emissions-cutting deal reached last year in Paris.
But the focus on climate quickly gave way to the failed Syria talks.
A sit-down between Obama and Turkish President Recep Tayyip Erdogan also laid bare the two NATO allies' diverging interests in Syria, with Erdogan pointedly challenging Obama on U.S. support for Kurds fighting the Islamic State group in Syria. The Kurds are the most effective U.S.-backed anti-IS force, but the Turks consider them to be terrorists.
Obama's meeting with Chinese President Xi Jinping also veered into delicate territory, with a lengthy White House description detailing how Obama had pressed Xi to abide by an international tribunal's ruling against China over the South China Sea.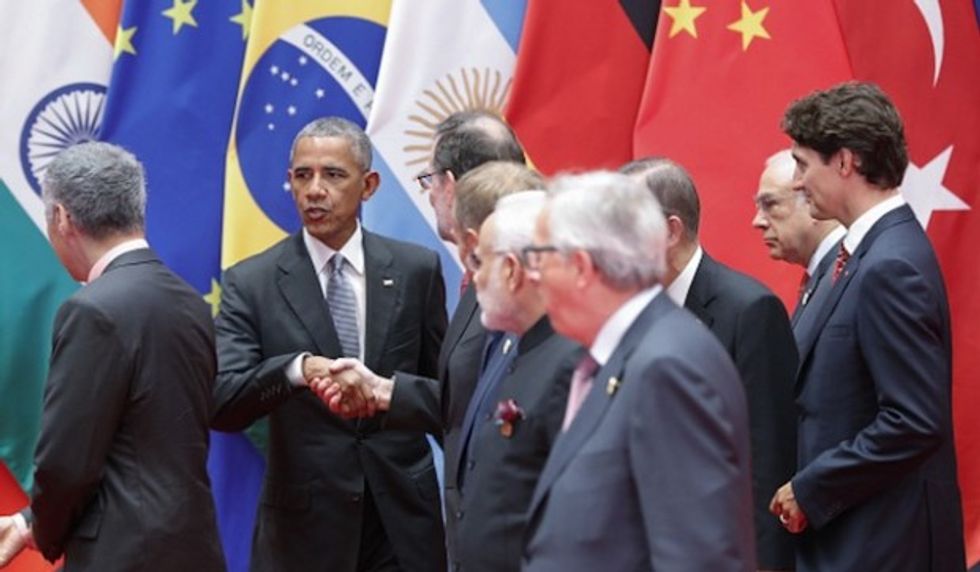 HANGZHOU, CHINA - SEPTEMBER 04: United States President Barack Obama talks to delegates after a group photo at the Hangzhou International Expo Center to the G20 Summit on September 4, 2016 in Hangzhou, China. World leaders are gathering in Hangzhou for the 11th G20 Leaders Summit from September 4 to 5. (Photo by Lintao Zhang/Getty Images)
To the frustration of the White House, these weighty matters seemed to be overshadowed by a made-for-social-media moment from Obama's arrival at the airport.
As the president was greeted by his Chinese hosts, Obama's aides and journalists accompanying the president clashed with a Chinese official as they tried to watch the ceremony.
The tensions continued throughout the trip as Chinese officials severely restricted the media's ability to attend Obama's G20 events.
Obama's next stop is Laos, where he'll promote his effort to deepen ties to Southeast Asia.
---
Associated Press writer Josh Lederman contributed to this story.