Republican presidential nominee Donald Trump is unqualified to serve as president and does not represent the ideals of the Republican Party, according a staff editorial in the Dallas Morning News published Tuesday.
"We have no interest in a Republican nominee for whom all principles are negotiable, nor in a Republican Party that is willing to trade away principle for pursuit of electoral victory," they wrote.
The paper's editorial board argued that Trump emerged to represent a party grappling with its own identity and "thumbed his nose at conservative orthodoxy altogether."
"Trump is — or has been — at odds with nearly every GOP ideal this newspaper holds dear," they continued. "Donald Trump is no Republican and certainly no conservative."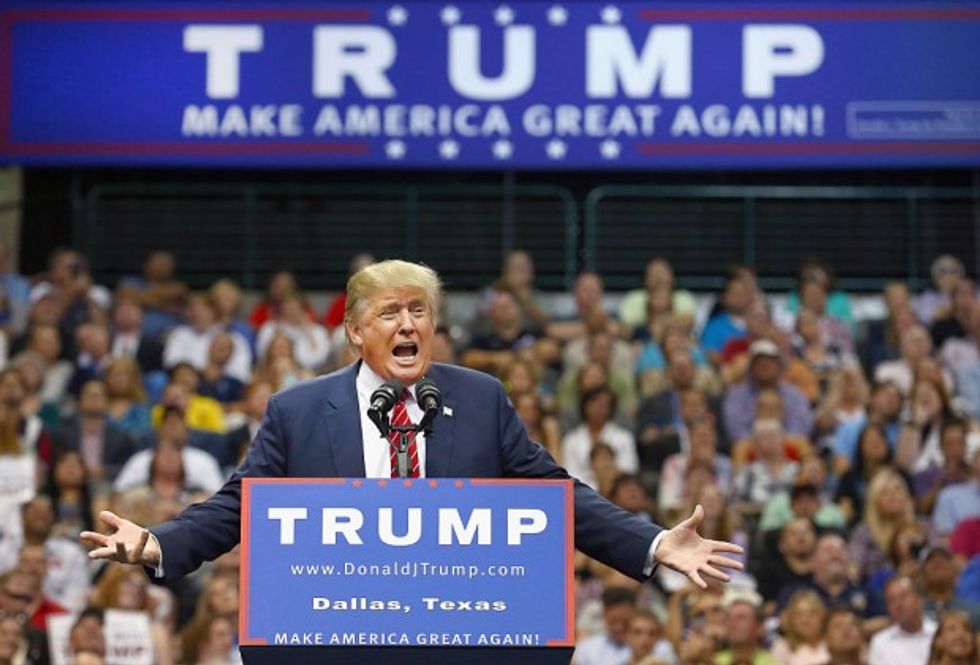 Donald Trump speaks during a campaign rally at the American Airlines Center in Dallas. (Tom Pennington/Getty Images)
The board argued that Trump has taken unacceptable stances on individual liberty, economics and national security.
"Trump has displayed an authoritarian streak that should horrify limited-government advocates," they wrote, citing Trump's proposed ban on Muslim immigration and his "open admiration" of Russian President Vladimir Putin.
The piece also stated that Trump's protectionism "would likely force the U.S. into trade wars, increase the deficit and sink the U.S. economy back into a recession" and that the GOP nominee's "idea of fiscal conservatism is reducing expenses by financing mountains of soul-crushing debt."
"Trump doesn't reflect Republican ideals of the past; we are certain he shouldn't reflect the GOP of the future," they concluded. "Donald Trump is not qualified to serve as president and does not deserve your vote."
According to Politico, with the exception of Trump, the Dallas Morning News editorial board has endorsed every Republican presidential nominee since 1964, when it chose to remain neutral between President Lyndon B. Johnson and and his rival, Arizona Sen. Barry Goldwater.
Read the entire editorial here.
—
Follow the author of this story on Twitter and Facebook: