Libertarian presidential candidate Gary Johnson left the panel of MSNBC's "Morning Joe" stunned when he admitted he did not know what Aleppo is.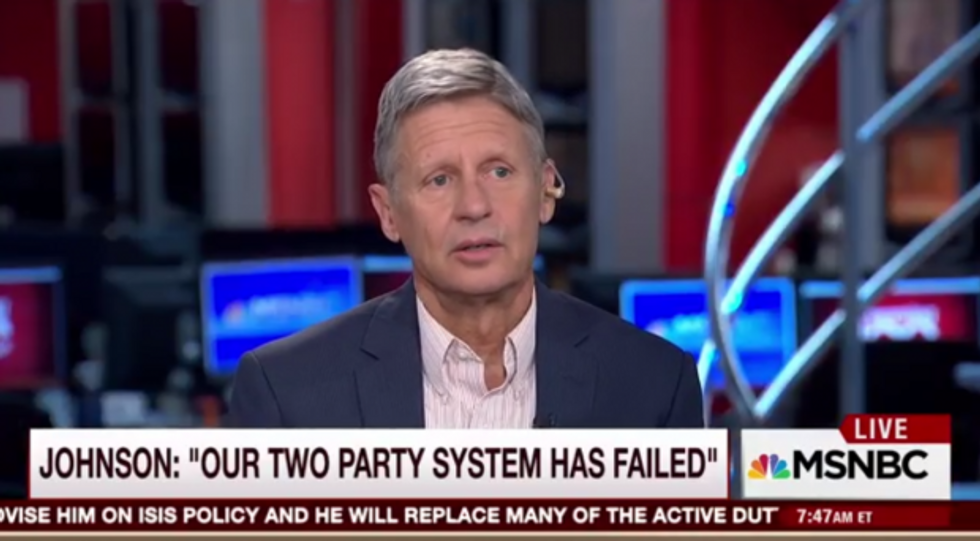 Screengrab via MSNBC
"What would you do if you were elected about Aleppo?" Mike Barnicle asked Johnson on Thursday morning.
With a blank stare on his face, the former New Mexico governor responded, "And what is Aleppo?"
"You're kidding me," Barnicle reacted.
"No," Johnson replied.
Barnicle then explained that "Aleppo is in Syria" and is the "epicenter of the refugee crisis."
"OK, got it. Got it," Johnson added. "I do think that it's a mess. I think the only way we deal with Syria is to join hands with Russia to diplomatically bring that to an end."
Watch the uncomfortable moment via MSNBC below:
.@mikebarnicle: What would you do, if you were elected, about Aleppo? @GovGaryJohnson: And what is Aleppo? https://t.co/ZbqO5RAEsk

— Morning Joe (@Morning_Joe) September 8, 2016
---