Mike Pence, governor of Indiana and Donald Trump's running mate, said Thursday that it's "inarguable" Russian President Vladimir Putin is a "stronger leader" than President Barack Obama.
Trump made nearly the same point during a presidential forum Wednesday night with NBC's Matt Lauer, telling the host he does feel the Russian president has "been a leader far more than our president has been a leader," but admitted he doesn't particularly approve of Putin's style of government.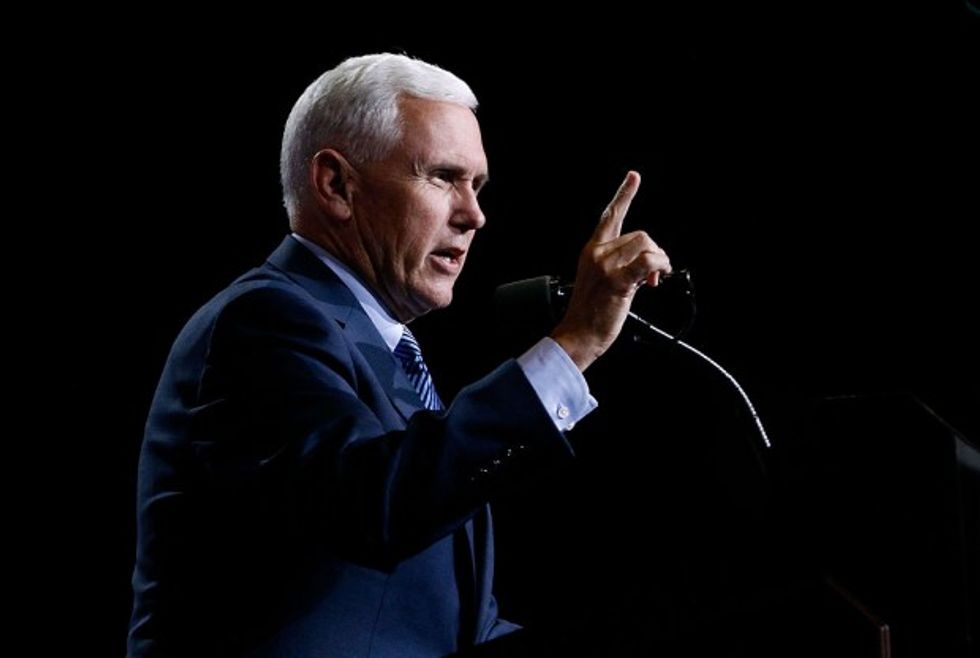 Ralph Freso/Getty Images
Pence agreed with the Republican presidential nominee after being pressed on the issue Thursday by CNN's Dana Bash.
"I think it's inarguable that Vladimir Putin has been a stronger leader in his country than Barack Obama has been in this country," Pence said, adding, "That's going to change the day that Donald Trump becomes president of the United States of America."
Pence reiterated to Bash that Trump "doesn't particularly like the system" in Russia.
During the same interview, the GOP vice presidential nominee defended Trump's comment that military leaders have been "reduced to rubble" under the Obama administration. Trump took some heat earlier in the election cycle when he said he knows more "than the generals do" about the Islamic State.
"I think he was talking about the commander in chief reducing the influence of generals to rubble," Pence said, noting voters are "deeply troubled at a foreign policy and a military policy of Barack Obama and Hillary Clinton that has caused the wider Middle East to literally spin out of control."
At one point, Pence also drew a comparison between Trump and former President Ronald Reagan, a darling of the conservative movement, saying both men exhibited humility.
Bash questioned Pence for saying Trump is humble, given how many buildings are emblazoned with the billionaire's name. He said Trump practices his "humility" privately.
"Ronald Reagan had his name on a lot of marquees. I think at their very core, both men are the kind of leaders that have a core of humility," Pence told the CNN correspondent. "Donald Trump is always the first person to say, when we say enormous crowds turn out for rallies, ... he's always the first one to say, 'This is a movement. This is not about me. This is about the ideas we're advocating.'"
Watch a portion of the interview below:
VIDEO— Mike Pence: "Inarguable that Vladimir Putin has been a stronger leader" than Barack Obama. https://t.co/sACnHC7JDq

— Kyle Griffin (@kylegriffin1) September 8, 2016
—
Follow the author of this story on Twitter: