Not long after Hannah graduated from the police academy, she had her eye on collaring one particular individual — a family member who sexually abused her for four years, starting when she was just 8 years old.
"I've always, always wanted to be a detective," she told the Daily Beast, which identified her using a pseudonym. "I was fresh out of the academy. It was kind of, 'If he's going to talk, he's going to talk. How do I prove it?' I thought to myself: 'I'm the difference between him and prison.'"
So Hannah approached McLennan County Sheriff's Detective Brad Bond in Texas, and a police report was filed. In it she described the sexual abuse in detail — how the culprit rubbed his penis between her legs, the Daily Best reported, performed oral sex on her and moved her hand up and down his penis.
Then Hannah decided she wanted to meet her abuser in person — and record their conversation. She called him up, the Daily Beast reported, and asked if they could talk about what he did to her.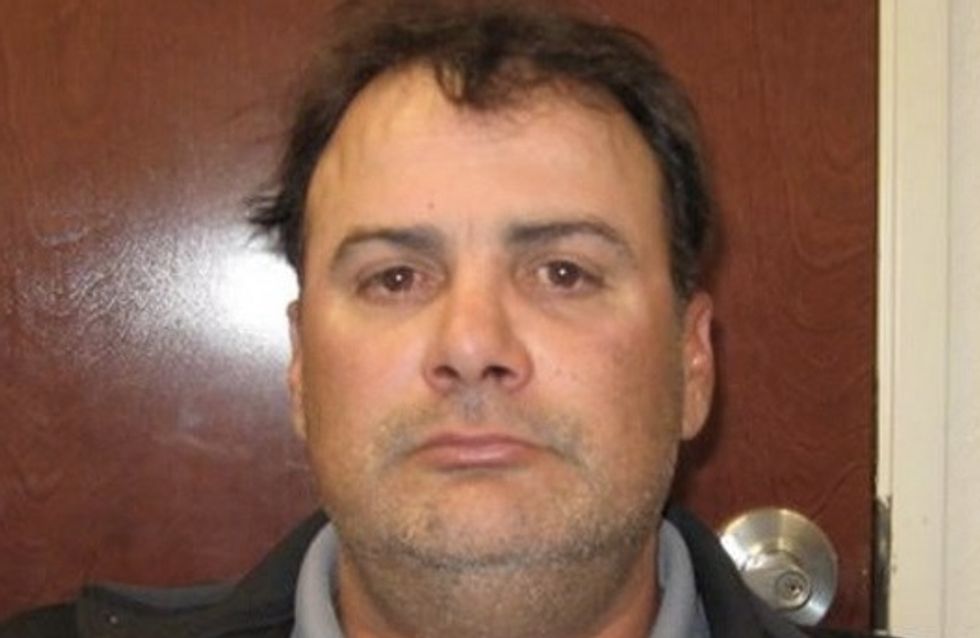 Erlis Chaisson (Image source: Texas Department of Public Safety)
So in September 2014, Hannah — then 25 — met her abuser in a park in Granbury, Texas. She brought a gun, as well as another police officer parked nearby — and an audio recorder concealed in her bra that picked up her conversation with Erlis Chaisson.
More from the Daily Beast:
"Are you sorry that you did it?" she asked him.

"I mean, I understand you're—you're putting, trying to put all the blame on me," Chaisson said, over the sound of water splashing from a nearby fountain. "Lines got crossed. Our emotions got mixed and misread. Didn't mean for none of it to—to go as far as it did.

"The dick has no conscience, and there's no explanation for it," he said, as the two sat under an oak tree. "If you had a penis, you would know." [...]

Chaisson repeatedly implicated himself, telling Hannah, "I always stopped myself before I went too far," and "It takes two."

He also repeatedly blamed Hannah for what he did.

"You need to control your curiosity. I wasn't supposed to be the friend you played nasty with," Chaisson said.

"I'd be laying on the couch and then you got that look in your eyes," Chaisson said. "I'd pull the covers up and you'd come run in and jump under there and back up all the way to me.

"In the mornings, cuddle up to you, scratch your back… I shouldn't have put myself in those positions." Chaisson, who was in his thirties and working as a contractor at the time of the abuse, added, "I mean, anybody would have got confused."

Hannah rarely interjected during the conversation, adding at one point: "I was so little."

"I don't think it's fair to blame an 8-, 9-, 10-, 11-, 12-year-old for that because it wasn't my fault," she said. "You'd come in my bedroom, though, when I was asleep. That didn't have to happen."

"I kept you a virgin, didn't I?" Chaisson said. "Sweetheart, you was young and curious, and I was old enough to know better but too young to care. That's the only way I can say it."
Soon after the two-hour conversation, Chaisson was arrested and the case eventually went to trial.
Turns out the jury in the 19th State District Court determined that because Chaisson was convicted for sexual abuse of a child years before his encounters with Hannah, it meant an automatic life prison term for him, the Waco Tribune reported.
Chaisson was sentenced late last month, and Hannah's audio recordings were played in court.
"I don't think you can hear that recording — no matter who you are — and have it not have an impact on you," prosecutor Gabrielle Massey told the Daily Beast.
"We don't ever get stuff like that," Detective Bond added to the outlet. "It's better than a confession. Even when they confess, they don't give us all of the details. It was even better."
Bond and Massey said Hannah's police training was a big reason why the sting on Chaisson happened in the first place.
"Obviously, this is not a situation we would put most victims in," Massey told the Daily Beast. "But she felt very compelled to go have that conversation with him — this is very extraordinary."
Hannah told the jury that her abuse was a "deep, dark secret" she held in a "closet" for 17 years, the Daily Beast reported. It affected her adult relationships, and she went into counseling — and soon she wanted to become a police officer.
"I felt like a weight lifted over my shoulders after I testified the first time," Hannah told the Daily Beast. "I no longer have to hide the secret or bear the responsibility of it."
This story has been updated.
(H/T: Daily Mail)