Efforts to keep alive the memory of 9/11 have lost little momentum since 2001, and naturally they reach their height after the first week of every September. But given this year is the 15th anniversary of that terrible day, tributes and ceremonies across America will be particularly pointed.
Students with Young Americans for Freedom who attend Saddleback College in Southern California decided they'd contribute to the remembrance with "Never Forget" posters they placed around campus.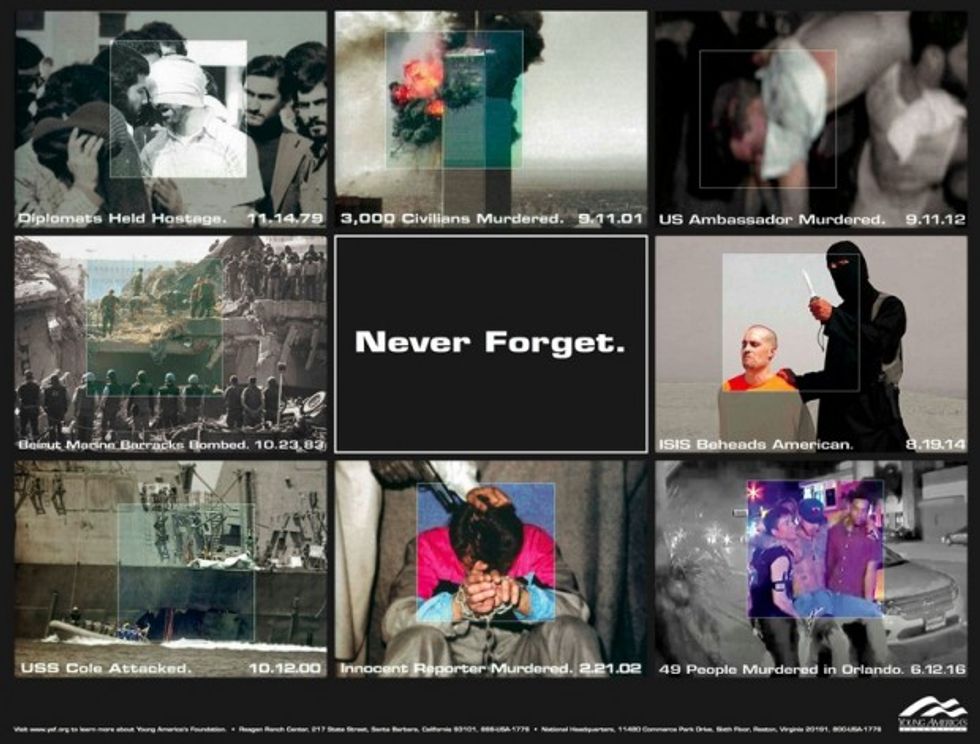 Image source: Young Americans for Freedom
But that apparently wasn't cool with one professor.
Margot Lovett, who chairs the history department, was captured on video Thursday walking from poster to poster, tearing them off the wall of a campus building, the College Fix reported.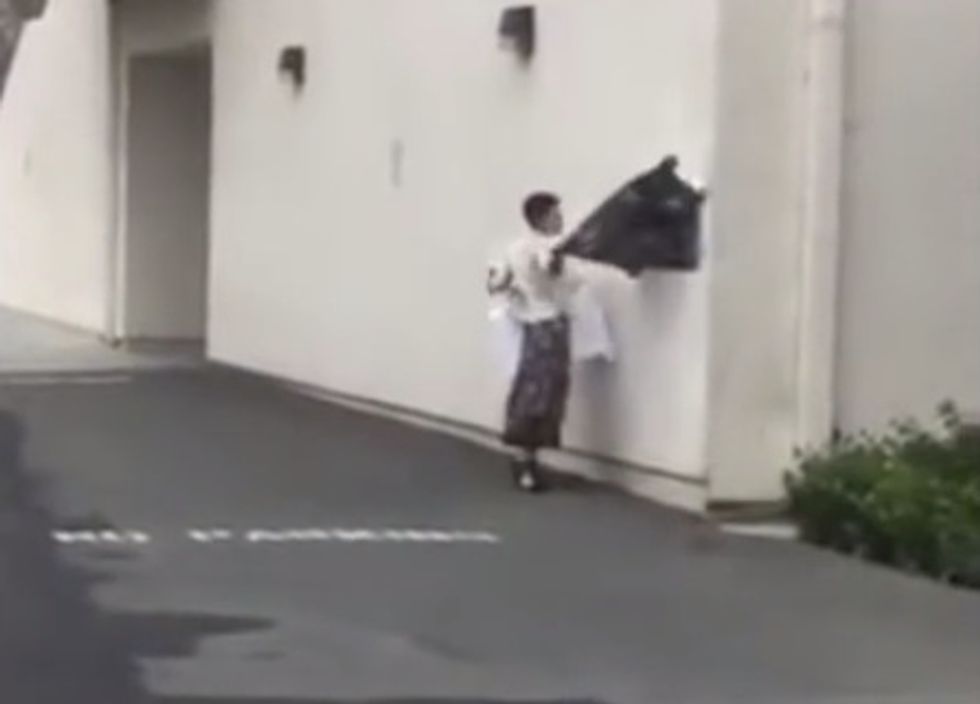 Image source: YouTube
"Are you guys responsible for putting these up there?" Lovett asked as she approached the students who were videotaping her as she cradled the crushed posters in her arms. "Are you?"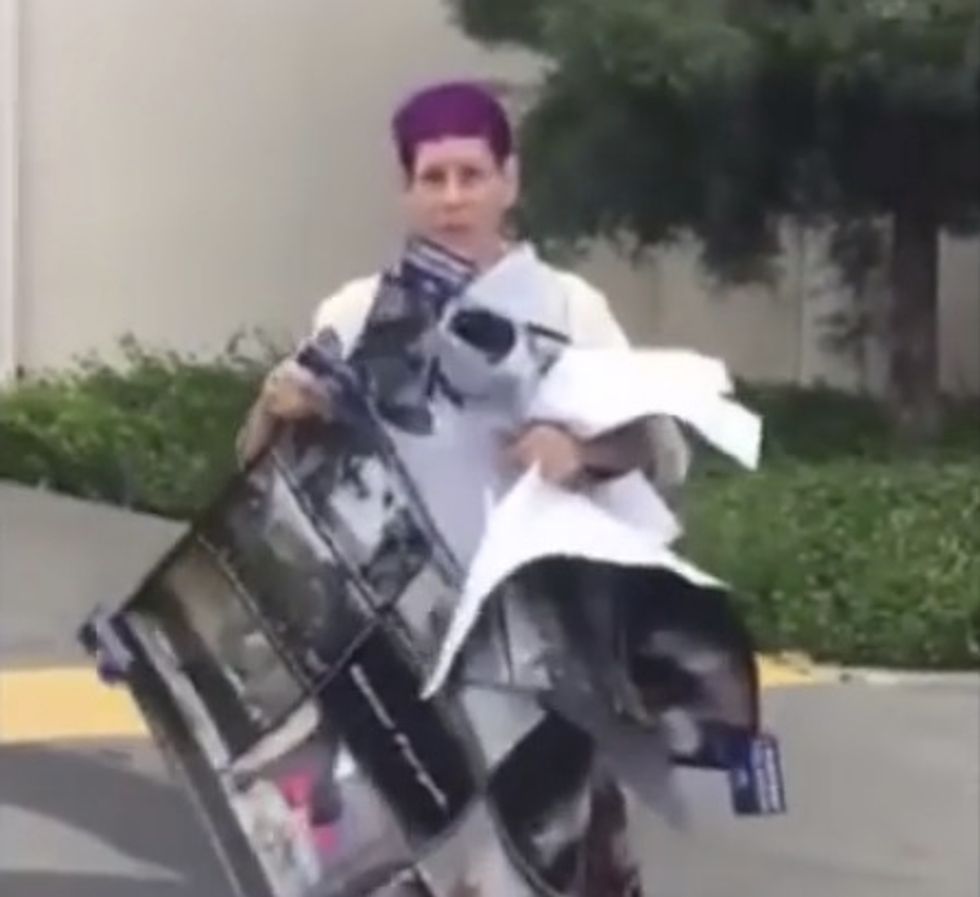 Image source: YouTube
When the students replied that they were, in fact, the culprits, Lovett told them they were allowed to hang posters but first needed permission from student government, "otherwise I have to take them down."
It was a cordial exchange, ending with Lovett bidding the students adieu, turning around and then walking away, presumably to look for more "Never Forget" signs. And video showed she apparently found another to take down: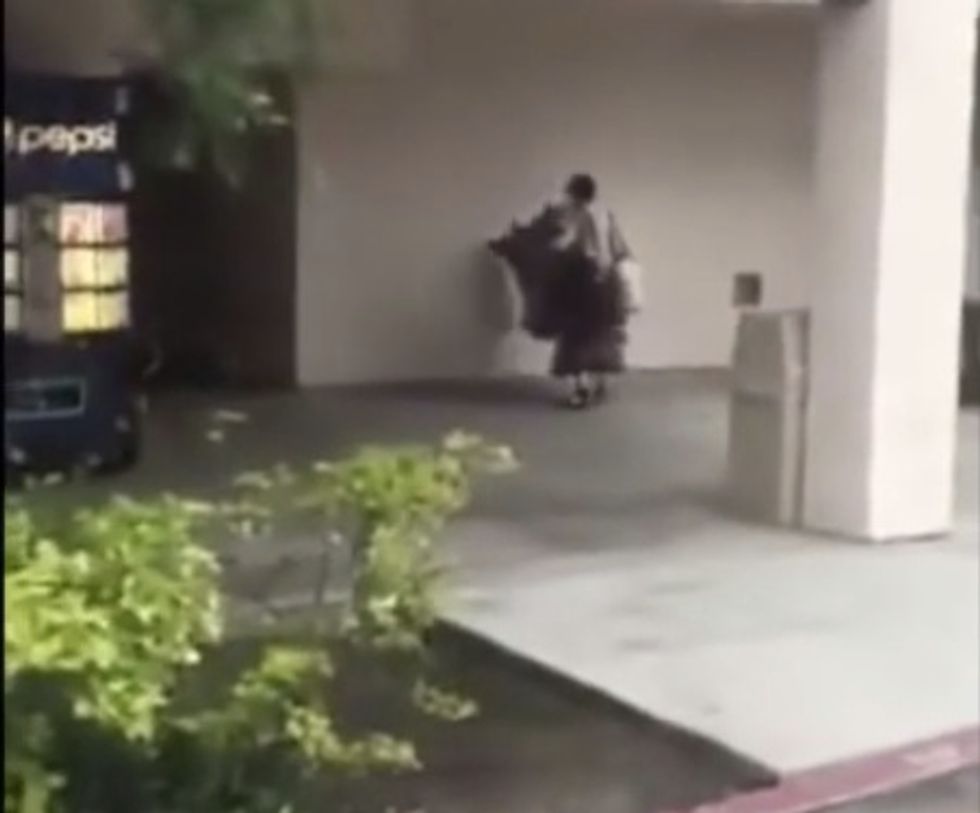 Image source: YouTube
For a little historical perspective, Lovett was embroiled in a controversy just two days after 9/11 when she sent an email to faculty affirming the Black Radical Congress' position — that U.S. imperialism played a hand in anti-American sentiment — as the "most cogent analysis" of the attacks she had seen, the OC Weekly reported. Many faculty members reacted negatively to her email, especially given how soon after the terror attacks it was sent.
Lovett didn't immediately respond Friday to TheBlaze's request for comment — specifically if her present position on 9/11's causes is in line with the BRC view of 2001, and if she has taken down other unauthorized signs around campus this year.
Saddleback College released a statement Friday concerning YAF; here's the portion related to the posters:
On September 8th, the students posted stickers and flyers on several campus buildings, which is a violation of South Orange County Community College District policy.  The students also did this without first seeking approval from college administration.  However, flyers that were posted by the students in the designated free speech areas on campus have not been removed by college personnel.

The director of student life has reached out to the students and invited them to meet and discuss the steps that can be taken to work collaboratively with the college in the future and in accordance with college and district policies and procedures.

Saddleback College supports and understands the student's desire to commemorate the events of September 11, 2001, but needs to ensure that the college and district policies and procedures are followed.
A YAF student told the College Fix that while Lovett was tearing down their posters, the group members were placing small American flags in the ground for each 9/11 victim — and those flags stayed up all day.
Here's the clip:
This story has been updated.