San Francisco 49ers quarterback Colin Kaepernick ignited a national controversy when he sat during "The Star-Spangled Banner" before a preseason game and took a knee during the anthem the following week.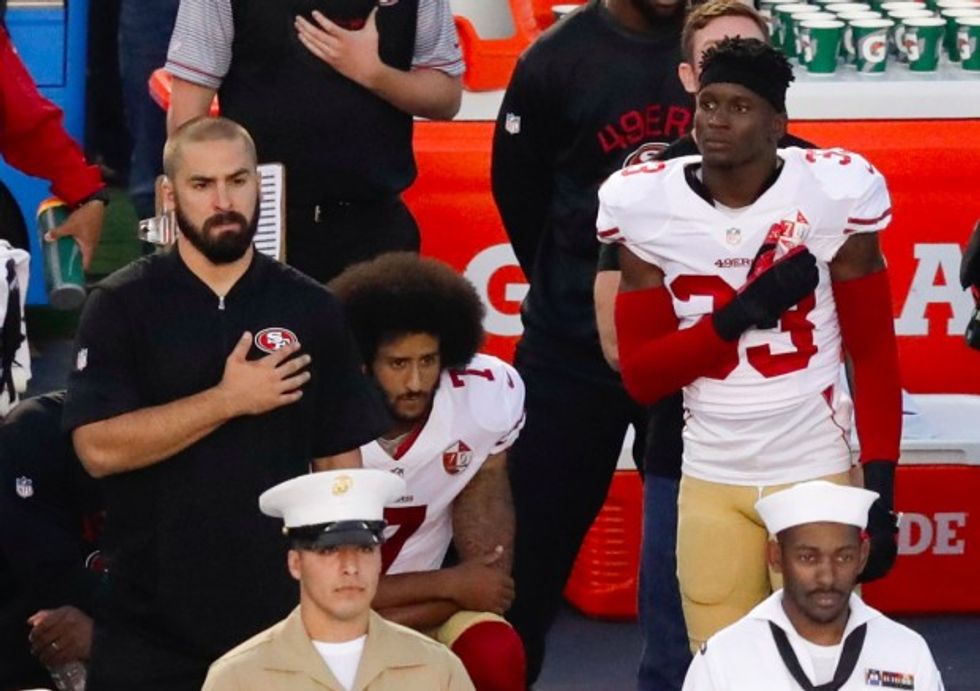 San Francisco 49ers quarterback Colin Kaepernick kneels during the national anthem before the team's Sept. 1 preseason football game against the San Diego Chargers in San Diego. (AP Photo/Chris Carlson)
Kaepernick cited minority oppression as the reason for his protest and vowed to continue it "until that flag represents what it's supposed to represent."
Other athletes have followed suit: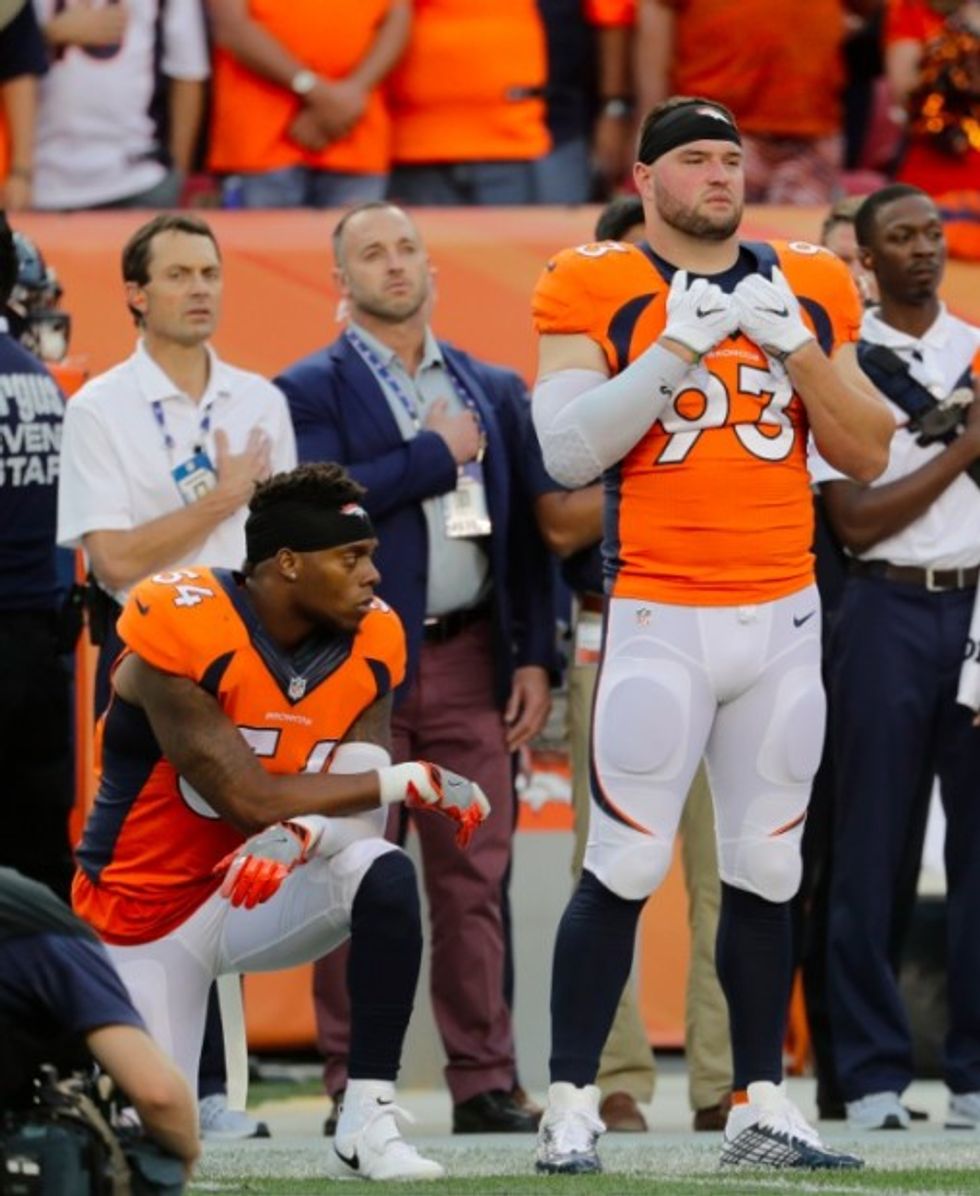 Denver Broncos inside linebacker Brandon Marshall kneels on the sideline during the national anthem prior to a game against the Carolina Panthers in Denver on Thursday. (AP Photo/Joe Mahoney)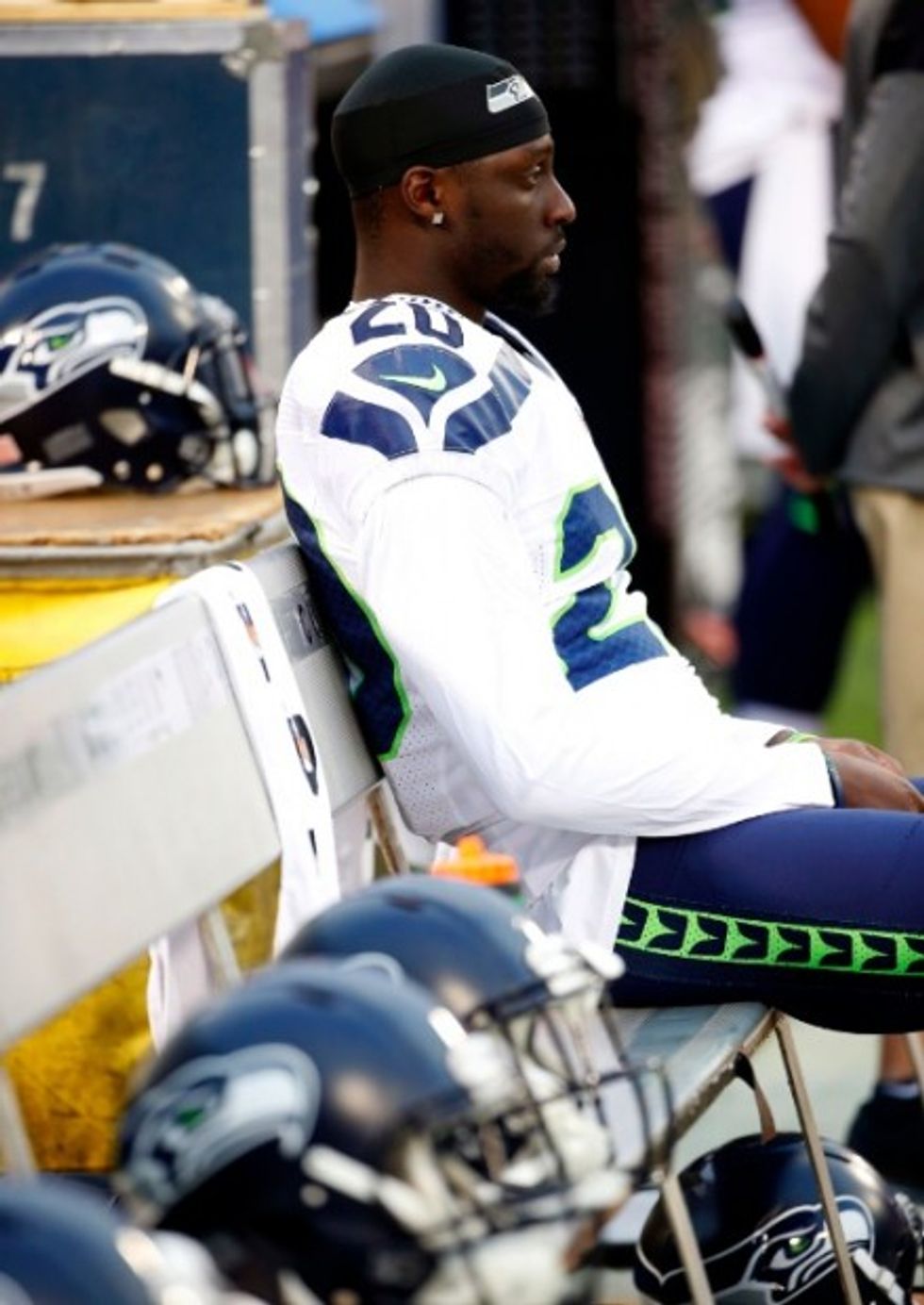 Seattle Seahawks cornerback Jeremy Lane sits as the national anthem plays before a Sept 1 preseason game against the Oakland Raiders in Oakland, California. (AP Photo/Tony Avelar)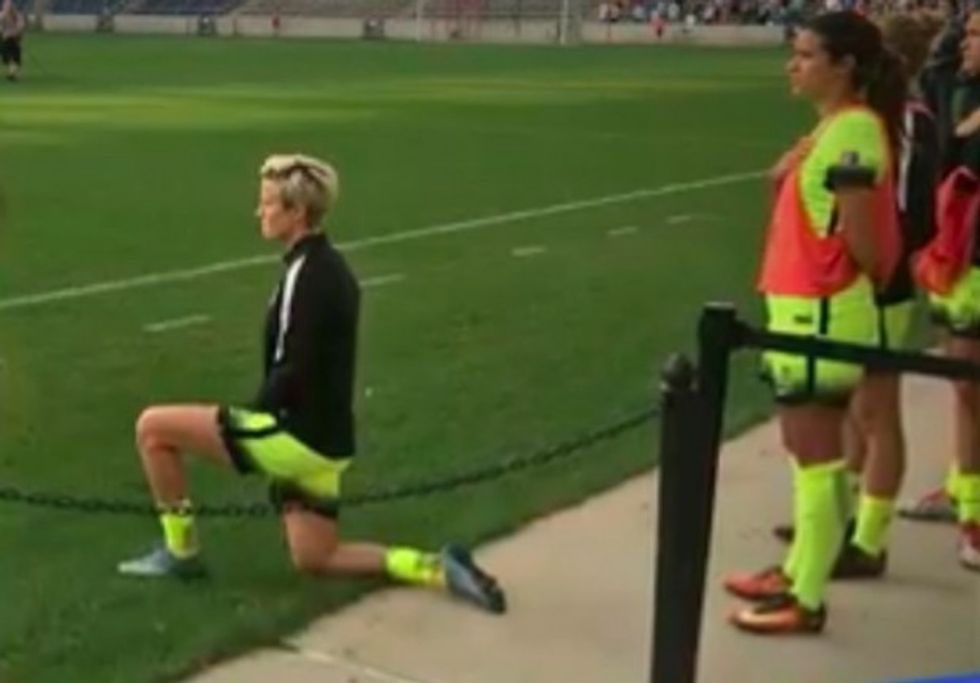 Seattle Reign soccer star Megan Rapinoe takes a knee during the national anthem before a game against the Chicago Red Stars on Sept. 4. (Image source: Fox News)
So as the first Sunday of NFL games approaches for the 2016 season — landing poignantly on the anniversary of the Sept. 11, 2001, terror attacks — a great deal of attention will be paid to what players, if any, opt out of standing for the national anthem.
But getting considerably less attention is what a high school freshman football team from Flint, Michigan, did amid the anthem furor.
On the last day of August, the Lapeer Lightning's squad hit the field before their away game against Carman-Ainsworth and heard the announcer say there would be no national anthem prior to the contest.
With that, the Lapeer freshman players stood on their sideline, removed their helmets, faced the flag and — with no music playing — sang "The Star-Spangled Banner" themselves.
"Our crowd stood with them for every note!" Chell Byrnes wrote on her Facebook post. "Very proud to be a Lightning Mom tonight!!"
Eddie L. Kindle, Carman-Ainsworth Community Schools superintendent, told Liftable that "like most schools in the state of Michigan, we choose to play the national anthem prior to the highest level of competition" — which that day was the later junior varsity game. He added that the format didn't amount in any way to a protest and that the district would never refuse to play the anthem.
For Lapeer head coach Bryan Sahr, it was a unique moment: "I've been with most of these players for three years now," he told Liftable. "They're just an awesome group of kids. It makes me incredibly emotional, and I don't usually get emotional."
This story has been updated.
(H/T: Young Conservatives)