DENVER (TheBlaze/AP) — Broncos linebacker Brandon Marshall, a college teammate of 49ers quarterback Colin Kaepernick, took to a knee during the playing of the national anthem before Denver's season opener against the Carolina Panthers on Thursday.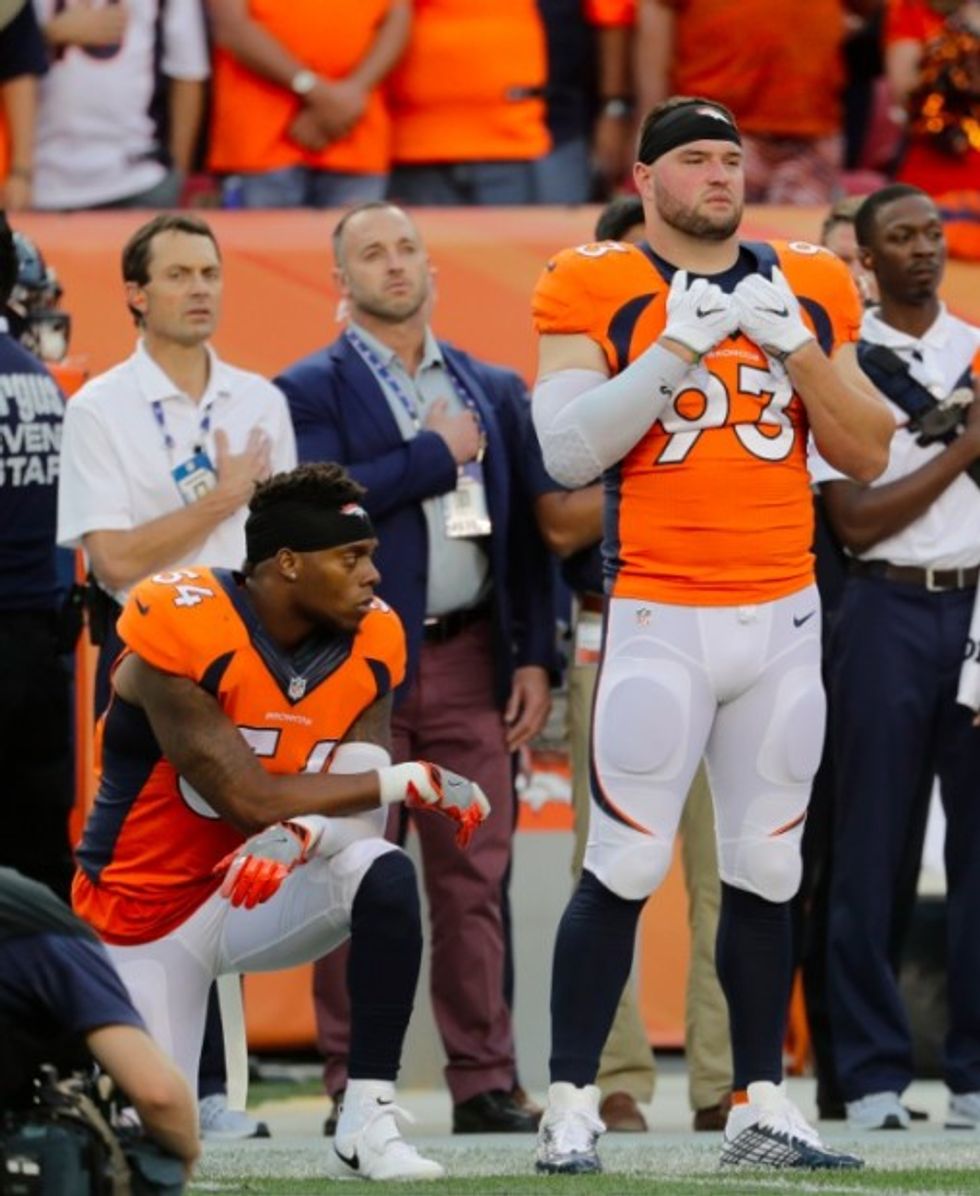 Denver Broncos inside linebacker Brandon Marshall kneels on the sideline during the National Anthem prior to a game against the Carolina Panthers on Thursday in Denver. (AP Photo/Joe Mahoney)
Kaepernick refused to stand for the anthem during San Francisco's preseason games, explaining it was to protest racial oppression and police brutality in the United States.
Marshall sounded a similar theme after Denver's 21-20 win.
"I'm not against the military, I'm not against America," he said. "I'm against social injustice."
Kaepernick's gesture opened a wide debate and put the microscope on a pregame tradition that has, for decades, been routine.
Marshall was standing with his hand over his heart during the anthem before a preseason game on Aug. 20.
He made no mention of his plans for Thursday's opener but shortly after the large American flag was unfurled, the fifth-year linebacker out of Nevada went to the end of a long row of Broncos and took a knee.
"I prayed about it," Marshall said after the game, "and I felt like God led me."
Broncos Super Bowl MVP Von Miller said he supported Kaepernick, too. "I'm not going to kneel for the national anthem, but I feel it should be a change. His actions really brought the topic, brought it into the conversation. I'm with Colin all the way."