The Justice Department "blew it" by not prosecuting the technician who reportedly wiped Hillary Clinton's private server that she used during her tenure as secretary of state, Rep. Trey Gowdy (R-S.C.) argued Friday.
Paul Combetta, the computer specialist who deleted the Democratic presidential nominee's old emails despite a congressional order to preserve the exchanges, was one of at least two people given immunity by the the Justice Department during its investigation into Clinton's controversial use of a private server, the New York Times reported Thursday.
"The devil's in the chronology," Gowdy, a member of the House Oversight Committee, said during an interview on Fox News as he asserted that the Justice Department needs to be asked why it gave immunity "to the trigger man."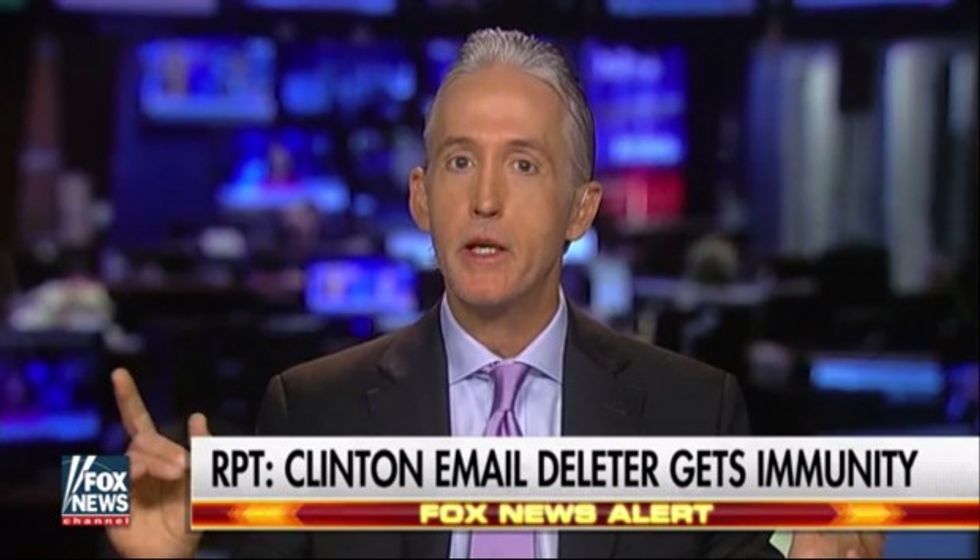 South Carolina Republican Rep. Trey Gowdy (Image source: Fox News)
"This is prosecutor 101," he continued. "You don't give immunity to the person who actually robbed the bank. You may want to give it to the getaway driver, you may want to give it to the person who helped them count the money afterwards, but you don't give immunity to the person who walked in and robbed the bank."
Gowdy added:
They blew it. They gave immunity to the trigger man. You better be right on who the trigger person is. You better be right on who the culprit person is if you're going to give transactional immunity. And if that's what they did, then they immunized the one person they you would most want to prosecute for the destruction of government records. It is frankly stunning.
Clinton's former campaign staff manger, Bryan Pagliano, was also given immunity to allow him to discuss his involvement in setting up Clinton's personal server at her Chappaqua, New York, home.