WASHINGTON — Republican presidential nominee Donald Trump argued Friday that selecting Supreme Court justices may be the "most important" action the next president will take.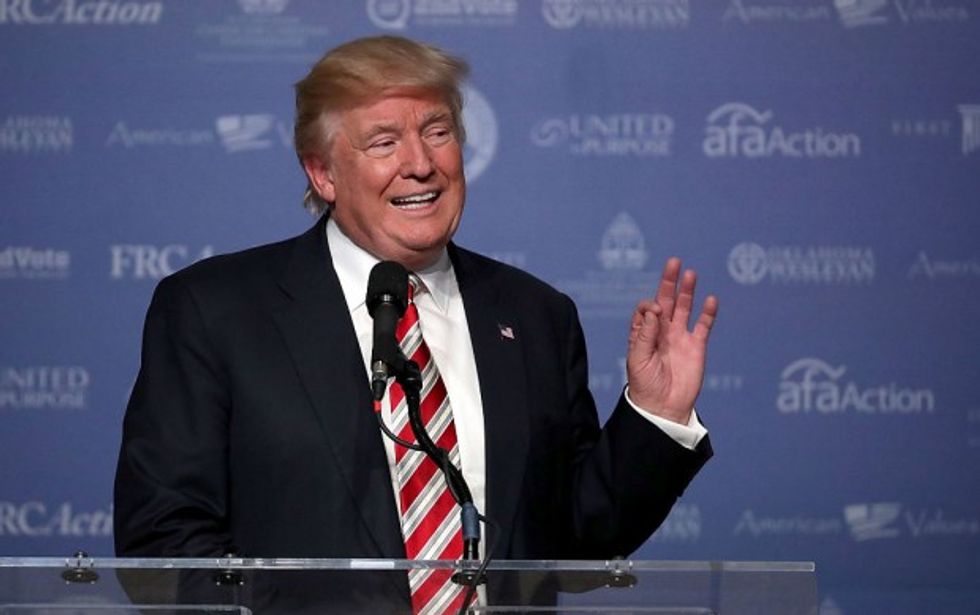 Republican presidential candidate Donald Trump addresses the Values Voter Summit at the Omni Shoreham on Friday in Washington, D.C. (Chip Somodevilla/Getty Images)
"If you pick the wrong people, then you have a country that is no longer your country," Trump said at the Values Voters Summit. "It'll be a disaster."
Trump speculated that the next president will appoint as many as five justices to the high court, including a replacement for the late Justice Antonin Scalia. He said that "maybe" he would use Scalia as "the ultimate example of what we're looking for" in a nominee to the Court.
Trump said the next president's appointments to the court "will define the future of this country for generations to come."
"We're going to pick great judges," Trump said. "I've already put out a list of 11."
However, Trump did not commit to choosing only judges who are on the list of names he released, saying, though, that it would "guide my selection process."
"This will determine if we remain a constitutional republic, right? That's what's going to happen," Trump said. "I pledge to appoint judges who will uphold the Constitution, who will protect your religious liberty and apply the law as written."
The GOP nominee did not address his positions on abortion or same sex-marriage while speaking to the crowd of social conservatives.
Trump also said that he recently met with faith leaders and described the meeting as a "love fest." He said the meeting was his idea and "the only way I'm going to get to Heaven."
#Smh Trump seeming to joke about getting the support of pastors as his idea so he gets into heaven... #VVS16pic.twitter.com/147FesAJyM

— Curtis Houck (@CurtisHouck) September 9, 2016
—
Follow the author of this story on Twitter and Facebook: