Donald Trump believes the United States will become "another Venezuela" if Hillary Clinton wins the presidency in November.
The Republican presidential nominee, piggybacking off statements made by former Minnesota Rep. Michele Bachmann (R), told the Christian Broadcasting Network's David Brody that "this will be the last election that the Republicans have a chance of winning," if Clinton becomes commander in chief.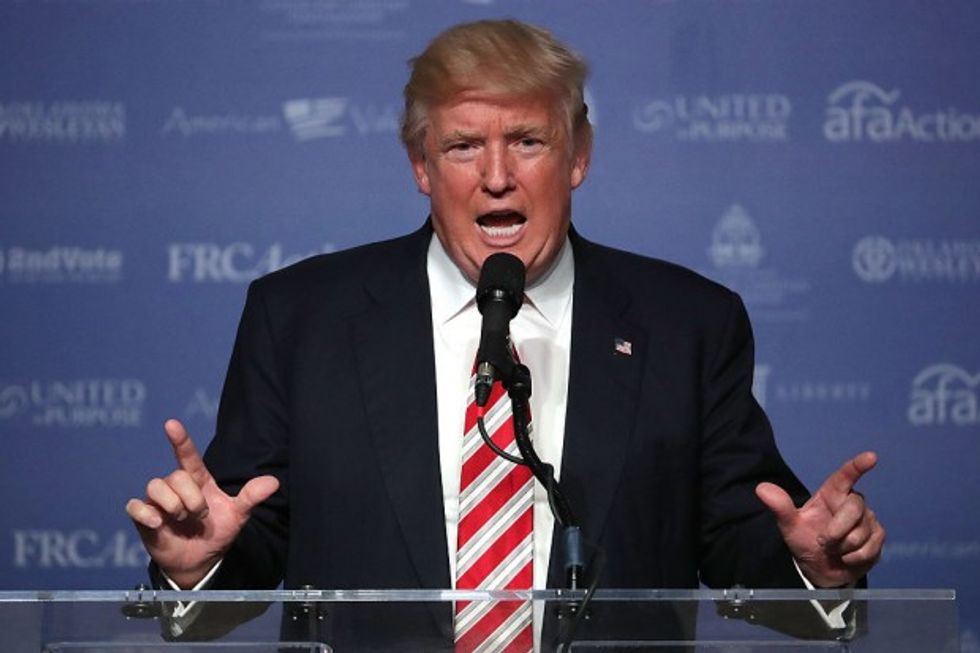 Chip Somodevilla/Getty Images
According to Trump, it's the U.S. Supreme Court, and vacancies therein, along with liberal immigration policies, that would block Republicans from ever reaching the Oval Office in the future.
"If they pick the super liberals, probably, to a certain extent, people that would make [Vermont Sen.] Bernie Sanders happy, you will never have a Supreme Court — we're gonna end up with another Venezuela, large-scale version," Trump told Brody. "It would be a disaster for the country."
The Venezuelan government is viewed by many as one of the most corrupt in the world. According to a Washington Post report earlier this year, President Nicolas Maduro, Hugo Chávez's handpicked successor, has enforced a state of emergency in the country because he claims his opposition attempted to launch a coup against him.
From the Post's report:
The emergency decree already grants the president super powers by invalidating congressional authority to review key budgetary issues budget or issue motions of censure against his cabinet. Even more ominously, the decree expands the military's role in the maintenance of public order. Sectors of the opposition have termed the decree an "auto-golpe" — self-coup — and a "tipping point" in the country's crisis.
The country is, as the report described it, "a powder keg." Venezuela is currently experiencing an intense economic depression while simultaneously facing drastic food, medicine and electricity shortages, propelling already prevalent riots, organized crime, extrajudicial police killings and civilian murders.
In addition to the Supreme Court, Trump fears Republicans will face an insurmountable political problem because of the lax immigration reform a President Clinton would implement.
"You're gonna have people flowing across the borders, you're gonna have illegal immigrants coming in that are gonna be legalized and they're gonna be able to vote," Trump said. "Once that all happens, you can forget it, because, I can guarantee you, you're not gonna have one Republican vote."
"It's already a hard number, already the path is much more difficult for the Republicans," he added. "You just have to look at the maps."
Immigration reform — and the promise to build a wall along the southern U.S. border, which he promises Mexico will fund — has been a central tenet of Trump's presidential campaign. In fact, the policy is arguably what led to the billionaire businessman's meteoric rise in presidential politics.
—
Follow the author of this story on Twitter: