Justin Cooper, a former Clinton Foundation employee, testified Tuesday during a House Oversight Committee hearing that he had access to Democratic presidential nominee Hillary Clinton's private email server although he had no security clearance, according to the Washington Examiner.
According to the FBI's notes from their investigation of Clinton's use of a private server, Cooper destroyed two of Clinton's Blackberry devices with a hammer.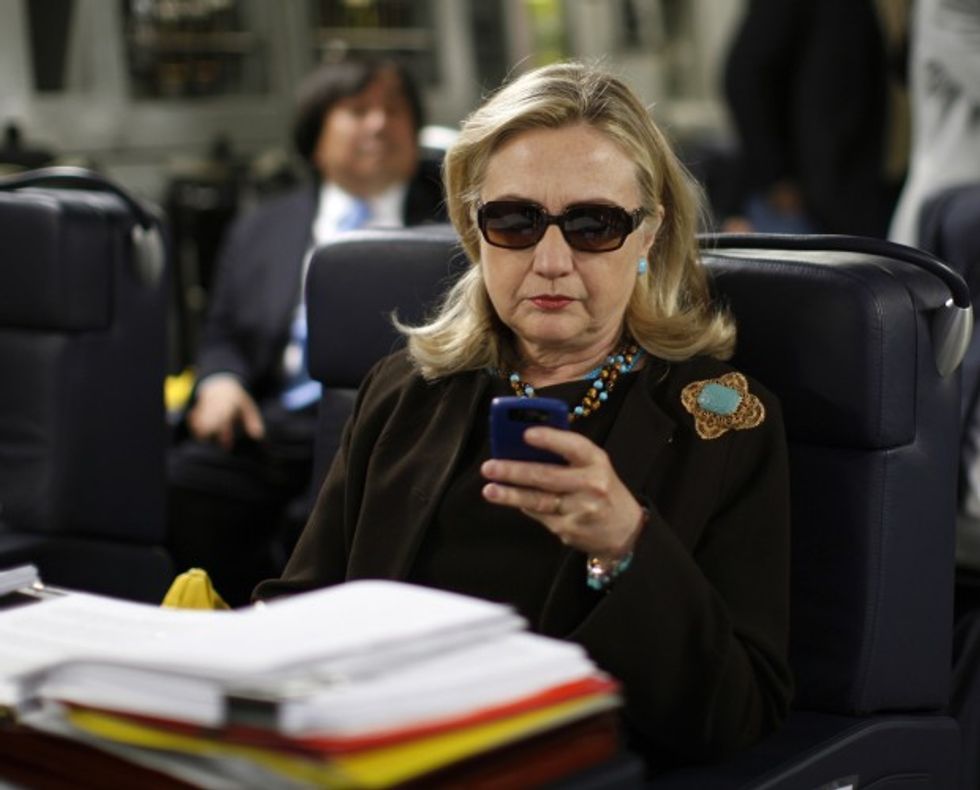 Then-Secretary of State Hillary Clinton checks her Blackberry from a desk inside a C-17 military plane Oct. 18, 2011. (AP Photo/Kevin Lamarque, Pool, File)
Cooper denied that he destroyed Clinton's phones in order to hide records. "I was going out of my way to preserve all of the information that was on those devices," he said, adding, "We would take the information that was on the old device, back it up, transfer it to the new device."
He also told officials that he set up the "clintonemail.com" domain for Clinton as she was "transitioning" from a presidential candidate to secretary of state because too many people knew her old address.
ABC News reported that three other witnesses ordered to testify before the committee during Tuesday's hearing "asserted their constitutional rights against self-incrimination and did not appear or refused to answer questions."
Clinton's use of a private email server during her time as secretary of state — including the revelation that some of her emails contained classified information — has been a point of contention during her presidential campaign.
—
Follow the author of this story on Twitter and Facebook: