Former Secretary of State Colin Powell, who served under three Republican presidents, is no respecter of persons — or party — when it comes to Donald Trump and Hillary Clinton.
In emails from Powell's personal Gmail account, leaked by D.C. Leaks, an anonymously-operated website that publishes the hacked emails of top military and political figures, the former secretary of state goes after Clinton for trying to scapegoat him in her email scandal and Trump's rhetoric, calling the GOP presidential nominee a "national disgrace."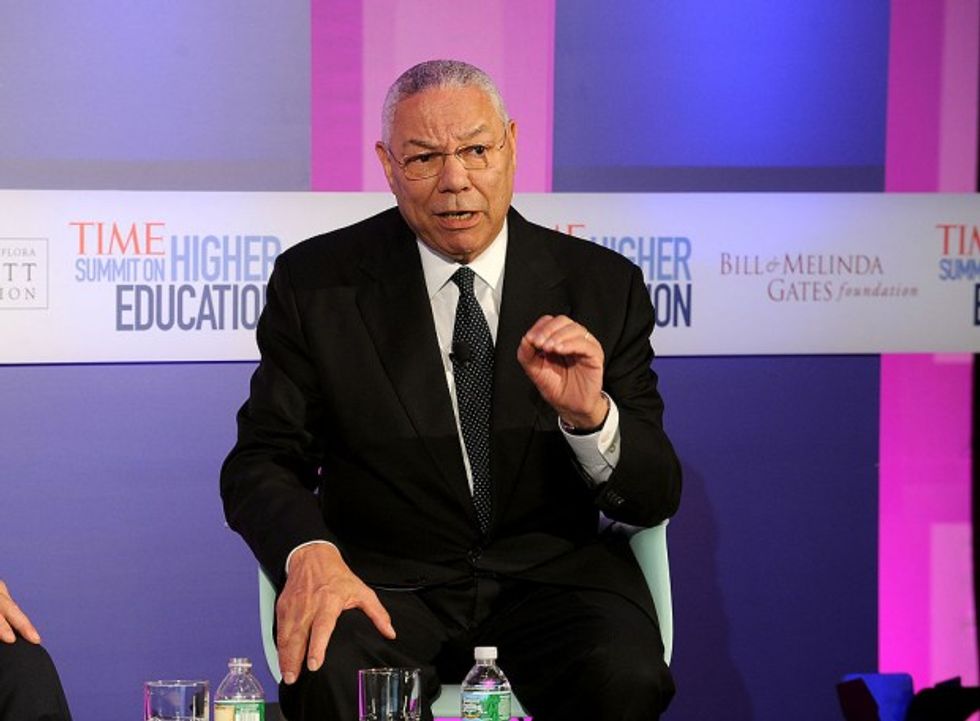 Bryan Bedder/Getty Images for TIME
According to the emails between Powell and his confidants, he tried to convince Clinton's staff not to use him in relation to her use of a private email server during her tenure at the State Department, according to The Intercept.
"Sad thing, HRC could have killed this two years ago by merely telling everyone honestly what she had done and not tie me to it," Powell said, adding, "I told her staff three times not to try that gambit. I had to throw a mini tantrum at a Hampton's party to get their attention. She keeps tripping into these 'character' minefields."
The emails reveal Powell was frequently in touch with reporters and friends, discussing the email scandal, explaining to them that his situation in the State Department was different from the Democratic presidential nominee's. When Powell first arrived at the State Department, the information technology system was in its infancy. Additionally, while Powell did use his personal AOL email, he did not ever set up a private server.
When dealing with classified or sensitive information, Powell used a government computer. According to an email sent to business partner Jeffrey Leeds, Powell was clearly frustrated by Clinton's attempt do draw similarities to their email situations.
"They are going to dick up the legitimate and necessary use of emails with friggin record rules. I saw email more like a telephone than a cable machine," Powell wrote to Leeds. "As long as the stuff is unclassified. I had a secure State.gov machine. Everything HRC touches she kind of screws up with hubris."
Based on the emails, Powell isn't a big fan of Trump, either, even though the New York billionaire is leading his party. In his emails, he referred to Trump not only as a "national disgrace" but also called him an "international pariah," BuzzFeed News reported.
Those bold names came in a June 17, 2016, email to Emily Miller, a journalist who was once part of Powell's staff. Also in the email, the former secretary of state said Trump "is in the process of destroying himself, no need for Dems to attack him. [Speaker of the House] Paul Ryan is calibrating his position again."
Again, in an Aug. 12 email, Powell went after Trump, calling him a "racist" for propelling the so-called birther movement, which purports President Barack Obama was not born in the United States.
"Yup, the whole birther movement was racist," he wrote. "That's what the 99% believe. When Trump couldn't keep that up he said he also wanted to see if the certificate noted that he was a Muslim."
Powell also took issue with the report that ousted Fox News chairman and CEO Roger Ailes has been advising Trump on debate preparation. Ailes was pushed out of Fox after 20 year at the network over allegations of sexual harassment from multiple people.
"And Ailes as an advisor wont heal women, don't you think?" Powell wrote.
At one point, Powell sent an email to CNN's Fareed Zakaria, complaining about the media's treatment of Trump's candidacy.
"You guys are playing his game, you are his oxygen," he wrote. "He outraged us again today with his comments on Paris no-go for police districts. I will watch and pick the timing, not respond to the latest outrage."
—
Follow the author of this story on Twitter: