New Hampshire's Union Leader, a historically stalwart supporter of the Republican Party, is divorcing itself from the GOP this election cycle.
After a 100-year record of endorsing the Republican nominee for president, The Granite State's largest newspaper has broken its streak to endorse former New Mexico Gov. Gary Johnson, the Libertarian presidential candidate.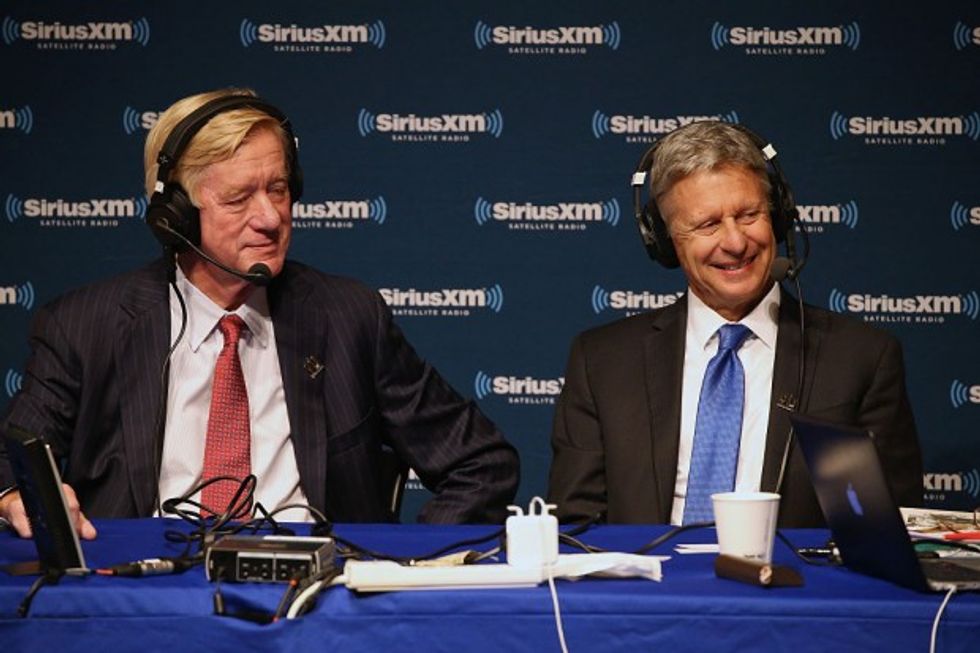 Bill McCay/Getty Images for SiriusXM
In the 236-word editorial, Union Leader publisher Joseph W. McQuaid continued the paper's criticism of Donald Trump, the GOP presidential nominee, something that became quite regular during the Republican primary reason.
"The man is a liar, a bully, a buffoon," McQuaid wrote Wednesday. "He denigrates any individual or group that displeases him. He has dishonored military veterans and their families, made fun of the physically frail, and changed political views almost as often as he has changed wives."
The article discourages voting for the "lesser of two evils," referring to Trump and Democratic presidential nominee Hillary Clinton. Rather, McQuaid suggests voting for Johnson and his running mate, former Massachusetts Gov. Bill Weld. He described the Libertarian ticket as "a bright light of hope and reason."
The endorsement comes just days after Johnson's foreign policy gaffe when he seemed unfamiliar with Aleppo, Syria, the epicenter of the refugee crisis plaguing the Middle East. Johnson later expressed regret and frustration with himself over the mistake.
The Union Leader story appeals to voters' desire for something other than the "status quo," but argues Trump is not the solution.
"Voters leaning toward Trump are understandably fed up with the status quo, of which Clinton is a prime example," McQuaid wrote. "But they kid themselves if they think Trump isn't pretty much a part of that status quo as well, or that he is in any way qualified to competently lead this nation."
After the endorsement was published, Grant Bosse, the Union Leader's editorial page editor, said the paper "endorsed the only Republican on the ballot." As governor, Johnson was a Republican.
@TheFix We endorsed the only Republican on the ballot.

— Grant Bosse (@grantbosse) September 15, 2016
While Johnson is severely behind Trump and Clinton, the endorsement could aide him in New Hampshire, where the two frontrunners are in a dead heat. According to an NBC News/Wall Street Journal/Marist poll of likely voters, Clinton leads with 39 percent support, followed by Trump with 37 percent and Johnson with 15 percent.
—
Follow the author of this story on Twitter: