Surprise — Donald Trump made television personality Dr. Mehmet Oz privy to a portion of his medical records Wednesday after all.
After going back and forth on whether or not the Republican presidential nominee would disclose any of his medical history with Oz on the syndicated "Dr. Oz Show," Trump ultimately surprised the host's studio audience by whipping out a one-page document reportedly detailing the results of a recent medical exam.
"Mr. Trump shared with Dr. Oz the results of his physical examination performed last week by Dr. Harold Bornstein, M.D. of Lenox Hill Hospital, whom has been Mr. Trump's personal physician for many years," a show press release stated Wednesday.
Tomorrow @realDonaldTrump shares his medical records for the 1st time. #OzPresidentialHealth https://t.co/N4y9toMSBE pic.twitter.com/ThJkrymMXB

— Dr. Mehmet Oz (@DrOz) September 14, 2016
According to CNN Money, Trump's campaign announced that it would share further information from Bornstein — the doctor who conducted the exam as well as wrote the controversial letter declaring Trump to be the "healthiest president in history"— on Thursday, the same day Oz's show will air.
Bornstein has since said that he wrote that letter, released in December, in just five minutes.
During the show, Oz also reportedly discussed with Trump "a full review of systems," which included his cardiovascular health and family medical history. However, CNN Money reported that although Trump surprised the audience by revealing some of his recent medical results, it will still fall short of what experts hope to hear with regard to the candidate's health.
Trump also discussed his intentions to lose weight, according to an audience member.
As Politico reported, Trump stands at 6'3" and said Wednesday during the show's taping that he weighs in at 236 pounds — putting his body mass index at 29.5. According to the Centers for Disease Control's BMI calculator, Trump is considered "overweight" and nearly "obese." In order to be considered a normal weight, Trump would need to weigh between 148 and 199 pounds, according to the Center for Disease Control.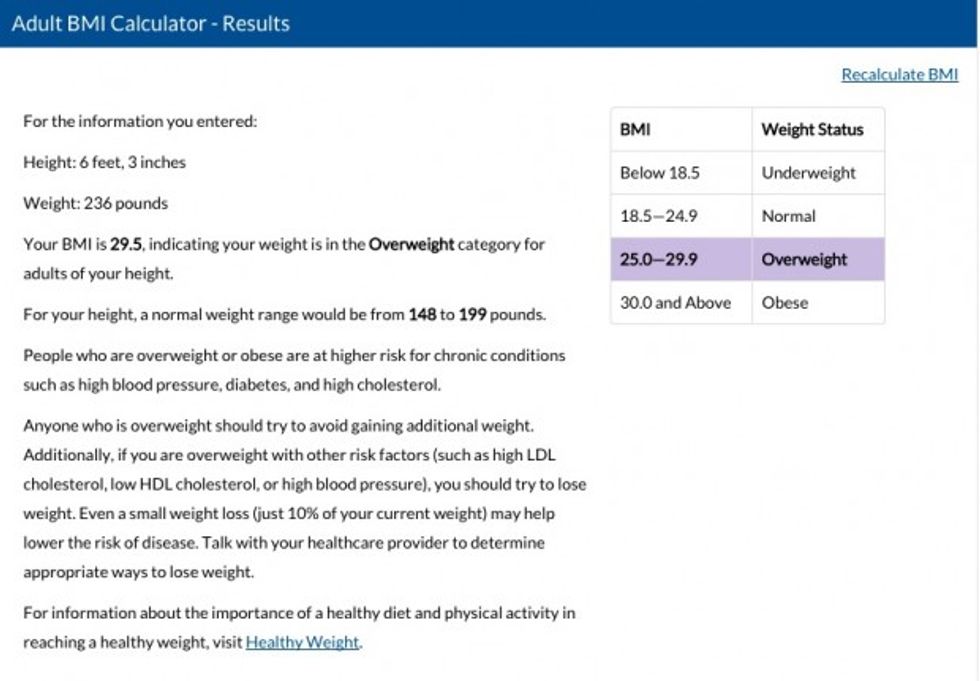 Screen grab via Center for Disease Control
Trump also discussed "his views on major health care policy including their recently announced child care plan and the major health care issues facing this country," the show announced.
Both Trump and Democratic presidential nominee Hillary Clinton have faced intense scrutiny regarding their health as they vie for the highest office in the U.S. Clinton's campaign has recently been criticized for its handling of a pneumonia diagnosis last week and its secrecy regarding a health scare at a 9/11 memorial service over the weekend.
Clinton is also expected to release more detailed medical records soon.
At 70 years old, Trump would be the oldest man elected to the presidency, beating out Ronald Reagan who was elected at the age of 69. Clinton's birthday falls just a few weeks before the election, and she would become the second-oldest president inaugurated at 69 years old.
—
Follow Kaitlyn Schallhorn (@K_Schallhorn) on Twitter